A Record-Breaking Day for Younis Khan
Younis Khan was once again involved in an epic battle against the Sri Lankan bowlers today, not only did he lead Pakistan to a respectable total towards the end of the day but also he broke some international and national records as well. Here is a list of all the records made by Younis Khan today: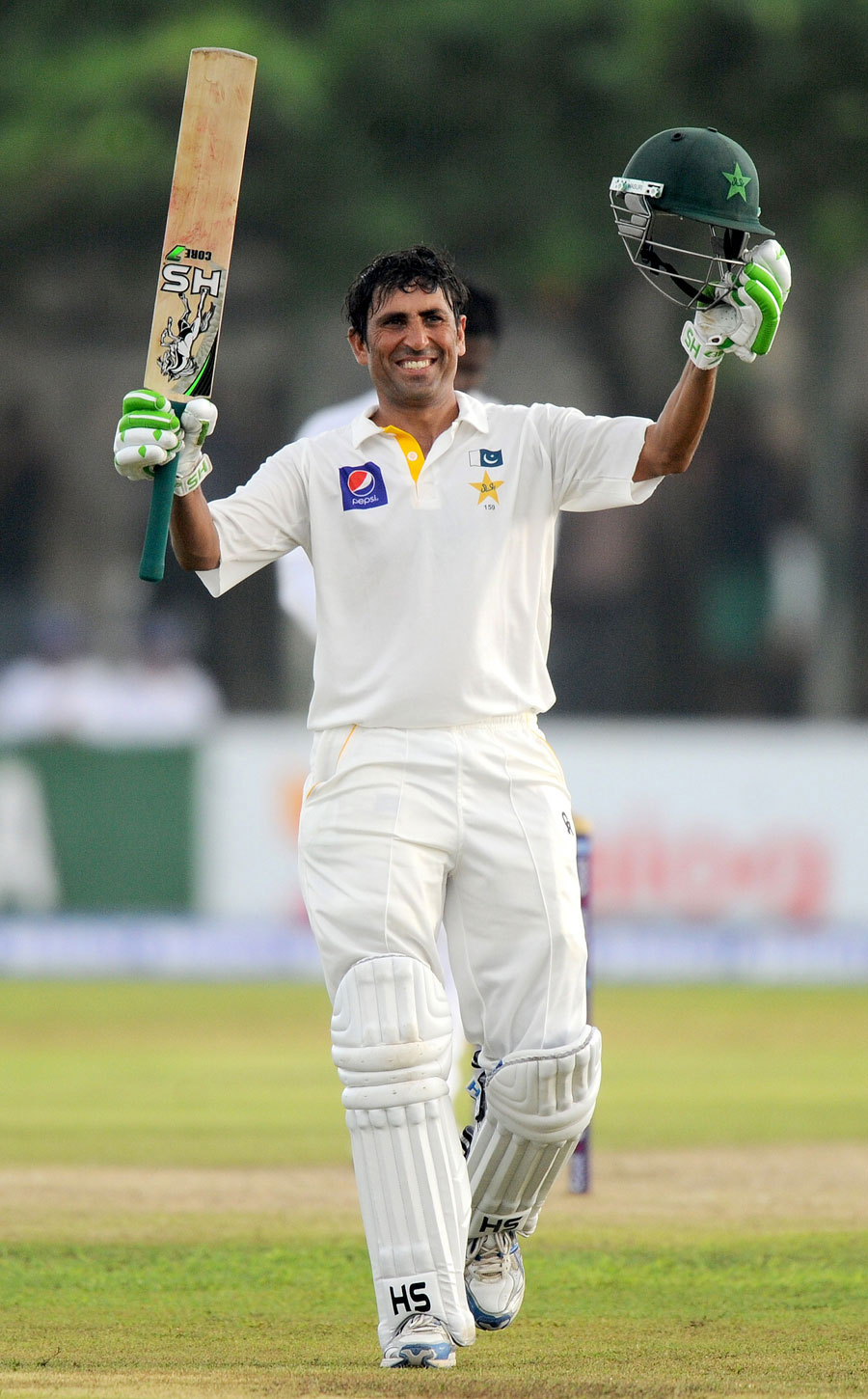 Follow us on Telegram
2nd Highest Test Centurion – When Younis Khan reached his 24th Test 100 today, he became the 2nd Highest Centurion for Pakistan in Tests leveled with legendary Mohammad Yousuf and just one behind Inzamam-ul-Haq.
Most Test Hundreds for Pakistan: Inzamam-ul-Haq 25, Younis Khan 24*, Mohammad Yousuf 24, Javed Miandad 23, Saleem Malik 15, Hanif Mohammad/Ijaz Ahmed/Zaheer Abbass 12.
7500 Club – Younis Khan in his 90th Test today became the 4th Pakistani and 35th Overall to have scored 7500+ Test runs.
Other Pakistanis are: Javed Miandad, Inzamam-ul-Haq and Mohammad Yousuf.
Getting it Quick – Younis Khan is now the 5th quickest Test batsman to score 7500 Test runs, jointly with Sachin Tendulkar.
Quickest to 7500 runs (in terms of matches): Gary Sobers/Virendra Sehwag 84, Mathew Hayden 87, Sunil Gavaskar/Rahul Dravid/Kumar Sangakkara 88, Brian Lara/Mohammad Yousuf 89, Younis Khan/Sachin Tendulkar 90.
Topping the Charts – Younis Khan is now involved 51 100-run Partnerships in Tests – most by a PAKISTANI batsman, surpassing Javed Miandad who was involved in 50 century-partnerships. Rahul Dravid leads the overall table with 88 century stands.
Most runs for Pakistan – Younis Khan is now 3rd on the list of Most runs by a Pakistani batsman in Tests leaving behind Mohammad Yousuf (7530 runs) and just behind Inzamam-ul-Haq (8829) and Javed Miandad (8832).
Most runs for Pakistan (in Tests): Javed Miandad 8832, Inzamam-ul-Haq 8829, Younis Khan 7532*, Mohammad Yousuf 7530, Saleem Malik 5738 (at the end of Day 1).
A 100 in Partnerships – The partnership between Younis Khan and Misbah-ul-Haq was broken at 100 runs exact – 3rd time for the pair. This is however a WORLD RECORD for a batting pair combining exactly 100 runs in a partnership for the most times.
100 away from Home – Today was Younis Khan's 17th Test century away from Home – easily a record for a Pakistani but he is now 5th on the overall list.
Most centuries away from Home (in Tests): Sachin Tendulkar 29, Jack Kallis 22, Rahul Dravid 21, Ricky Ponting/Sunil Gavaskar 18, Younis Khan/Brian Lara/Graeme Smith/Steve Waugh 17, Kumar Sangakkara 15.
Just 12 behind – Younis Khan needs 12 runs to complete 15,000 international runs (collectively in all formats) will be 4th Pakistani & 28th overall player (at the end of Day 1).
Follow us on Google News