Cricketing Trends on Social Media today
Here's how the cricketing fraternity spent their day on social media.
Updated - Dec 1, 2018 9:56 pm
309 Views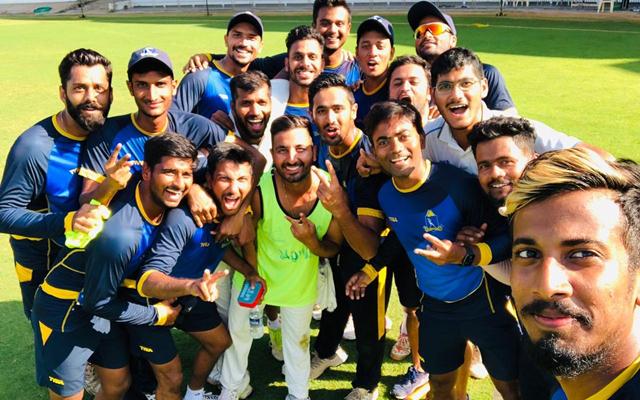 The cricketing trends on social media today revolved around the different events and the cricketing fraternity expressed themselves. The T10 League's second edition has entered the business end whilst some other interesting cricketing action kept all the fans entertained.
Shahid Afridi's exploits in the T10 league were one of the biggest talking points of the day, who single-handedly took Pakhtoons to the next stages with a 14-ball 50. The world was elated to see vintage Afridi back in full flow. Sunday will mark the culmination of the second edition as the 3rd place and the final will take place in Sharjah.
One of the most saddening parts of the day was the rumours of Nathan McCullum's death which shattered the cricketing world for a while. But the former Kiwi came out with a tweet confirming he's pretty healthy and alive and requested the fans to not hype these rumours. A disgusted elder brother Brendon McCullum also went on to threaten the creator of that rumour for the little moment of inconvenience he caused to his family.
The Ranji Trophy saw some exciting cricketing action as well, with Bengal, Hyderabad, Gujarat, Vidarbha and Karnataka registering some important wins. Bengal's one-wicket win against Tamil Nadu was probably the result of the day and Manoj Tiwary's side was lucky enough to get out of the jail and garner all six points.
1. Dean Jones full of praises for Afridi
@SAfridiOfficial nice job skipper !! #vintage 👏🏻👏🏻👏🏻👏🏻👏🏻
Well done to our squad for making the Final. So proud of these boys.. they deserve their shot at the title! 👏🏻👏🏻😄😄😄😄@T10League https://t.co/wZZq4pC4Nj

— Dean Jones (@ProfDeano) December 1, 2018
2. Iqbal Abdullah recollecting "Memories"   
Life is collection of moments.
Some happy , some sad & some unforgettable. pic.twitter.com/6FLZwrqirG

— Iqbal abdullah (@iqqiabdullah) December 1, 2018
3. Yusuf Pathan pays tribue to BSF's 54th anniversary
On 1st December 2018, our @BSF_India has turned 54.

This 1st December men and women of BSF rededicate themselves with firm resolve to the service of Nation. Congratulations and Salute to all those who have served our country. Hope more youngsters take your example and join.

— Yusuf Pathan (@iamyusufpathan) December 1, 2018
4. Nathan McCullum reacts to the death hoaxes
I am alive and kicking more than ever before. Not sure where this news has come from but this is fake. Love you all. pic.twitter.com/WZ1nuX4LUo

— Nathan McCullum (@MccullumNathan) December 1, 2018
5. Shattered Brendon threatens the rumor creators 
Tonight someone decided, via social media to release that my brother passed away! Im on a flight back to NZ and my heart broke! None of it is true! Whoever put this out there, I'll find you! Somewhere, somehow.

— Brendon McCullum (@Bazmccullum) December 1, 2018
6. Umar Akmal bids adieu to his T10 side
Thank you to all the fans of @PunjabiLegends_ IA next year we will come back stronger. Thank you to team management and my teammates for the great support. #t10_cricket_league pic.twitter.com/EN6Ip2UmLv

— Umar Akmal (@Umar96Akmal) December 1, 2018
7. Shardul pays his tributes to Sr. George Bush
Former U.S.A president George Bush has just passed away. May his soul rest in peace #GeorgeHWBush #RIPBush

— Shardul Thakur (@imShard) December 1, 2018
8. Bishan SIngh Bedi's poetic salute to BSF 
इक तर्जे-तगाफुल है, सो वो उनको मुबारक।
इक अरसेतमन्ना है, वो हम करते रहेंगे।

फ़ैज़

— Bishan Bedi (@BishanBedi) December 1, 2018
9. Reeza Hendricks thanks all his fans
Thank you all for the kind messages. Was good to get a win last night in a high scoring and entertaining game in front of a vibrant crowd #MSLT20

— Reeza hendricks (@reezahendricks) December 1, 2018
10. Manoj Tiwary and Bengal celebrate after a thrilling win in the Ranji Trophy
Great win today against Tamil Nadu. Nail biter finish. Well done boys. Proud of each nd everyone. Happiness in d faces says lot of things 👍👊 pic.twitter.com/Op0fbIvWCA

— MANOJ TIWARY (@tiwarymanoj) December 1, 2018
11. KP shares some laughs
Yes please! Inspirational! 😂😂

📹 – @roblouw6! pic.twitter.com/qkUiv4CTKn

— Kevin Pietersen🦏 (@KP24) December 1, 2018
12. The God's birthday blessings for Mohammad Kaif
Wishing one of India's safest hands, @mohammadkaif, a very happy birthday. Have a good year ahead. pic.twitter.com/t7nPs8tUQU

— Sachin Tendulkar (@sachin_rt) December 1, 2018
13. Bopara needs a bowler!
We need a bowler for today's game. Wahab stuck in the lift. Anyone? pic.twitter.com/YZ7pwAuKeE

— Ravi Bopara (@ravibopara) December 1, 2018
14. Sehwag demolishes some nonsensical rumors
झूठ अलर्ट-
मैं दुबई में हूँ और इन्मे से किसी व्यक्ति से कभी सम्पर्क नहीं हुआ!
जब यह लोग बेशर्मी से अपने कैम्पेन के नाम पर मेरा नाम धोकाधड़ी से इस्तेमाल कर लोगों को बेवक़ूफ़ बना सकते हैं,तो अंदाज़ा लगाया जा सकता है की यदि यह कहीं जीत गए तो कितना बेवक़ूफ़ बनाएँगे ! झूठों से सावधान pic.twitter.com/ykDa4S835N

— Virender Sehwag (@virendersehwag) December 1, 2018
15. Wayne Parnell on his time with his T10 side Kerala Kings
Had such a good time playing in the @T10League with @KeralaKingsT10 thanks to the owners, coaches, support staff and all the players for a great two weeks. Disappointed not to make it to the play-offs but had a great experience nonetheless. 🙌🏼🙌🏼

— Wayne Parnell (@WayneParnell) December 1, 2018