Cricketing Trends on Social Media today
Here is how the cricketers spent their day on Twitter and Instagram today,
Updated - Jan 11, 2019 8:06 pm
294 Views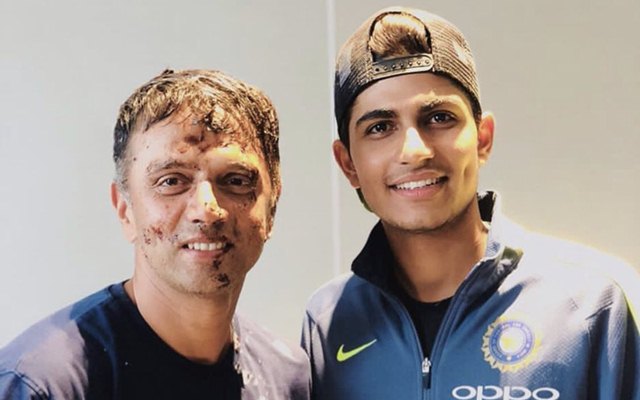 Follow us on Telegram
The cricketing trends on the social media revolved around a number of events. The first ODI between Australia and India is scheduled to be played tomorrow at the Sydney Cricket Ground (SCG) and hosts' speedster Peter Siddle sounded excited to take the field. Former Indian cricketer Rahul Dravid celebrated his 46th birthday today and wishes poured in for the 'The Wall' from every nook and corner of the world.
Indian batsman Manish Pandey posted a picture along with Dravid. Teen sensation Shubman Gill hailed the retired cricketer as a great ambassador of the game. Irfan Pathan mentioned in a tweet that Dravid is one of the most respected cricketers in the world. Sachin Tendulkar also wished his 'friend' on the auspicious occasion. The third Test between South Africa and Pakistan is currently taking place in Johannesburg.
Former Aussie pacer Shaun Tait enjoyed the match from home. Herschelle Gibbs reckoned that the Proteas are letting go the opportunity of racking up a big score at the Wanderers courtesy of a few soft dismissals. Cricketer turned commentator Kevin Pietersen also posted a picture from the match.
Junaid Khan replaced Ali Khan for the Khulna Titans in the ongoing Bangladesh Premier League (BPL) and he has reached Dhaka safely. Tino Best was ecstatic after Kieron Pollard and Andre Russell paired up to send Chris Gayle packing in the match between Dhaka Dynamites and defending champions Rangpur Riders.
1. Pandey wishes Dravid
Happy Birthday Rahul Sir ! #HappyBirthdayDravid pic.twitter.com/4kH06P86BT

— Manish Pandey (@im_manishpandey) January 11, 2019
2. Tait watching cricket from home
Watching the joburg test from home, @mcjnicholas has gotta be the best cricket commentator going around. Right up there anyway. #SAvsPAK

— Shaun Tait (@shaun_tait32) January 11, 2019
3. Gill praises Dravid 
Legendary cricketer, captain, great ambassador of the game, a wonderful coach and mentor.
Happy Birthday, Rahul Sir. Your guidance has played a tremendous role in where I am today. pic.twitter.com/zINOq95LXE

— Shubman Gill (@RealShubmanGill) January 11, 2019
4. Irfan wishes Dravid
Very happy birthday to the most respected cricketer in world cricket #RahulDravid #birthday pic.twitter.com/wClhAlh9q9

— Irfan Pathan (@IrfanPathan) January 11, 2019
5. Gibbs concerned about Proteas
Proteas letting a great opportunity to bat big once slip here.. a few soft dismissals. Debryun will have to change to middle guard in future if he wants to improve..can't stand on off stump and expect to score runs consistently. #sscricket

— Herschelle Gibbs (@hershybru) January 11, 2019
6. Sachin lauds Dravid
Wishing #RahulDravid a happy birthday! Have a great year my friend. pic.twitter.com/K7XreQReuo

— Sachin Tendulkar (@sachin_rt) January 11, 2019
7. Junaid Khan in Dhaka 
Alhamdulillah reached Dhaka safely. Looking forward to the upcoming games and will try my best to win it for the titans In Shaa Allah pic.twitter.com/v7feOa2Fm2

— Junaid khan 83 (@JunaidkhanREAL) January 11, 2019
8. Fawad's words of wisdom
Stand for something. Always have class, and be humble 🙏🏼

👔: Humayun Alamgir pic.twitter.com/dNle7JpXpC

— Fawad Alam (@iamfawadalam25) January 11, 2019
9. Best delighted with Russel's catch
Dre Russ that's crazy bro 👀 👀👀👀👀 and the awareness from Pollard absolutely brilliant who's buying drinks for @henrygayle tonight 🤣🤣🤣🤣🤣🤣🤣#AmazingCricket #BPL2019 #WindiesBoyz @TridentSportsX they gang up on The universe boss 🤦🏾‍♂️ #Madness 🔥🔥🔥🔥

— Tino95 (@tinobest) January 11, 2019
10. Nabi happy to open his academy
I am very delighted that finally we were able to open the Nabi Academy @MN7_ACADEMY in #Melbourne #Australia. I would like to thank the Afghan Ambassador @WahidWaissi, @rashidkhan_19, @MayorofCasey, @LukeDonnellan, #cranbournecricketclub and the community for their attendance. pic.twitter.com/iOtte5mXfv

— Mohammad Nabi (@MohammadNabi007) January 11, 2019
11. Saha at South City Mall
Last month at South City Mall, Kolkata with @gauravkapur. Have you all witnessed the @ICC #WorldCupTrophy ? @saurajitc pic.twitter.com/o1iwLXzNhv

— Wriddhiman Saha (@Wriddhipops) January 11, 2019
12. Prior working out
Another day another @Zwift session made a lot easier with a hugely exciting meeting with the wonderful people @Chance2Shine yesterday. Can't wait to tell you all what's happening! #The21 #25kgtolose #motivated pic.twitter.com/YOyftAPPcC

— Matt Prior (@MattPrior13) January 11, 2019
13. Pietersen's Work Day
Work Day! 🎙 pic.twitter.com/s5FAax7a1p

— Kevin Pietersen🦏 (@KP24) January 11, 2019
14. Vaughan predicts
178 too many I reckon to the #Stars to chase … #BigBash … @FoxCricket ! What do you all reckon ?

— Michael Vaughan (@MichaelVaughan) January 11, 2019
15. An excited Peter Siddle
Follow us on Google News