Cricketing Trends on Social Media Today
Here is what the cricketers did on Twitter and Instagram today.
Updated - Jun 15, 2018 10:17 pm
413 Views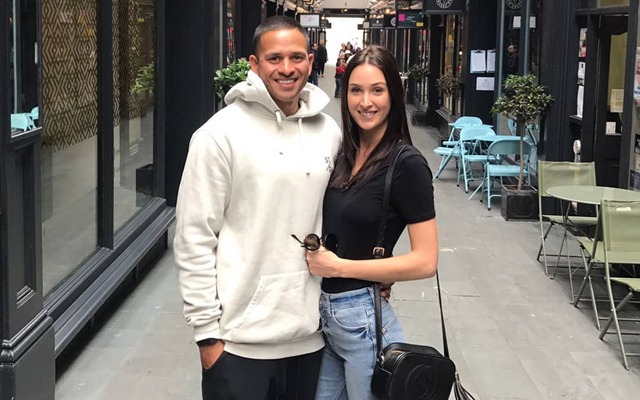 The cricketing trends on social media revolved around India's historic Test match versus Afghanistan in Bangalore which ended on the second day itself. Ajinkya Rahane's men won by a massive margin of an innings and 262 runs. The entire Indian cricket fraternity was delighted with the win and the likes of Manoj Tiwary and VVS Laxman and many others wished the team on the performance.
The festival of Eid is also celebrated today and Shoaib Akhtar wished everyone on the auspicious occasion. Usman Khawaja and his wife Rachel McLellan are also celebrating Eid and the Australian cricketer uploaded their picture. Shane Warne shared a picture on the golf course along with his friends. Former English cricketer Darren Gough also posted a video where he can be seen playing a shot with the golf club.
Jonny Bairstow made his ODI debut in Cardiff back in 2011 and he remembered the moment. Herschelle Gibbs also believes that playing the US Open in the sport is the most challenging. Mohammad Hafeez was disgusted by the service at the Jinnah Hospital in Lahore.
Jason Roy is ready to fly to England to support the football team in the FIFA World Cup in Russia. Chris Gayle shared a bare-chested picture on Instagram. Siddarth Kaul posted a picture along with Jasprit Bumrah and Suresh Raina after passing the yo-yo Test. Murali Kartik hilariously describes the argument between a man and a woman.
1. Shane Warne with friends
2. Jonny Bairstow remembers his debut match
#fbf to where it all began – my @englandcricket ODI debut at @SophiaGardens in 2011!⚡️🔙 pic.twitter.com/TCJ1XYEVZ1

— Jonny Bairstow (@jbairstow21) June 15, 2018
3. Shoaib Akhtar's wishes on Eid
Chand Mubarak to all in Pakistan and Eid Mubarak to all the Muslims worldwide celebrating Eid today!#Chandmubarak #Eid

— Shoaib Akhtar (@shoaib100mph) June 15, 2018
4. Manoj Tiwary congratulates Team India
Congrats to skipper @ajinkyarahane88 and #TeamIndia for an emphatic win over @ACBofficials. Tough outing for the Afghan boys, but this is only the start of what will be a long and wonderful journey. Lovely to see the two teams pose together 👍🏼 @BCCI pic.twitter.com/hsomSLq29c

— MANOJ TIWARY (@tiwarymanoj) June 15, 2018
5. Mohammad Hafeez saddened by the atmosphere in the hospital
Visited Jinnah hospital Lahore & experienced the miserable facilities to the patients in different wards,Broken beds 🛏 were for patients,Witnessed many patients were lying outside wards,ppl were smoking all around the hospital,Senior Dr were not available,stinking atmosphere

— Mohammad Hafeez (@MHafeez22) June 15, 2018
6. Herschelle Gibbs opines US Open is the ultimate Golf test
Fair to say the @usopengolf is the ultimate test in golf😐 I'll leave that right there😂

— Herschelle Gibbs (@hershybru) June 15, 2018
7. Jason Roy for the England football team
8. James Taylor and his epic day
The start of an epic day 😁🙏🛩 pic.twitter.com/6bsRcJdKf6

— James Taylor (@jamestaylor20) June 15, 2018
9. Darren Gough and his golfing skills
Boom 💥 @Youngy1uk golf day at clitheroe golf club for @Zoes_Place @WilpshireW pic.twitter.com/20tr8zF4OO

— Darren Gough (@DGoughie) June 15, 2018
10. Chris Gayle and his swag
11. VVS Laxman delighted by India's performance 
Congratulations India on the win, really liked the ruthlessness with which they went about their job. Also congratulations to @ACBofficials .Though they lost convincingly, I am sure they would have learnt a lot & am sure they will improve and start winning matches soon #INDvAFG

— VVS Laxman (@VVSLaxman281) June 15, 2018
12. Usman Khawaja with his wife
13. Murali Kartik's hilarious post
14. Siddarth Kaul passes the yo-yo Test
Excited Mein Aidaaa 🤩 Cleared the Yo Yo Test. Can't wait to share the dressing room with these fine gentlemen 🙂 #FitnessTest 🔥@ImRaina @Jaspritbumrah93 pic.twitter.com/PF2t7NKVSg

— Siddharth Kaul (@sidkaul22) June 15, 2018
15. Wayne Parnell's blessings for his son