Cricketing Trends on Social Media Today
Here is what the cricketing community was talking about in the last 24 hours.
Updated - May 15, 2019 10:42 pm
537 Views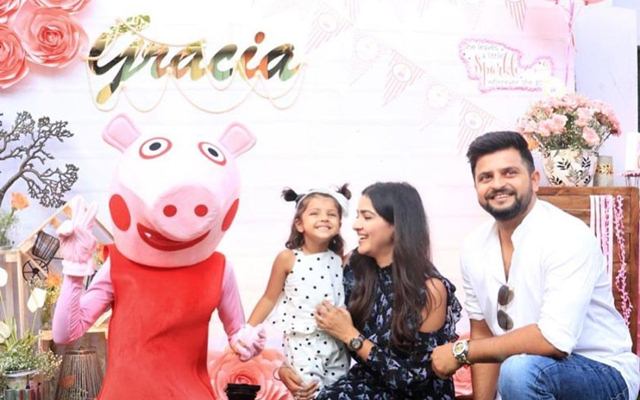 Follow us on Google News
There were several topics around which the cricketing trends revolved on Wednesday. It was the birthday of Suresh Raina's daughter Gracia Raina. So, Suresh uploaded the celebration pictures, following which his CSK teammate Harbhajan Singh also wished Gracia on Twitter. The other trends revolved around the Australian cricket team.
All the Australia players visited Gallipoli to remember the fallen heroes of World War-1. Aaron Finch and David Warner put up tweets to pay their homages. Meanwhile, Indian skipper Virat Kohli put up a tweet thanking his fans who created some amazing artwork for him. Siddarth Kaul, on the other hand, spent some quality time with his nephew and uploaded an adorable picture.
A few of the other trends revolved around the Pakistan team. Leg-spinner Shadab Khan put up a piece of good news for all of his fans and well-wishers. He said that he'd be joining the Pakistan team soon in England ahead of the World Cup. Waqar Younis, though, seemed disappointed with the performance of the Pakistan bowlers in the ODI games against England.
He noted that they need to learn from their mistakes very quickly. Kevin Pietersen feels that the current England team is impeccable and drew comparisons to that of the Australian team in the '90s and 2000s.
1. Harbhajan Singh wished Gracia on her birthday
Happy birthday Gracia 🤗😘❤️ https://t.co/5uEwuaLzbo

— Harbhajan Turbanator (@harbhajan_singh) May 15, 2019
2. Aaron Finch pays respect to the fallen heroes of WWI
An unbelievably humbling and emotional experience to visit Gallipoli and pay our respects to the fallen of WWI.

Lest we forget @ Turkey https://t.co/HCgU8kZjww

— Aaron Finch (@AaronFinch5) May 15, 2019
3. Mithali Raj is shocked by the death of South Asian Games swimming champion MB Balakrishnan
Heartbreaking. https://t.co/nc0byZ5vFw

— Mithali Raj (@M_Raj03) May 15, 2019
4. Virat Kohli is overwhelmed by the artwork done by his fans and expresses gratitude
Thank you guys for these amazing artworks. Top stuff. 👍 💯 pic.twitter.com/TFgxUDU7EM

— Virat Kohli (@imVkohli) May 15, 2019
5. Suresh Raina celebrates the birthday of his daughter, Gracia
My little princess all grown up so quick. Time flies but I still remember the day you came into our lives, instantly brightening it up and giving us a big, big reason to be happy & blessed. Happy birthday, my little girl. 😘 pic.twitter.com/LoByqA5tgh

— Suresh Raina🇮🇳 (@ImRaina) May 15, 2019
6. Waqar Younis wants the Pakistan bowlers to learn quickly from their mistakes
What we saw yesterday #PakVsEng at #Bristol was very demoralising. Pakistani bowlers need and learn quickly and come out with a better plan..

— Waqar Younis (@waqyounis99) May 15, 2019
7. Siddarth Kaul spent some valuable time with his nephew
One of the best things in life that I get to do, is to love , pamper and fuss over my little nephew❤️ pic.twitter.com/AJ6C0tsHhk

— Siddharth Kaul (@sidkaul22) May 15, 2019
8. Naman Ojha wishes everyone a happy international family day
Because FAMILY is so precious, they stand by you in every situation; in every ups and downs of life! They make you grow stronger than ever! I love you my FAMILY! Thanks for all the support 🌎♥️
Wishing everyone a very happy International Family Day🌸#family #Supportsystem pic.twitter.com/Bug5ZBWuw2

— Naman Ojha (@namanojha35) May 15, 2019
9. An unforgettable experience for David Warner
What an experience that I will never forget! #gallipoli #sunrise #anzaccove @ Turkey https://t.co/bT74lMgbS1

— David Warner (@davidwarner31) May 15, 2019
10. Iqbal Abdullah shares his experience while fasting during Ramadan
In Ramadan,the stomach may be empty but the heart and soul are being fed .
Subham Allah .

— Iqbal abdullah (@iqqiabdullah) May 15, 2019
11. Kevin Pietersen feels that the England side is impeccable at the moment
This England ODI side is like that great Aussie side…if Hayden didn't get you, then Ponting would & if they missed out, Gilchrist would.

This England team, the same, Roy, Bairstow, Buttler etc…

SOOOOO good! 🥰

— Kevin Pietersen🦏 (@KP24) May 15, 2019
12. Anil Kumble flaunts his photography skills
Strong yet elusive, leopards have a knack of blending into their wild surroundings. Spotted this beauty lounging on a tree in #Kabini, #Karnataka. #WildlifeWednesday pic.twitter.com/TKdXVU3dva

— Anil Kumble (@anilkumble1074) May 15, 2019
13. Shadab Khan is all ready to join the Pakistan team in England soon
I am glad to announce that I will be fit for the @cricketworldcup and will be joining the Pakistan team in England soon. Thank you @TheRealPCB, my family, my friends and my supporters for being by my side during this tough time. Keep me in your prayers. #PakistanZindabad

— Shadab Khan (@76Shadabkhan) May 14, 2019
14. Former Australian captain Michael Clarke celebrates his wedding anniversary
Happy number 7 my Queen @kylyclarke 👫🥂😘 https://t.co/DwYj9iEoHJ

— Michael Clarke (@MClarke23) May 14, 2019
15. Wasim Akram is a proud father as his son completed graduation
To my son on his day of graduation, one of the biggest gifts a parent can give their child is an education and today you have made me so very proud. The world is at your feet my son, the foundation has been laid, I hope you follow your dreams and build a future of happiness pic.twitter.com/DqccJ30lex

— Wasim Akram (@wasimakramlive) May 14, 2019
Follow us on Telegram