Cricketing Trends on Social Media today
Here's how the cricketing fraternity spent their day on social media.
Updated - Oct 2, 2018 10:40 pm
509 Views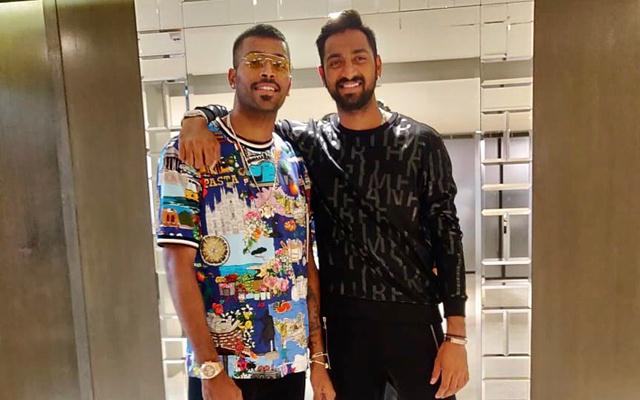 Follow us on Google News
The cricketing trends on social media today revolved around many different events with the fraternity expressing themselves to the fullest. Krunal Pandya and Hardik Pandya were enjoying together on an off day from the game. The latter is currently recovering from the back injury which he sustained during the Asia Cup against Super Four game against Pakistan. Krunal, however, is busy playing the Vijay Hazare Trophy and is doing no harm by playing well continuously.
Meanwhile, the whole country celebrated the birth anniversary of the Father of Nation Mahatma Gandhi. The likes of Sachin Tendulkar, Yuvraj Singh and Yusuf Pathan, came up with inspiring tweets over non-violence for their followers and urged them to follow his path for the rest of their lives. Yuvraj, however, came back to form with the bat by scoring 96 runs against Railways in the Vijay Hazare Trophy.
Dale Steyn was happy after reaching Cape Town on an off day. He is currently with the South African team which is playing the three-match ODI series against Zimbabwe at home. Steyn will be hoping that the team management gives him the chance to play in the next game and prove his mettle ahead of the World Cup next year in England. More than anything, Steyn will have to prove his fitness of lasting for the 100 overs of an ODI.
1. Krunal and Haridk together
👬😘 @hardikpandya7 pic.twitter.com/NShjbZqX6K

— Krunal Pandya (@krunalpandya24) October 2, 2018
2. Junaid missing his baby
Missing my little champ. Love you my baby. #muhammadayaankhan pic.twitter.com/QwMzb2fkKT

— Junaid khan 83 (@JunaidkhanREAL) October 2, 2018
3. KP with his friends
36 holes – still all square!
Comfortably my best two days of golf EVER!
What a jol!
What competition!
What lekker banter!
Thanks, @cutmaker @kwagga2188 @AllanStanton!
The Greatest Week – @dunhilllinks! pic.twitter.com/pyyxXzeEQc

— Kevin Pietersen🦏 (@KP24) October 2, 2018
4. Surya remembers Shastri
A humble tribute to our 2nd Prime Minister, #LalBahadurShastri ji on his birth anniversary. His vision and simplicity are virtues for everyone to live by. pic.twitter.com/ixsUoMPmvu

— surya77 (@surya_14kumar) October 2, 2018
5. Surya tweets on Gandhi Jayanti
A man who believed in the power of non-violence and spent his life in the endeavour to bring freedom to our nation. Remembering #MahatmaGandhi ji on his birth anniversary. #GandhiJayanti pic.twitter.com/cqw1eZUyU4

— surya77 (@surya_14kumar) October 2, 2018
6. Shamsi's wonderful message
Forever grateful for all the blessings… never forget where u come from 🙏#GiveThanks #BlessingsFromAbove pic.twitter.com/enHcZDEV0v

— Tabraiz Shamsi (@shamsi90) October 2, 2018
7. Rahul enjoyed Punjab's win
Welldone @TeamRanjiPunjab great win against railway 👏👏. Top performance @YUVSTRONG12 Paaji ,@gurkeeratmann22 , @RealShubmanGill ,@sidkaul22 @MarkandeMayank ,#aarshdeepsingh 👏👏👏👏👍😊

— Rahul Sharma (@ImRahulSharma3) October 2, 2018
8. Chopra hits a flick
Any good that flick, @VVSLaxman281? 🙈🙌 pic.twitter.com/TXNScLkAbZ

— Aakash Chopra (@cricketaakash) October 2, 2018
9. Steyn in Cape Town
10. Yuvi shows respect
You must be the change you wish to I see in the world. Remembering the father of our nation, the man who gave us the gift of Freedom #GandhiJayanti 🙏 #Respect

— yuvraj singh (@YUVSTRONG12) October 2, 2018
11. Sachin speaks on the occasion
#MahatmaGandhi ji set an example showing us all how true will and determination can lead us toward our goals. Remembering the Father of the Nation today. #GandhiJayanti

— Sachin Tendulkar (@sachin_rt) October 2, 2018
12. Sachin on Swacch Bharat Abhiyan
It's up to us … #SwachhBharatDiwas #SwachhataHiSeva @swachhbharat pic.twitter.com/W0boxjDeHI

— Sachin Tendulkar (@sachin_rt) October 2, 2018
13. Tare proud of his boys
14. Kambli remembers Shastriji
A humble tribute to one of the greatest Prime Ministers our country has ever had, Bharat Ratna Shri #LalBahadurShastri ji on his birth anniversary.
He was a simple man who did things silently & led a life of truth and humility.
We need more men like him today.🙏 pic.twitter.com/0HwdUWM7Pg

— VINOD KAMBLI (@vinodkambli349) October 2, 2018
15. Younis with his wife on holiday
Chillin' with the family #Dubai #Holidays pic.twitter.com/Y7gp0nxvmo

— Waqar Younis (@waqyounis99) October 2, 2018
Follow us on Telegram