Cricketing Trends on Social Media today
Here is how the cricketers spent their day on Twitter and Instagram today.
Updated - Dec 22, 2018 9:21 pm
249 Views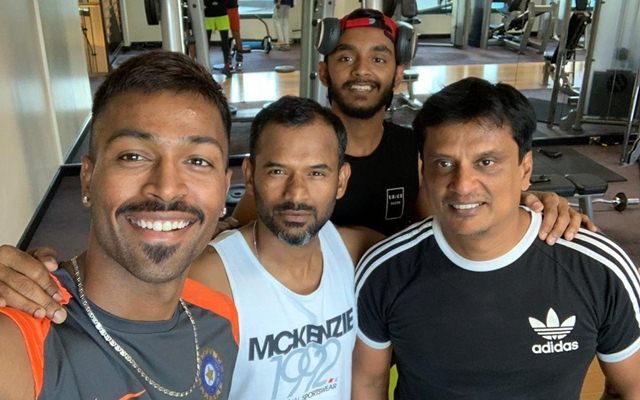 The cricketing trends on the social media revolved around a number of events. Pakistan all-rounder Mohammad Hafeez gets challenged from Abdul Razzaq in snooker. Delhi batsman Unmukt Chand reckons life is not certain and one should expect for the unexpected. The deciding match between Bangladesh and Windies at Sher-E-Bangla National Stadium took place and the latter won by 50 runs.
The match was marred by controversy when right-handed batsman Liton Das was wrongly given not out by umpire Tanvir Ahmed off fast bowler Oshane Thomas. Tamil Nadu batsman Abhinav Mukund also commented on the matter. Shoaib Malik shared a picture of his son Izhan Mirza Malik for the first time. Former English cricketer Kevin Pietersen shared a picture where he was seen enjoying on a Saturday.
Dean Jones questioned Ben Cutting's catch in the match between Hobart Hurricanes and Brisbane Heat at the Gabba in Brisbane. Virat Kohli, the Indian captain, posted a handsome picture of his where he can be seen with a groomed look. He would next play the third Test against Australia, which gets under at the MCG on December 26.
Tom Curran couldn't control his excitement prior to Sydney Sixer's match against Perth Scorchers at Sydney Cricket Ground. Shane Warne had a gala time with Jackson Warne on the eve of Christmas. Mumbai batsman Suryakumar Yadav doesn't care about what other thinks about him.
1. Hafeez accepts Challenge
An other challenge from @ARazzaqPak bhai in snooker , Get ready to get the best result for ME 🤲🏼 pic.twitter.com/F65aPNGgj9

— Mohammad Hafeez (@MHafeez22) December 22, 2018
2. Chand about doing it 'Right' 
Life never goes as planned. Expect the unexpected. But what can we do is the next RIGHT thing. Plan your day, tick the boxes everyday, stay true to yourself and enjoy the whole process and these daily small victories will definitely pay your way to the unexpected. CARPE DIEM !!

— Unmukt Chand (@UnmuktChand9) December 22, 2018
3. Mukund's take on the no-ball controversy 
What an interesting turn of events. No ball called on field, but it is a fair delivery as the replays suggest. Batsman skies it in the air,gets caught. Decision stands ! Thoughts ? #WIvBAN

— Abhinav mukund (@mukundabhinav) December 22, 2018
4. Malik shares Izhaan's picture
Living life in the fast lane can be fun! It's time to say hello to the world 😀 pic.twitter.com/i6TvcmkJ9F

— Shoaib Malik 🇵🇰 (@realshoaibmalik) December 22, 2018
5. Pietersen's Super Saturday
Super Saturday! pic.twitter.com/oWD0shUI3c

— Kevin Pietersen🦏 (@KP24) December 22, 2018
6. Lamichhane congratulates
Yess !!! The champions are here 💪 Great effort boys. Well done to bring the trophy home. Excellent work ! Proud of you all. Congratulations to all the member of @Lp_patriots team. Thanks to all the supporters who came in a large number. We are the champions !! pic.twitter.com/Awv4pgQVi8

— Sandeep Lamichhane (@IamSandeep25) December 22, 2018
7. A Kohli special
— Virat Kohli (@imVkohli) December 22, 2018
8. Jones questions
I would like to hear some umpires opinion on Cutting catch… did that touch the ground while in the act of catching the ball? @BBL

— Dean Jones (@ProfDeano) December 22, 2018
9. A frustrated John Hastings
I have said this before and I will say it again never ever again @JetstarAirways it's seriously the fifth time a flight has been cancelled on us 🖕🏼

— John Hastings (@johnhastings194) December 22, 2018
10. A 'Proud' Suryakumar Yadav
Be proud of who you are, what other people think doesn't matter. #FridayThoughts pic.twitter.com/Dt7uxKL6Kq

— surya77 (@surya_14kumar) December 21, 2018
11. Hardik Pandya working out
The jetlag is real but I've got my own way of dealing with it 😃💪🇮🇳 pic.twitter.com/G1Uf4mHZR3

— hardik pandya (@hardikpandya7) December 22, 2018
12. Warne celebrating Christmas
13. Abdullah looking for positives
Look for something positive in each day, even if some days you have to look a little harder . pic.twitter.com/uXuAZdTQul

— Iqbal abdullah (@iqqiabdullah) December 22, 2018
14. Tiwary focusses on the history
History has its eyes on me 👍👁 pic.twitter.com/h2sUSoWIov

— MANOJ TIWARY (@tiwarymanoj) December 22, 2018
15. Tom Curran excited
I can't wait to put these colours on for the first time today – SCG vs The Perth Scorchers to start our campaign, biiiig 🙌🏼 pic.twitter.com/302euS0vVr

— Tom Curran (@_TC59) December 21, 2018