Cricketing trends on Social Media today
Here's how the fraternity spent the day on social media.
Updated - Apr 23, 2019 11:44 pm
3.3K Views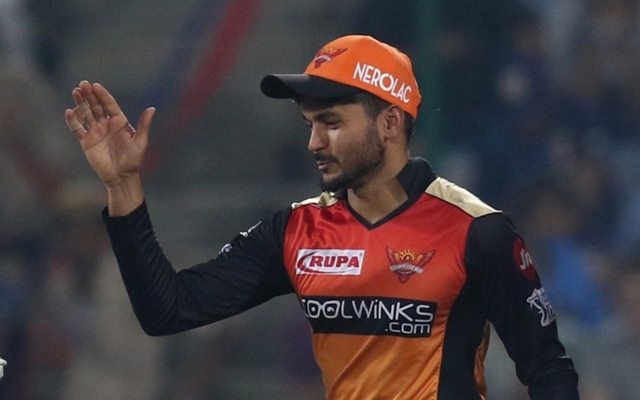 Follow us on Google News
The cricketing trends on social media today revolved around the voting for the third phase of the ongoing General Elections in India. Most of the current and former cricketers took a break from their busy schedules and spared time to vote and also urged their fans to do the same. The likes of Irfan Pathan, Jasprit Bumrah and Ajinkya Rahane among many voted and sent a correct message to the fans.
Meanwhile, there was a buzz around the game between the Chennai Super Kings (CSK) and the Sunrisers Hyderabad (SRH). The blockbuster clash got underway at the MA Chidambaram stadium on Tuesday as the home team won the toss and opted to field first as CSK included Harbhajan Singh at the expense of Shardul Thakur. For SRH, Kane Williamson flew back home after his grandmother's demise and Manish Pandey replaced him.
As far as the Pakistan team is concerned, they reached England for a long tour which also includes the World Cup starting from May 30. Prior to that, they are scheduled to play a solitary T20I and the five-match ODI series against the home team.
1. RP Singh hails Manish as special player
.@im_manishpandey is a special player! Good to see him in good knick. @harbhajan_singh picking up the @SunRisers openers 👌👌#SRHvCSK

— R P Singh रुद्र प्रताप सिंह (@rpsingh) April 23, 2019
2. Lisa happy to be at Chepauk
First time for me here at the MA Chidambaram Stadium (Chepauk) Chennai!! #CSKvsSRH pic.twitter.com/733k3X1g1O

— Lisa Sthalekar (@sthalekar93) April 23, 2019
3. Tino Best enjoying
Finally found a shirt 🤣 . #islandlife🌴 pic.twitter.com/gP4YZ0k8lk

— Tino95 (@tinobest) April 23, 2019
4. Ishant at the poolside
Sunshine. ☀️ Poolside. 🌊 Downtime. 🏐
Pool tides & good times!! 💪🔥 pic.twitter.com/cUaJgz0ugR

— Ishant Sharma (@ImIshant) April 23, 2019
5. Gambhir – The Politician
पूर्वी दिल्ली लोकसभा के सभी कार्यकर्ताओं,नेताओं और युवा साथियों का दिल से धन्यवाद! मेरे नए सफ़र को यादगार बनाने के दिल से आभार ।रोड शो से बहुत से चाहने वालों को और ट्रैफ़िक को हुई परेशानी के किए क्षमा प्रार्थी हूँ।@MaheishGirri @ManojTiwariMP @VijayGoelBJP pic.twitter.com/QNu6aRoRu9

— Gautam Gambhir (@GautamGambhir) April 23, 2019
6. Pathan votes
7. Rahane is reading
The more you read, the more you know!
It's always relaxing to read a good book in my me time.
Any recommendations for my next read? #WorldBookDay pic.twitter.com/kb9nQksfrU

— Ajinkya Rahane (@ajinkyarahane88) April 23, 2019
8. Hogg is worried for SRH
@jbairstow21 last game for @SunRisers this IPL. Hope he finishes well. SRH need it. A loss tonight, with their batting depth thin, they are a huge chance of not making the playoffs.

— Brad Hogg (@Brad_Hogg) April 23, 2019
9. Axar votes
The VOTE is the most powerful nonviolent tool we have, people are responsible.🙏🏻#feelingcountryside pic.twitter.com/qCg15nLzlv

— Akshar Patel (@akshar2026) April 23, 2019
10. Shamsi's thoughts
— Tabraiz Shamsi (@shamsi90) April 23, 2019
11. Sehwag lauds the winners
Many congratulations to Gomathi Marimuthu and Tejinder Pal Singh Toor for winning a gold each in #AsianAthleticsChampionship2019 . Thank you for keeping the flag flying high. pic.twitter.com/27BbEYEgWa

— Virender Sehwag (@virendersehwag) April 23, 2019
12. Rahul going through the grind
The grind never stops, keep hustling 💪 pic.twitter.com/NeY5rQzroo

— K L Rahul (@klrahul11) April 23, 2019
13. Bumrah votes
Do your duty as responsible citizens of our country. Go out and vote 🇮🇳 pic.twitter.com/2MgMcIgsTA

— Jasprit bumrah (@Jaspritbumrah93) April 23, 2019
14. Ali missing his son
He is on his way missing him badly InshA Allah see u soon meri jaan 😘😘😘 pic.twitter.com/vR8cQJfCol

— Azhar Ali (@AzharAli_) April 23, 2019
15. Kambli recalls
2) vs @TheRealPCB at Chepauk in 1999 when he came down to bat and scored a 136 with an antogonizing back pain but he never gave up and fought till the very end and got India very close to a victory.#SachInnings pic.twitter.com/zfnkjt3dpv

— VINOD KAMBLI (@vinodkambli349) April 23, 2019
Follow us on Telegram