Cricketing Trends on Social Media today
Here's how cricketers spent their day on Twitter and Instagram today.
Updated - Oct 23, 2019 8:56 pm
419 Views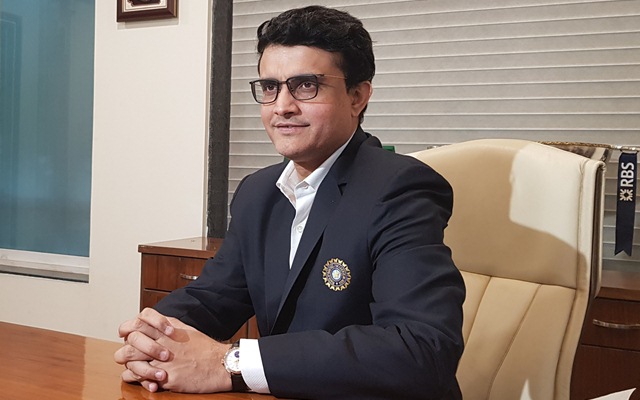 The cricketing trends on social media revolved around a number of events. Today,  Sourav Ganguly officially took the charge of BCCI chief. He also addressed media for the first time as an Indian cricket chief. On this special occasion, cricketing fraternity on social media congratulated Dada.
Abhishek Nayar signed off from first-class cricket and brought his 13-year long career to a halt. He gave this information through his Twitter handle. After this news went viral players like Shreyas Iyer congratulated Mumbai all-rounder for a successful career and denoted him as the perfect role model for the budding cricketers.
Sikandar Raza posted a video of him sharing his excitement to be a part of Abu Dhabi T10 league which will start from 14th of November. Mumbai Indians owner Akash Ambani turned 28 today and players of his franchise poured wishes on him. Krunal Pandya posted a picture of junior Ambani giving a badge during an IPL season.
There was news from Australian cricket over Chris Lynn's exclusion from Australia's T20I squad and former cricketer Bradd Hogg came out with his opinion in a video over Lynn's fall-out from the team.
1. Krunal Pandya wishes Mumbai Indians owner Akash Ambani on his birthday
Happy birthday to a top, top guy! Hope you're having a great day Akash 🥳🥳 pic.twitter.com/qJizoCK3Uw

— Krunal Pandya (@krunalpandya24) October 23, 2019
2. Jason Roy recalls a memory 
My Urdu needs a little work but really enjoyed my short stay in Pakistan shooting this advert for @Zongers and catching up with @YounusK75. Got looked after extremely well and look forward to visiting again. @iNabeelHashmi pic.twitter.com/U8pvP9u0ji

— Jason Roy (@JasonRoy20) October 23, 2019
3. Anil Kumble posts a candid picture of wildlife
There is always something so mysterious, yet soothing about the calmness of the jungle. A tiger taking an evening stroll alongside silent waters at #Tadoba is a sight worth watching. #WildlifeWednesday pic.twitter.com/hiGsuMCvnr

— Anil Kumble (@anilkumble1074) October 23, 2019
4. Gulbadin Naib congratulates his friend Najib Zadran 
Congrats Buddy great work keep it up. https://t.co/bAWjyJ53Rn

— Gulbadin Naib (@GbNaib) October 23, 2019
5. Anil Kumble congratulates Sourav Ganguly
Congratulations dada @SGanguly99 really happy for you and indian cricket. I am sure under your able leadership Cricket will flourish. Best always. 👍🏼 https://t.co/YsAxntc2ae

— Anil Kumble (@anilkumble1074) October 23, 2019
6. Sourav Ganguly posts a picture after holding the chair of BCCI chief
It's a great honour pic.twitter.com/jCpmem80GT

— Sourav Ganguly (@SGanguly99) October 23, 2019
7. AB de Villiers wishes Tuks Cricket team
Thanks @tukscricket All the best in Dubai https://t.co/BEjxxYQUcU

— AB de Villiers (@ABdeVilliers17) October 23, 2019
8. Sikandar Raza is excited to be a part of Abu Dhabi T10 league
I am extremely thrilled to be a part of the Abu Dhabi T10 League 2019 and looking forward to seeing you all from 14th November to 24th November at Zayed Cricket Stadium, Abu Dhabi.@T10League @nwarriorst10 @statemeant @Stemsports1 #abudhabit10 #t10season3 #t10league #inabudhabi pic.twitter.com/PWbwwYybST

— Sikandar Raza (@SRazaB24) October 23, 2019
9. Suresh Raina congratulates Sourav Ganguly 
This makes me so happy. Having learnt from and played with you Dada, I know that you're going to excel at your new role , treat it with utmost sincerity and passion, much like you always did on field. Congratulations, @SGanguly99 and all the best for the journey ahead.👍 pic.twitter.com/N7k21odksD

— Suresh Raina🇮🇳 (@ImRaina) October 23, 2019
10. Abhishek Nayar thanks Shreyas Iyer 
Thanks little bro https://t.co/1mAeXbIYqE

— abhishek nayar (@abhisheknayar1) October 23, 2019
11. Shreyas Iyer posts a motivational message 
You're the perfect role model for budding cricketers out there … was lucky to have you around during the early years of my career. We'll miss you on the field…Good luck on your next innings @abhisheknayar1 pic.twitter.com/VIRcALRpla

— Shreyas Iyer (@ShreyasIyer15) October 23, 2019
12. Krunal Pandya posts a dashing picture of him 
It's the season to shine 💫 #DiwaliIsHere pic.twitter.com/GkRYRtmLQv

— Krunal Pandya (@krunalpandya24) October 23, 2019
13. JP Duminy posts a picture of him with a message to work hard every day
It's been a lifetime of preparation. Working every day to give myself the best chance of succeeding.
Check out the link in my story or go to www. https://t.co/FFyt1SL2v0 to get great health and wellness tips and stories.#Medshield #NowYouKnow #ad @MedshieldSA pic.twitter.com/7HoZIGETx3

— JP Duminy (@jpduminy21) October 23, 2019
14. Ian Bell posts a picture enjoying the new role 
Really enjoying my time so far as batting coach for the @englandcricket young Lions. Great days training yesterday @FA St George's Park 🦁 🏏 pic.twitter.com/GNvavBQdnk

— Ian Bell (@Ian_Bell) October 23, 2019
15. Brad Hogg gives out his opinion over Chris Lynn's exclusion 
Righty-o, so Chris Lynn has missed out on his spot in the Australian T20I squad that takes on Pakistan. Obviously he's disappointed. But good move, yes or no? Here's what I think. Let me know if you agree with me as well folks – comment below. pic.twitter.com/Q3SOeUF5rG

— Brad Hogg (@Brad_Hogg) October 23, 2019