Cricketing trends on Social Media today
Here is what the cricketing fraternity was busy talking about.
Updated - Jul 26, 2018 9:24 pm
549 Views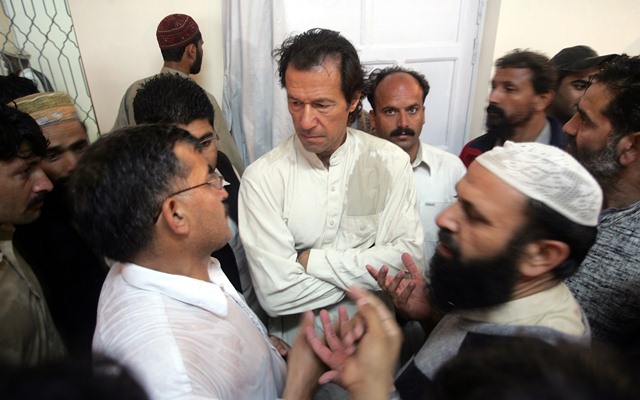 The cricketing trends on social media today revolved around Pakistan and India. It was result day after the general elections in Pakistan and as it was predicted former cricketer Imran Khan's party PTI won the most number of seats. Though they didn't touch the magic figure of 137 it is expected that with support from other candidates Imran will take oath as the next Prime Minister of the country. Most Pakistani cricketers posted messages to congratulate the World Cup-winning captain on the occasions.
England named their 13-man squad for the first Test match against India and Adil Rashid was included in the squad which wasn't taken well by someone like Michael Vaughan. On the Indian side, it was Kargil Vijay Divas and a lot of Indian cricketers took the opportunity to salute the martyrs and all those who fought in the war.  All that and more in the cricketing trends of the day.
1. Wahab Riaz was impressed with Imran Khan's speech after the Pakistan general election results
That was one inspiring speech, had the honesty and sincerity of a leader who feels the people of Pakistan
My daughter and the children of this generation are going to be part of #NayaPakistan. No words to describe that feeling. Congrats @ImranKhanPTI I'm praying for ur success IA

— Wahab Riaz (@WahabViki) July 26, 2018
2. Irfan Pathan posted a beautiful quote from Hazrat Ali which roughly translates to 'don't blame your luck for your mistakes, as luck depends on your own bravery'
अपनी गलती से खुद की तकदीर को बदनाम मत करो . क्यों की तक़दीर खुद हिम्मत की मोहताज होती है 🌹 हज़रत अली 🌹

— Irfan Pathan (@IrfanPathan) July 26, 2018
3. Azhar Ali congratulated Imran Khan as his party PTI emerged as the single largest party in Pakistan
4. Saqlain Mushtaq requested all his relatives and friends to stay united 
I have been watching relatives , friends argue and fight with one another over the difference of their parties over these past few days, my humble request is please refrain from that and just think we are all one and please stay United.

— Saqlain Mushtaq (@Saqlain_Mushtaq) July 26, 2018
5. Chris Jordan is back with his team for the T20 Blast
6. Robin Peterson having fun with his little one
7. Viru has two new ideal fitness ambassadors 
Ideal Fitness Ambassadors, Son Gurudev Singh (80) with his Mother Maan Kaur ji (103) on the running track.
If you think you are too old to inculcate fitness as a part of your life, time to get inspired by them. pic.twitter.com/VYKz2eX7OI

— Virender Sehwag (@virendersehwag) July 26, 2018
8. It is a full moon night and KP thinks that makes it really dangerous for the animals especially rhinos 
Full moon this eve. Incredibly dangerous night for the animals(rhinos in particular)…

— Kevin Pietersen (@KP24) July 26, 2018
9. RP Singh is in Bikaner, Rajasthan and spent some time at the cultural centre & museum
Had a good time Visiting Prachina, a Bikaner cultral centre & Museum. It's always good to see how old and rich is our heritage. pic.twitter.com/1b6yI2EKkb

— R P Singh (@rpsingh) July 26, 2018
10. Umar Gul thinks Pakistan has voted for change by giving Imran Khan the most seats
Glad the #elections2018 went well and the people have given a verdict for change. @ImranKhanPTI has been a force since he won us the World Cup and his struggle of so many years is shining today. We pray he fulfils his promises and makes Pakistan prosper inshaAllah @PTIofficial

— Umar55 (@mdk_gul) July 26, 2018
11. England limited-overs captain congratulated Moeen Ali and Adil Rashid on being recalled in the Test team for the first match against India
Massive congratulations to @MoeenAli and @AdilRashid03 on being recalled into the Test squad. Both have had a fantastic international summer so far. Good luck boys

— Eoin Morgan (@Eoin16) July 26, 2018
12. Master blaster Sachin Tendulkar remembers the sacrifice of our armed forces on the Kargil Vijay Divas
Sacrifice, selflessness, honour, valour & courage. Every member of our defence forces is an embodiment of these qualities. Today, on #KargilVijayDiwas, we remember the fallen with deep gratitude & salute those who have served and still serve, putting nation before self. #JaiHind

— Sachin Tendulkar (@sachin_rt) July 26, 2018
13. Michael Vaughan thinks the decision to select Adil Rashid in the Test team despite the fact that he doesn't play first-class cricket is ridiculous
So we have picked someone who cannot be arsed with 4 day cricket for the Test Team … Forget whether he is good enough or not I find this decision ridiculous … !!!

— Michael Vaughan (@MichaelVaughan) July 26, 2018
14. The new English selector shared the 13-man squad for the 1st Test
13-man squad for the first Test match against India at Edgbaston

Joe Root (captain)

Moeen Ali

Jimmy Anderson

Jonny Bairstow

Stuart Broad

Jos Buttler

Alastair Cook

Sam Curran

Keaton Jennings

Dawid Malan

Jamie Porter

Adil Rashid

Ben Stokes

— James Taylor (@jamestaylor20) July 26, 2018
15. The first lot of kids practising at the Usman Khawaja foundation cricket hub