Cricketing Trends on Social Media today
Here is what the cricketers did on Twitter and Instagram today.
Updated - Jul 9, 2018 10:22 pm
5.6K Views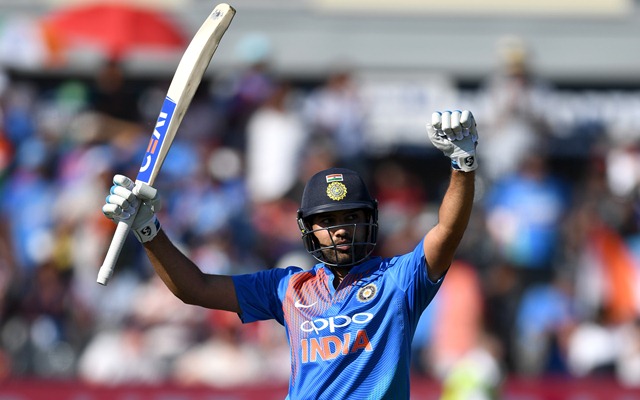 Follow us on Telegram
The cricketing trends on the social media revolved around a number of events. The Supreme Court delivered a verdict on the infamous 'Nirbhaya' case and the court upheld the death sentence meted out to the wrongdoers. Prior to the verdict, Virender Sehwag created a poll on Twitter asking for people's opinion on the matter. Gautam Gambhir believes that the chances of such an incident taking place again can't be ruled out.
Kuldeep Yadav featured in a show 'What the Duck' hosted by renowned comedian Vikram Sathaye. Former cricketer Amol Muzumdar was unhappy with the infrastructure in Mumbai and he posted a video of the same. Kevin Pietersen posted a picture where he was seen having champagne and taking a copper bath. Aaron Finch uploaded a picture with a giraffe in Zimbabwe. RP Singh accepted the 'KitUp' challenge and posted a video.
Rohit Sharma dedicated his yesterday's century to Sudan, the world's last male northern rhinoceros, who died at the age of 45 in Kenya back in March. Chris Jordan was disappointed after England lost the series but wanted to move ahead and learn from their mistakes. Cheteshwar Pujara was busy playing some badminton. Shoaib Akhtar slammed Glenn Maxwell for not shaking hands with Sarfraz Ahmed.
1. Siddarth Kaul goes Sanju way
"Wo India 3 matches ki har T20 Series jeete aisa zaruri hai kya?"

Ans – Haan 😂 #INDvENG pic.twitter.com/NJwcW4kNda

— Siddharth Kaul (@sidkaul22) July 9, 2018
2. Amol Muzumdar is unhappy with the infrastructure in Mumbai
No matter what we say n think, it's a sorry state of affairs in our beloved 'Mumbai'. The infrastructure has FAILED. Why can't someone accept it, say it, n then "ACT".! For godsake wake up. Cos it all will be forgotten in the month of dec but v need to live July n aug. #nohashtag pic.twitter.com/D5uHSxkfHA

— Amol Muzumdar (@amolmuzumdar11) July 9, 2018
3. Virender Sehwag asked his followers a question
In gruesome acts like the #Nirbhaya case what do you think#NirbhayaVerdict

— Virender Sehwag (@virendersehwag) July 9, 2018
4. Kevin Pietersen having a gala time
Champagne + copper bath = ❤️ pic.twitter.com/ZjOUUErzum

— Kevin Pietersen (@KP24) July 9, 2018
5. Aaron Finch with his beloved animals
6. RP Singh accepts the KitUp challenge
So here's my #KitUpchallenge. Thank you @parthiv9 for nominating me. I would like to nominate my friends @robbieuthappa, @yukibhambri, @YWalmiki and @RannvijaySingha. #ComeOutAndPlay #SportsPlayingIndia #HumFitTohIndiaFit pic.twitter.com/AvezepyFc9

— R P Singh (@rpsingh) July 9, 2018
7. Rohit Sharma dedicates his hundred to his fallen friend
Yesterday's innings is dedicated to my fallen friend Sudan 🦏 May we find a way to make this world a better place for all of us. pic.twitter.com/wayEjDlUyA

— Rohit Sharma (@ImRo45) July 9, 2018
8. Suresh Raina with Rohit 
✌️☝️ pic.twitter.com/r1GKJvgNT9

— Suresh Raina (@ImRaina) July 9, 2018
9. Chris Jordan wants to learn from defeat 
10. Liam Livingstone happy about wins
11. Mark Butcher has a message for the ICC
#FifaWorldCup18….. 3 weeks in……. 32 teams….. semi final stage already….great tournament! Are you watching @ICC @2019WC ?

— Alan Butcher (@abutch58) July 9, 2018
12. Gautam Gambhir's concern for women
Before we go chest-thumping mode on today's #NirbhayaVerdict lets look at lack of safety measures for women. Have we learnt our lessons? Perhaps no. CCTV cameras? No. Increase of lady cops in police stations? No. Looks like we are waiting for another #NirbhayaCase!!!

— Gautam Gambhir (@GautamGambhir) July 9, 2018
13. Shoaib Akhtar slams Glenn Maxwell
Not shaking hands with Pak captain after winning the series its not a great example set by Glen Maxwell plus kids are watching his behaviour & looking up to him. Now-he should apologise to Pak team & Sarfraz ..

— Shoaib Akhtar (@shoaib100mph) July 9, 2018
14. An ecstatic Siddarth Kaul after series win
"Wo India 3 matches ki har T20 Series jeete aisa zaruri hai kya?"

Ans – Haan 😂 #INDvENG pic.twitter.com/NJwcW4kNda

— Siddharth Kaul (@sidkaul22) July 9, 2018
15. Cheteshwar Pujara playing badminton
Working on those smash shots! #Badminton pic.twitter.com/W6vqFws6SO

— cheteshwar pujara (@cheteshwar1) July 9, 2018
Follow us on Google News