Cricketing Trends on Social Media Today
Here are the topics around which discussion revolved in the cricket community
Updated - Mar 9, 2019 9:24 pm
6.9K Views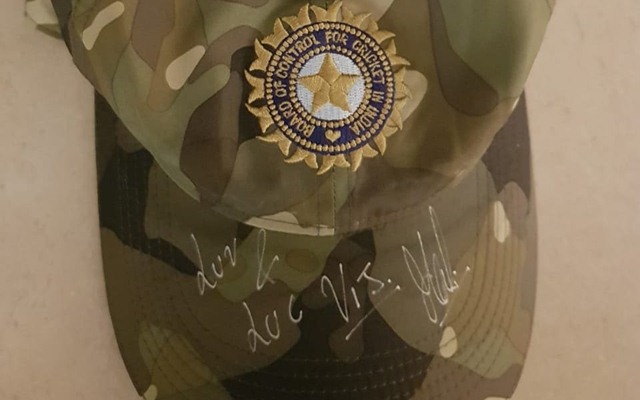 Follow us on Telegram
There wasn't much of cricketing action on Saturday. Therefore, the trends revolved around a wide array of topics. It is Indian wicketkeeper Parthiv Patel's birthday as well as marriage anniversary today. So, former cricketers VVS Laxman and RP Singh tweeted some special messages for the cricketer.
Vijay Shankar termed that it was a great initiative by the BCCI to wear camouflage caps in the Ranchi ODI. He urged the fans to donate to the martyred army personnel's families. Moreover, he also thanked MS Dhoni for giving him an autograph on this special cap.
Meanwhile, Windies were bundled out for 45 runs in the 2nd T20I against England. There were a few tweets revolving around this topic as well. David Lloyd and Herschelle Gibbs were shocked with this performance. The other trends had some life lessons that were shared by Ajinkya Rahane and Sandeep Lamichhane.
1. Vijay Shankar says it was a great initiative by the BCCI to wear camouflage caps. Urges people to donate for the martyred army personnel's families
Great iniative from @BCCI and let's contribute https://t.co/MS0T7jzYMf

Thank you so much @mahi7781 🇮🇳🇮🇳 pic.twitter.com/CmVgK8H1T5

— Vijay Shankar (@vijayshankar260) March 9, 2019
2. Tabraiz Shamsi proud of Titans Cricket for pulling off an unbelievable win and applauds Junior Dala for his batting heroics
Well batted @JDala3 …you'll still bat lower than me though so dont get any other ideas @AidzMarkram too much Sauce my boitch! Unreal stuff from you once again @Titans_Cricket team pulling off an unbelievable victory last night….. so so proud 💙

— Tabraiz Shamsi (@shamsi90) March 9, 2019
3. Ravi Bopara has a message for all the parents as the exams season is here
— Ravi Bopara (@ravibopara) March 9, 2019
4. Some breath-taking visuals captured by Kevin Pietersen
Just Enjoy…! 😍 pic.twitter.com/uOFQgCL8Te

— Kevin Pietersen🦏 (@KP24) March 9, 2019
5. VVS Laxman wishes Parthiv Patel on his birthday. Shares a very old picture
Wish you a very very happy birthday @parthiv9 ! May you achieve ever more success and love! pic.twitter.com/4z995AIPSY

— VVS Laxman (@VVSLaxman281) March 9, 2019
6. David Lloyd has a tweet after Windies get bowled out for 45 against England
Windies this week , Whitby next week … perfect

— David 'Bumble' Lloyd (@BumbleCricket) March 9, 2019
7. Harmanpreet Kaur wants to break the stereotypes about women
Support for the cause 🙏🏼
Great initiative by @WomensCricZone @ketto . https://t.co/bM0a7fRLso

— Harmanpreet Kaur (@ImHarmanpreet) March 9, 2019
8. RP Singh wishes Parthiv Patel a very happy birthday and marriage anniversary
With the birthday boy.. good to see you bro! Wish you a very happy birthday and a life full of good health and happiness!
And, a very happy marriage anniversary too. 🎊 pic.twitter.com/D999AOTIRd

— R P Singh रुद्र प्रताप सिंह (@rpsingh) March 9, 2019
9. Bishan Singh Bedi shares an important and informative message for his followers
No dearth of ways to fleece public…read this carefully Fellas..& avoid being 'had' by toll booths..Happy & Safe Driving on Highways..!! pic.twitter.com/yP7cGYUYvk

— Bishan Bedi (@BishanBedi) March 9, 2019
10. Naill O'Brien shares his thoughts after watching the movie 'Goal'
Just watched a classically awful movie…..Goal!! I know it's your fav @robbienewts77 but I hope it's not a bad sign for the toffees later..

— Niall John O Brien (@niallnobiobrien) March 9, 2019
11. Jason Gillespie getting ready for the pre-season preparations with the lads at Sussex County Cricket Club
Checked in at Adelaide Airport and all ready to go! Looking forward to seeing all the @SussexCCC lads in Cape Town for our pre season preparation!#GOSBTS #CountyCricket

— Jason Gillespie 🌱🌈 (@dizzy259) March 9, 2019
12. Ajinka Rahane shares a tweet emphasising the importance of saving
From my early days, my mom taught me the importance of #Saving. This piggy bank reminds me of those days and I thank her for creating this habit in me. #LifeLessons pic.twitter.com/PnJ6EfUoQH

— Ajinkya Rahane (@ajinkyarahane88) March 9, 2019
13. Herschelle Gibbs bewildered after the Windies get bowled out for 45 runs
Just saw the windies got rolled for 45 last night in the t20 at st kitts 🤔

— Herschelle Gibbs (@hershybru) March 9, 2019
14. Your best is yet to come. Don't give up now, tweets Sandeep Lamichhane
— Sandeep Lamichhane (@IamSandeep25) March 9, 2019
15. Great minds think alike? Or do they think independently? – Some Viru Gyaan here
Great minds don't think alike, they think independently #ViruGyaan pic.twitter.com/AbGEEsFAaQ

— Virender Sehwag (@virendersehwag) March 9, 2019
Follow us on Google News