Cricketing Trends on Social Media Today
Here is what the cricketers today did on Twitter and Instagram.
Updated - Jun 9, 2018 10:38 pm
898 Views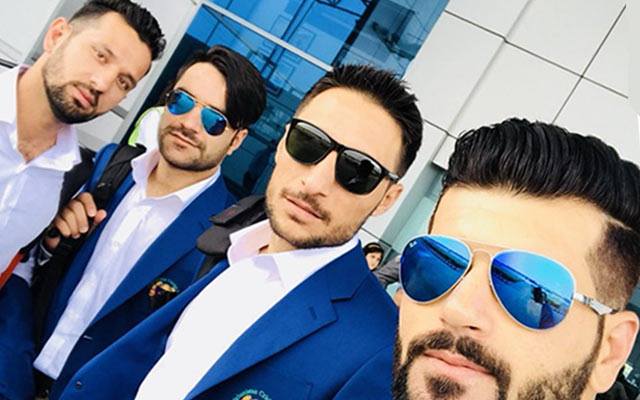 The cricketing trends were about India's Asia Cup Final versus Bangladesh tomorrow at Kuala Lumpur. Anjum Chopra is excited about the live broadcasting of tomorrow's match. Siddarth Kaul is happy that India beat Pakistan in their last league match and finished at the top of the table. The Afghanistan team reached Bangalore for their maiden Test versus India at the Chinnaswamy Stadium from June 14.
Afsar Zazai shared a picture along with Rashid Khan and other teammates. Karun Nair's father turned 64 years and the cricketer is happy for him. Mark Butcher is happy with the way Sarah Taylor inflicted a stumping down the leg side in England's match versus South Africa. Rishabh Pant uploaded a picture where he has been seen in a suit. English cricketer Luke Wright posted a picture with his son.
Shubman Gill shared a picture inside the flight along with Prithvi Shaw and Khaleel Ahmed. Ravindra Jadeja is in Bangalore and he is awestruck by the weather in the city. Darren Gough is in Russia and is awaiting the FIFA World which starts next week.
VVS Laxman is delighted to meet the Defense Minister Nirmala Sitharaman. South African batsman Alviro Peterson uploaded a picture of a beautiful scenario. Cricketer Subramaniam Badrinath was enjoying the Saturday morning with his 'brew'. Wayne Parnell is happy for Siya Kolisi captaining the South African rugby team.
1. Afsar Zazai in India
Safely Reached To Bangalore For Historic Test Match Against India Looking Forward @rashidkhan_19 @JavedAhmadi23 @rehmatsha @rahmat sha👍🇦🇫 pic.twitter.com/OcpyNnaGuk

— Afsar Zazai (@afsarzazai) June 9, 2018
2. Karun Nair for his father
There's no better feeling than seeing your old man happy❤ Happy Birthday Papa🎂 #oldman #birthday #mystrength #rock #64 pic.twitter.com/bBk8YLo994

— Karun Nair (@karun126) June 9, 2018
3. Wayne Parnell happy for friend
So incredibly happy and proud of my friend Siya Kolisi, captaining our country for the first time. You've come a long way since those touch rugby days on the Gordon Field @greyhighsport … All the best my friend!!

— Wayne Parnell (@WayneParnell) June 9, 2018
4. Luke Wright with his son
5. Mark Butcher impressed by Sarah Taylor
Wow. Outrageous legside stumping from Sarah Taylor – again.. #ENGvSA

— mark butcher (@markbutcher72) June 9, 2018
6. A well-dressed Rishabh Pant
Always dress well, but keep it simple👌🏻👌🏻 pic.twitter.com/4VoRKpJIR1

— Rishabh Pant (@RishabPant777) June 9, 2018
7. Shubman Gill in flight
Showtime with the boys, @PrithviShaw and Khaleel Ahmed. pic.twitter.com/DuP11TsK7m

— Shubman gill (@RealShubmanGill) June 9, 2018
8. Badrinath enjoying Saturday afternoon
9. Ravindra Jadeja hails Bangalore weather
Hello Bengaluru ..awesome weather 👌🏻👌🏻😍😍😍 pic.twitter.com/2fGwu77Bye

— Ravindrasinh jadeja (@imjadeja) June 9, 2018
10. Darren Gough is ready for the World Cup
When in Russia 🇷🇺 welcome to the World Cup pic.twitter.com/08LmGBI0qD

— Darren Gough (@DGoughie) June 9, 2018
11. Anjum Chopra excited for Asia Cup Final
Women's Asia Cup #Final #2018 #Malaysia @ACCMedia1 #DifferentStrokes pic.twitter.com/dANMvZiKE3

— Anjum Chopra (@chopraanjum) June 9, 2018
12. VVS Laxman honoured to meet defence minister
Was wonderful meeting Hon. Defence Minister Smt. @nsitharaman and was really inspired by her passion and zeal to serve our country. pic.twitter.com/Q7KtdhobSr

— VVS Laxman (@VVSLaxman281) June 9, 2018
13. Alviro Peterson wishes good afternoon
14. Siddarth Kaul happy for India Women's team
Couldn't have been a better start to weekend. Indian Women Cricket Team has defeated Pakistan, climbed to the top of the table and reached the Asia Cup finals in style. Not that we need any proof that @ImHarmanpreet led @BCCIWomen is extremely awesome side 🤩 #INDvPAK pic.twitter.com/Xpz359ijnu

— Siddharth Kaul (@sidkaul22) June 9, 2018
15. Shivam Mavi in candid pose
Be stupid, be dumb, be funny, if that's who you are. Don't try to be someone that society wants you to be. So be yourself💫#Candid 📷 pic.twitter.com/VLCwUkFApG

— Shivam Mavi (@ShivamMavi23) June 9, 2018