Cricketing Trends on Social Media today
Here's how the cricketing fraternity spent their day on social media.
Updated - Aug 17, 2018 9:51 pm
1.3K Views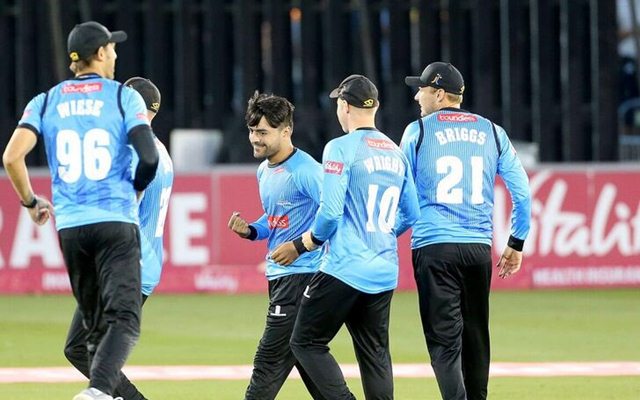 Follow us on Telegram
The cricketing trends in social media today saw the cricketers from all over the world interact with their followers across platforms. The fraternity was busy spreading the awareness among the people about the Kerala relief efforts. God's own Country is struggling due to torrential rains and floods all over the State. Sanju Samson donated the whopping amount of Rs 15 Lakhs to the CM Relief Fund on Friday even as the other cricketers kept their followers updated about the helplines.
Rashid Khan will end his T20 Blast stint with Sussex today with a game against Middlesex. He was instrumental in their success and would love to sign off in style with a sensational bowling spell. The team, however, needs to win their last league game in order to qualify for the quarterfinals and it will be interesting how they cope up without him in case they qualify for the knockout stages. They are currently fourth in the South Group and should be able to go through.
Pakistan cricketers congratulated Imran Khan as he took oath as the Prime Minister of Pakistan officially today. Ross Taylor was delighted to win the games in the ongoing Caribbean Premier League (CPL) while playing for Jamaica Tallawahs. They will play a few of their games now in Florida and he was hoping to turn it around. There was also a sense of excitement around the Trent Bridge Test between India and England which will commence on Saturday as the visitors will be keen to win it.
1. Stay strong, says Kohli to Kerala people
Everyone in Kerala, please be safe and stay indoors as much as you can. Hope the situation recovers soon. Also, thanking the Indian army and NDRF for their incredible support in this critical condition. Stay strong and stay safe.

— Virat Kohli (@imVkohli) August 17, 2018
2. Rashid signs off
It was totally different experience for me & learnt lots of things in @VitalityBlast .Huge pleasure & proud to be a part of @SussexCCC . Hospitality,Respect & support was Outstanding from my teammates coaching & management stuff. Can't wait to play next year . pic.twitter.com/uGqtt2yCmT

— Rashid Khan (@rashidkhan_19) August 17, 2018
3. Gambhir pays tribute
कुछ श्रद्धांजलि इनको भी, कुछ नम आँखें इधर भी। चिता पर लेटा इनका बेटा था, इरादा तो उसका भी अटल था, लाल किले पर नहीं तिरंगा उस ने Kargil में फहराया था। Honoured to have met Colonel V.N. Thapar father of Captain Vijyant Thapar, a Kargil martyr. Tks @LifeCoachSharat @FeverFMOfficial pic.twitter.com/pLLqU3bTVu

— Gautam Gambhir (@GautamGambhir) August 17, 2018
4. Ajmal congratulates Imran
Congratulations Pakistan
For our great Prime minister
Imran Khan
Mubarak ho sb ko bht bht
Love Pakistan 🇵🇰

— Saeed Ajmal (@REALsaeedajmal) August 17, 2018
5. Kartik congratulates Ramesh Powar
So happy to see @imrameshpowar appointed as the coach of the women's team.. Many congratulations big fella.. Best wishes always

— Kartik Murali (@kartikmurali) August 17, 2018
6. Hafeez congratulates Imran
Congratulations to @ImranKhanPTI to become 22nd Prime Minister of Pakistan ❤️🤲🏼, loads of prayers & best wishes to U , #NayaPakistan 🇵🇰Zindabad

— Mohammad Hafeez (@MHafeez22) August 17, 2018
7. Plunkett wants to win
Over the last 6 years. Would love to go out with a bang and help Yorkshire get a white ball trophy 🏆 also giving away some sign shirts tonight if anyone is interested!?

— Liam plunkett (@Liam628) August 17, 2018
8. Shamsi feels for Kerala people
Seeing some very disturbing scenes on the news since I've been in India… please help the people in Kerala 🙏#KeralaFloodRelief #HumanityFirst #PleaseHelp #FloodVictims @BCCI @KeralaTourism pic.twitter.com/FMDlFLjCqY

— Tabraiz Shamsi (@shamsi90) August 17, 2018
9. Ash sad for Kerala
Some heart wrenching stuff coming out from the #KeralaFloods , nature has unleashed it's fury at full tilt. My time line will be all over with helpline and flood relief details, please do not mind and try and see if you can contribute in any small way.

— Ashwin Ravichandran (@ashwinravi99) August 17, 2018
10. Billings thrilled with the victory
Hell of a game last night! As always at Canterbury the home crowd was brilliant. All of us @kentcricket really do appreciate the support!

Great to get over the line and qualify for the QFs; hopefully get a positive result @ Chelmsford tonight to get a home tie.#spitfires

— Sam Billings (@sambillings) August 17, 2018
11. Ashwin wishes all the luck for Indian Athletes
My Best Wishes to all the Indian Athletes at the #NontonAsianGames @asiangames2018 #AsianGames2018

— Ashwin Ravichandran (@ashwinravi99) August 17, 2018
12. Ingram happy
Massive game this evening for @GlamCricket …awesome to wake up on game day and be so fired up #DontDieWondering #intheTaff @graynics @VitalityBlast pic.twitter.com/IUho4ybKJm

— Colin Ingram (@CAIngram41) August 17, 2018
13. McCullum thrilled after win
Best seat in the house tonight! @DMBravo46 next level! Love this team, it's a family! Thanks @iamsrk @TKRiders

— Brendon McCullum (@Bazmccullum) August 17, 2018
14. Vaughan's prediction
15. Mahela isn't happy
Very tough to understand the policy…this is what happens when national selectors select provincial teams. That's why you need provincial selectors on a different structure. You need experience players for the youngsters to learn. https://t.co/sgqLgPGosN

— Mahela Jayawardena (@MahelaJay) August 17, 2018
Follow us on Google News