Cricketing trends on Social Media today
Here is how the cricketers spent their day on the social media today.
Updated - Mar 21, 2018 7:33 pm
218 Views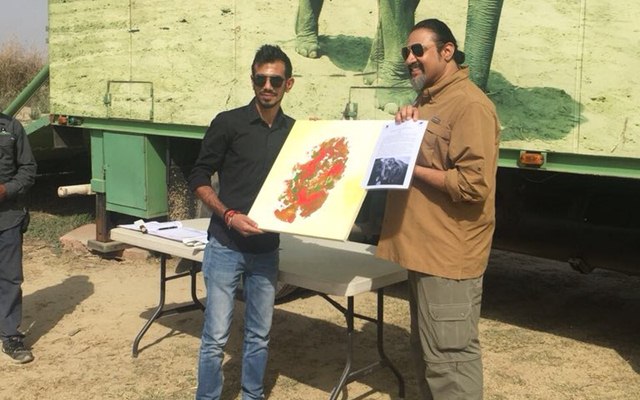 Follow us on Google News
The cricketing trends in the social media today saw tweets coming from all corners of the cricket world. Also, the updates ranged from a wide range of topics. Dinesh Karthik was elated after Amul used his name after he finished the game sensationally in the final of the recently concluded Nidahas Trophy. Darren Sammy prayed the God to help him play the second qualifier against Karachi Kings in Lahore on Wednesday. David Warner enjoyed his free time away from cricket with his wife Candice Warner.
Yuzvendra Chahal learnt some great lessons regarding the Wildlife in India and was happy to be involved in the incredible cause. Harsha Bhogle praised the Stadium in Trivandrum after BCCI shifted the ODI from Kochi after the controversy. Subramaniam Badrinath was enjoying the show 'Gameplan' organised by Star Sports in the build up to the Indian Premier League (IPL) in Bengaluru. Suresh Raina was enjoying the team bonding activities along with Virat Kohli and Shikhar Dhawan.
Shahid Afridi was disappointed to miss out on the match against Peshwar Zalmi due to knee injury in the second qualifier in Lahore at Gaddafi Stadium. Hassan Khan of Quetta Galdiators loved the experience of playing in front of his home crowd in the eliminator of the ongoing Pakistan Super League (PSL). Mark Butcher hailed the bowlers of Scotland after they rattled Windies for 198 in the must-win encounter of the ongoing ICC World Cup Qualifiers in Zimbabwe.
Here are the cricketing trends on social media today:
1. Karthik's childhood dream
To be on this, was a childhood dream . Very happy .grateful pic.twitter.com/WfFZqqU0AU

— DK (@DineshKarthik) March 21, 2018
2. Sammy prays
Once again i ask u Lord to grand me me the strength and the vision to lead my team Amen.. #yellowstorm #ClarasBoy #ChocolateMan pic.twitter.com/C6WnraZ1Pg

— Daren Sammy (@darensammy88) March 21, 2018
3. Warner loves his wife
4. Yuzi's lessons
Spent an amazing day learning about and interacting with the beautiful rescued animals of @WildlifeSOS Proud to support this incredible cause. pic.twitter.com/AJVv4emAmJ

— Yuzvendra Chahal (@yuzi_chahal) March 21, 2018
5. Harsha has his say
Nothing against Kochi but the stadium in Trivandrum is outstanding. Very impressed last time I was there. Maybe Kochi as a football hub and Trivandrum as a cricket hub?

— Harsha Bhogle (@bhogleharsha) March 21, 2018
6. Badri in the build up to IPL
Super time on the #Gameplan show at Bengaluru @RCBTweets @StarSportsIndia #IPL2018 pic.twitter.com/LRcWksqvSa

— subramani badrinath (@s_badrinath) March 21, 2018
7. Raina loves team bonding activities
8. Lala disappointed
Very disappointed at missing the match today. Like last yr PSL final in Lahore I won't be able to play due to injury in Pakistan. I wish Kings the very best, hope that we have another thrilling match and a win for Kings.

— Shahid Afridi (@SAfridiOfficial) March 21, 2018
9. Dada tweets
Suhasini Mistry ..she came to my show ..her work was shown to the world ..I am so happy for her award..@VVSLaxman281 pic.twitter.com/jWfGsUH7Uv

— Sourav Ganguly (@SGanguly99) March 21, 2018
10. Sad Junaid
Sadly many animals are endangered in this world. Very upseting to see that the white rhinos have finished from our world. We should do our best and help save the animals from becoming extinct, as they are also part of this world. Beauty and nature.#savetheanimal pic.twitter.com/ETYiiLnboW

— Junaid khan 83 (@JunaidkhanREAL) March 21, 2018
11. Hassan enjoyed
Unbelievable game last night! Really sad to be on the losing side of that game! It was an amazing experience, playing in Pakistan infront of a packed house! Best of luck to rest of the teams for the final! Next year insha'Allah

— Hassan Khan (@16hassankhan) March 21, 2018
12. Lynn loves Pattinson
Love this bloke. Welcome mate! Pitch it up in the nets please @_jamespattinson

— Chris Lynn (@lynny50) March 21, 2018
13. Bhajji's new song
தன் பெண்டு 

தன் பிள்ளை

சோறு வீடு

சம்பாத்தியம் இவையுண்டு

தானுண்டென்போர் மத்தியில் 

கொள்கைக்காக உயிர்நீத்த ஒரு உன்னத போராளி படைப்பை உங்களோடு தமிழில் பகிர்வதில், பெருமகிழ்ச்சி கொள்கிறேன்..

என் தமிழுக்கு உதவிய சரவணன் ,சுஜன் என் மனமார்ந்த நன்றி https://t.co/GYymMJaTYM

— Harbhajan Turbanator (@harbhajan_singh) March 21, 2018
14. Butcher hails Scotland
Seriously good bowling performance from Scotland. WI all out for 198. Game on #ICCWCQ

— mark butcher (@markbutcher72) March 21, 2018
15. Bishop priases Scotland bowlers
I don't know what the outcome of this key match will be: WI vs Scotland; but Scotland have been excellent with the ball and in the field today. #CWCQ2018

— ian bishop (@irbishi) March 21, 2018
For the latest cricket news, follow CricTracker.
Follow us on Telegram