Cricketing Trends on Social Media Today
Here's a look at the way the cricketing fraternity spent their day on social media.
Updated - Feb 23, 2018 8:39 pm
797 Views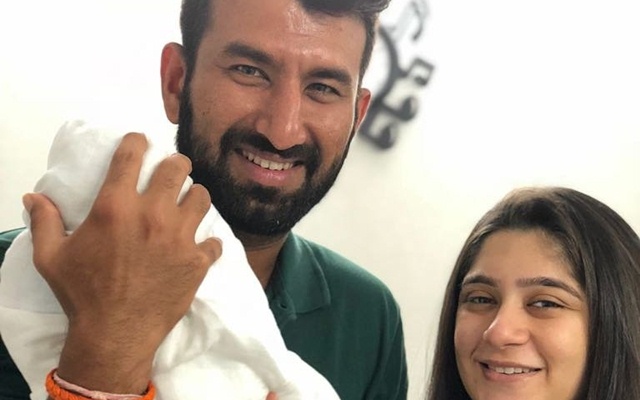 The cricketing trends on social media today saw the cricketers from all over the world interact with their followers was across platforms. Shadab Khan was all set to play the Pakistan Super League (PSL) after enjoying the star-studded opening ceremony on Thursday. Chloe Tryon was excited to play at the Newlands on Saturday against India Women. The home side has to win the encounter as the visitors lead the five-match series by 2-1. Jasprit Bumrah was relaxing on an off day ahead of the third and final T20I against South Africa in Cape Town.
Muhammad Wasim was happy after going for a run with the coaching staff of Multan Sultans after winning the season opener on Thursday. Temba Bavuma was looking determined to make a come back from injury to the South African team. Ramiz Raza was enjoying his time in the commentary box during the course of one of the PSL matches. Cheteshwar Pujara was blessed with a baby girl on Thursday and the cricketer was delighted to inform the good news to his fans and followers.
Shoaib Malik took a subtle dig on Darren Sammy after Multan Sultans defeated Peshwar Zalmi in the season opener of PSL. Mustfizur Rahman was set to play for Lahore Qalandars in the ongoing T20 tournament of Pakistan and requested his fans to pray for him. Sourav Ganguly took part in walking in Coimbatore while endorsing for the lense company Essilor. Angelo Mathews was happy after spending time with the small children as a part of his social cause on Friday.
1. Shadab is ready
Had a great time at @thePSLt20's opening ceremony. Teyaar ho jao #SherKiDhaar ke liye. #UnitedWeWin pic.twitter.com/lTR9xnvsY4

— Shadab Khan (@76Shadabkhan) February 23, 2018
2. Tryon loves to be in Cape Town
Newlands has always been such an incredible place to play cricket.. it all comes down tomorrow?? Catch it live at 1pm on SuperSport now #MomentumProteas #DoubleHeader pic.twitter.com/NBAfGujK4R

— Chloe Tryon (@chloetryon25) February 23, 2018
3. Bumrah's off day
Day off well spent! #capetown #waterfront #goodtimes ?? pic.twitter.com/u4rj9mWLTy

— Jasprit bumrah (@Jaspritbumrah93) February 23, 2018
4. Coaches go for a run
Keen as ever this bunch !!
Celebrated last Night's win with Morning Run ?‍♂️ #CoachingStaff #HappyFaces #Dubai #PSL18 #SaadiVaari pic.twitter.com/xAHePXDfbf

— Muhammad Wasim (@MuhammadWasim77) February 23, 2018
5. Determined Bavuma
I declare my independence by striving to be the best I can be @NewBalance_SA #fearlesslyindependent #TeamNB #FreshFoamLazr #getmore pic.twitter.com/ToVkKNuSd3

— Temba Bavuma (@tbavuma10) February 22, 2018
6. Ramiz enjoying commentary
A peek behind the scenes in the commentary box.. enjoy the madness ? pic.twitter.com/i9Q8zp9T7L

— Ramiz Raja (@iramizraja) February 23, 2018
7. Puji with his wife and new-born baby
Welcome lil one. Excited and super happy for the new roles in our lives. We made a wish and she came true! pic.twitter.com/109kIw79vW

— cheteshwar pujara (@cheteshwar1) February 23, 2018
8. Malik trolls Sammy
Hey @darensammy88 & team, well played today. Btw the #yellowstorm called & asked for an umbrella ?

So I sent her the one I had ? #psl3 https://t.co/SvIIVq0z5h

— Shoaib Malik (@realshoaibmalik) February 22, 2018
9. Fizz ready to roar in PSL
Alhamdulilla. All are set. Remember me in your prayers. ? pic.twitter.com/cjVrCwxwMG

— Mustafizur Rahman (@Mustafiz90) February 23, 2018
10. Dada walks
Walking in Coimbatore for Essilor…stay with essilor have great vision…@essilorindia pic.twitter.com/xlyORnQClO

— Sourav Ganguly (@SGanguly99) February 23, 2018
11. Mathews bats fora social cause
12. Polly tweets
Great opportunity for a school in JHB to have a coaching clinic with KG @KagisoRabada25 ..https://t.co/24XH2OGKn8

— Shaun Pollock (@7polly7) February 23, 2018
13. Sammy likes
#liplabel #liplife pic.twitter.com/g6z7I2qfZ4

— Daren Sammy (@darensammy88) February 23, 2018
14. Prior delighted
15. Mitch after training