Cricketing Trends on Social Media today
Check out what the cricketers have tweeted today.
Updated - May 26, 2018 8:55 pm
928 Views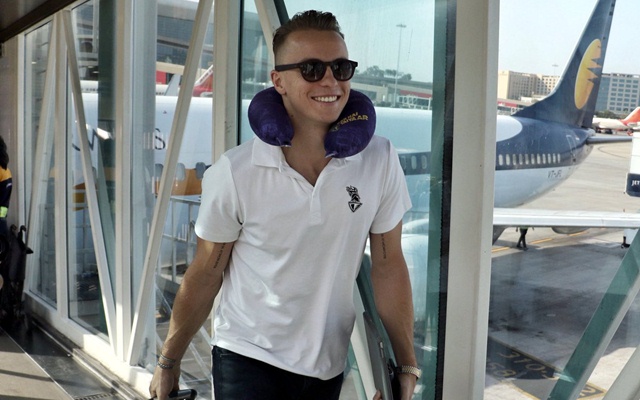 Follow us on Google News
The cricketing trends were surrounding the Indian Premier League (IPL) as many were excited for the title clash on Sunday and also regarding the Test match between England and Pakistan in London. Michael Vaughan was utterly disappointed with the performance of England team at the Home of Cricket in the first Test match against Pakistan. However, he was also all praise of the young line-up of the visitors who have bowled really well so far and are only 4 wickets away from winning the Test by an innings.
Shoaib Akhtar was in awe of the Football player Mohamed Salah who has decided not to break his Ramadan fast for the final of the Champions League between Real Madrid and Liverpool. Chris Gayle was chilling after reaching home post his stint with the Kings XI Punjab (KXIP) in the IPL. He started the season with a bang and then the familiar issues continued for him as the teams figured out how to get his wicket. Graeme Swann was excited to be in India to cover the final for the ESPN Cricinfo,
Ravichandran Ashwin loved the bowling of Mohammad Amir in the ongoing Test match in Lord's. He bowled a peach of a delivery to Jonny Bairstow to castle him for a second-ball duck in the second innings. Darren Sammy was excited to join the discussion on Star Sports in Dugout Debate which is a special program ahead of the final of the tournament. Manoj Tiwary had special wishes for his old IPL teammate Sunil Narine on the occasion of his birthday on Saturday.
1. Akhtar salutes Salah
Salute to this guy & his faith ..
Good luck salah go win the championship we all are with you.. pic.twitter.com/X0QyZI5PK4

— Shoaib Akhtar (@shoaib100mph) May 26, 2018
2. Gayle chilling
3. Akhtar praises Salah
Salute to this guy & his faith ..
Good luck salah go win the championship we all are with you.. pic.twitter.com/X0QyZI5PK4

— Shoaib Akhtar (@shoaib100mph) May 26, 2018
4. Ashwin loves Amir's bowling
Peach 🔥 from Amir. #EngvsPak

— Ashwin Ravichandran (@ashwinravi99) May 26, 2018
5. Swanny in India
Last couple of days here in India covering the IPL final for @ESPNcricinfo. I've loved every minute and predict a very close final. As for the Test back at home, keep the faith people, @ECB_cricket are just teasing you all. They will win this somehow 🤞

— Graeme Swann (@Swannyg66) May 26, 2018
6. Sammy excited
Looks like the fans knows that #TeamDeano will destroy #TeamScott #TheDugoutDebate pic.twitter.com/l2eS4MY3IS

— Daren Sammy (@darensammy88) May 26, 2018
7. Tiwary wishes Narine
Many many happy returns of d day my bro @SunilPNarine74 🍰😊 Hav a great one nd may God bless u always wit loads of success nd happiness 👍 pic.twitter.com/6XH26GtqJ9

— MANOJ TIWARY (@tiwarymanoj) May 26, 2018
8. Ojha looking forward
Looking forward to the battle between @msdhoni and #RashidKhan. The way Mahi bhai was disappointed when he got out, speaks a volume. Both will be at the peak of their abilities. Best wishes to @ChennaiIPL & @SunRisers. #excitedmuch #VivoIPLFinal #CSKvSRH #BESTvBEST

— Prragyan Ojha (@pragyanojha) May 26, 2018
9. Boycott poses
Look at my favourite Agnew, doesn't she look good!? pic.twitter.com/Vc1WJ1SH7R

— Geoffrey Boycott (@GeoffreyBoycott) May 26, 2018
10. Chand urges
Scorching heat, no water and what future holds for us. An alarming situation! Wake up call for us to save water. #WaterIsLife #savewater pic.twitter.com/m4sdXUh7iY

— Unmukt Chand (@UnmuktChand9) May 26, 2018
11. Sehwag has a suggestion for the students
If any student is feeling sad because they did not score as many marks as they expected or any parent is unhappy with their child's performance,please don't stress, you may Speak to me here or Watch a motivational video, or visit a counselor, anything but stress #CBSEResult2018

— Virender Sehwag (@virendersehwag) May 26, 2018
12. Bopara happy after the win
#eagles great win yesterday pic.twitter.com/jaGPA8aTjM

— Ravi Bopara (@ravibopara) May 26, 2018
13. Curran leaving India
Just wanted to say a big thank you to the entire @KKRiders family for everything over the past couple of months. I really enjoyed my time in India and have made so many amazing new friends. Home time now!!!🇮🇳✈️ pic.twitter.com/ELNogxnhUE

— Tom Curran (@_TC59) May 26, 2018
14. Rahane posts a video
Hello guys! You too can be a part of the #ceatcricketawards! Watch the video to learn how! See you there pic.twitter.com/Odud47NN3K

— ajinkyarahane88 (@ajinkyarahane88) May 26, 2018
15. Badri's pack-up
Follow us on Telegram