Cricketing trends on Social Media today
Here's how the cricketing fraternity spent their day on social media.
Updated - Apr 3, 2018 8:07 pm
1.7K Views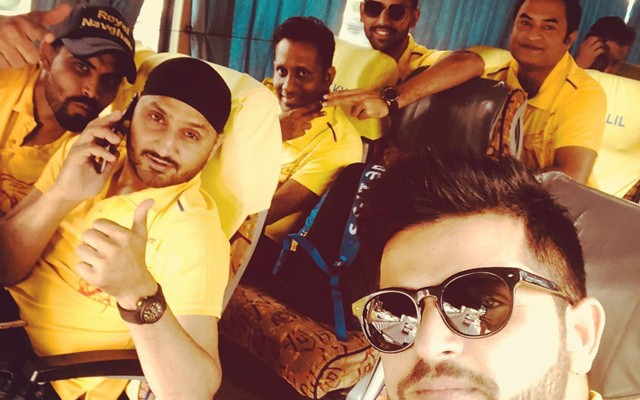 Follow us on Telegram
The latest cricketing trends on social media brought the cricketers much closer to their fans today just the way it happens every day. VVS Laxman wished Morne Morkel after he retired from international after the conclusion of the fourth Test against Australia in Johannesburg. Saqlain Mushtaq labelled Darren Sammy as the best captain currently going around in the shortest format of the game after his exploits for Peshawar Zalmi in the recently concluded Pakistan Super League (PSL).
Mpumelelo Mbangwa was delighted to see Kagiso Rabada and Pat Cummins swim together after the end of the closely fought Test series between South Africa and Australia. Mohammed Hafeez recalled his debut day as he had burst into the international scene on the same day and thanked everyone for their support throughout his career. Darren Sammy relished the two-year anniversary of T20I triumphs of Windies Men's and Women's team in World T20 in India.
Gautam Gambhir lashed out at Shahid Afridi after took a dig at 'India based Kashmir' for the reason of the violence in Jammu and Kashmir state. Yusuf Pathan is enjoying his stay in Hyderabad as he gears up for the upcoming season of the Indian Premier League (IPL). David Lloyd praised New Zealand for a perfect rearguard action put by their tailenders in the second and final Test match against England. He was also happy for the way the pitch played and credited England for trying hard to win the Test match.
1. Laxman congratulates Morne
Wishing @mornemorkel65 a very fulfilling and happy life post his retirement from international Cricket. Went about quietly doing his job , but was a great competitor and always gave his best. Congratulations on a wonderful career.

— VVS Laxman (@VVSLaxman281) April 3, 2018
2. Mushy picks Sammy
"I believe that @darensammy88 is the best captain at present, Amazing display of leadership -lead from the front even with an injury" when choosing a captain we need to look at these qualities ? pic.twitter.com/DEJS8rhfUH

— Saqlain Mushtaq (@Saqlain_Mushtaq) April 3, 2018
3. Mbangwa likes the sportsman spirit
4. Raina and Co off to Mumbai
5. Hafeez debut
3rd April a day to remember always in my life, made One day debut for Pakistan ?? , ALHAM DU LILLAH , thanks to all my fans to support me in thick & thin of these 15 years, Thanks to my clubs FAYSAL cricket club sargodha & APPOLO cricket club Lahore ❤️?????? @TheRealPCB

— Mohammad Hafeez (@MHafeez22) April 3, 2018
6. Sammy recalls
On This Day 2years ago Windies ruled the world. #wt20 #champions pic.twitter.com/EMCut8pqBd

— Daren Sammy (@darensammy88) April 3, 2018
7. Gambhir lashes out at Lala
Media called me for reaction on @SAfridiOfficial tweet on OUR Kashmir & @UN. What's there to say? Afridi is only looking for @UN which in his retarded dictionary means "UNDER NINTEEN" his age bracket. Media can relax, @SAfridiOfficial is celebrating a dismissal off a no- ball!!!

— Gautam Gambhir (@GautamGambhir) April 3, 2018
8. Yusuf loving Hyderabad
Enjoying the city of Nizams so far – can't wait for the season to start! Buy your tickets for our first game here https://t.co/VARb7vrYZG and support our #OrangeArmy. Aana zaroor!

— Yusuf Pathan (@iamyusufpathan) April 3, 2018
9. Bumble praises NZ
Terrific Test ! Great rearguard action by NZ .. Eng tried to everything .. pitch won in the end

— David 'Bumble' Lloyd (@BumbleCricket) April 3, 2018
10. KP wans these changes
England's Test cricket team – ?

1. Get a RED BALL coach that can influence Test results for the better.
2. Cook GOES cos there will be players that could have averaged 10 in NZ.
3. ECB needs to prioritise Test cricket again! It's the greatest form!

— Kevin Pietersen (@KP24) April 3, 2018
11. Albie's message to his brother
#MyMorneMoments, when young Morné started his career @Titans_Cricket, he 1day approached the coach Richard Pybus to ask him for some petrol money, as times were tough then believe it or not, Pybus suggested he sells his Citi golf and get himself a bicycle..? #humblebeginnings

— Albie Morkel (@albiemorkel) April 3, 2018
12. Fleming analyses Aussie issues
Another heavy defeat and heavy hearts ♥️ after being 1 test up in the series ?…..it ended in disaster on and off the field ?
losing 3/1 to a very good South African team
Philander bowling today summed up their execution taking 6/12#PhilanderPathwayToPavilion#SafvAus pic.twitter.com/Tl2CyPAZbU

— Damien Fleming (@bowlologist) April 3, 2018
13. Bopara loving Philander bowl
Me watching Vernon Philander bowling to to batters in this form!! #Surgeon pic.twitter.com/SZnzhnhts8

— Ravi Bopara (@ravibopara) April 3, 2018
14. Afridi urges UN
Appalling and worrisome situation ongoing in the Indian Occupied Kashmir.Innocents being shot down by oppressive regime to clamp voice of self determination & independence. Wonder where is the @UN & other int bodies & why aren't they making efforts to stop this bloodshed?

— Shahid Afridi (@SAfridiOfficial) April 3, 2018
15. Delighted Ajinkya
It was nice meeting you Tashi and Nungshi @NungshiTashi you both make us proud. I wish you all the success and happiness. pic.twitter.com/Lqr02hEFmo

— ajinkyarahane88 (@ajinkyarahane88) April 3, 2018
Follow us on Google News