Cricketing Trends on social media today
Here's a look at the way the cricketing fraternity spent their day on social media.
Updated - Nov 25, 2017 7:43 pm
869 Views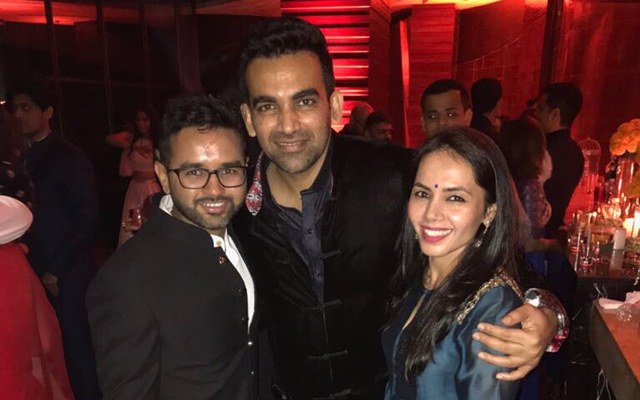 Follow us on Telegram
The cricketing trends on social media today saw the cricketers from all over the world interact with their followers across platforms. Wayne Parnell is looking stunning in his new get up. Darren Sammy and Mohammad Sami had a good day at the field with the former smashing 47 off just 14 deliveries. Parthiv Patel added an image with Zaheer Khan at his reception and lauded Akhilesh Pahwa for his designs. Bryce McGain wished Peter Siddle a very happy birthday and recalled the hat-trick moment he took in the Ashes.
Sachin Tendulkar was deeply saddened by the brutal attack on Sufi Mosque in Egypt. Johan Botha was impressed with the Indian skipper Virat Kohli and felt the game changed quickly after he came to bat against Sri Lanka. Matt Prior backed Alastair Cook despite twin failures in the ongoing first Ashes Test in Brisbane. Dean Jones lauded Steve Smith for his stupendous ton on the third day of the first Ashes Test. David Warner was thrilled to bits after watching a brilliant knock of his captain.
Mohammad Hafeez was hoping that the problem between Pakistan Government and the students would end soon. Ryan Sidebottom was supporting England Rugby side who are part of the World Cup. Lisa Sthalekar was amazed at the hairstyle of Jason Gillespie. The former Indian coach Anil Kumble enjoyed his time playing golf. David Miller was frustrated with frequent flight delays. Shahid Afridi was happy afte the visit of doctors to the noble cause. Now let us have a look at some of the cricketing trends on social media:
1. Anil Kumble playing golf
Swing it like you mean it! ?️‍♂️ #BMWGolfCupInternational @bmwindia pic.twitter.com/wudrvyltku

— Anil Kumble (@anilkumble1074) November 25, 2017
2. Miller frustrated
The last 2 months there have been delayed flights like u can't believe. @flysaa, Yet again we sit for 2:30hrs.

— David Miller (@DavidMillerSA12) November 25, 2017
3. Parnell in his new look
4. Sammy and Sami smiling
Well done to the Sammys @imohammadsami great bowling bro.. 4/4/9 ???? pic.twitter.com/ij7ygm5EiA

— Daren Sammy (@darensammy88) November 25, 2017
5. Parthiv and his wife with Zaheer
U dont need to worry when u have brother like @akhileshpahwa by your side…#amazingfit# akhileshpahwadesigns#luvubro#classicbandgala pic.twitter.com/Aisb9iCGf5

— parthiv patel (@parthiv9) November 25, 2017
6. Happy Birthday Siddle
Very Happy Birthday @petersiddle403 – what a moment! https://t.co/fU2Vc9pcsx

— Bryce McGain (@BryceMcGain18) November 25, 2017
7. Sachin deeply shocked after Egypt attack
Shock and deep sadness over the brutal attack in Egypt. Praying for the victims and their families. #EgyptMosqueAttack pic.twitter.com/suujzvK2aW

— sachin tendulkar (@sachin_rt) November 25, 2017
8. Botha lauds Kohli
Kohli the best at the moment by far, intensity & passion… game changes immediately- running a bye to keeper session 3 day 2. @imVkohli ??

— johan botha (@johan_botha) November 25, 2017
9. Prior backs Cook
He is a class act and will come good no doubt at all https://t.co/rGzGWH4AXv

— Matt Prior (@MattPrior13) November 25, 2017
10. Well played skipper
@stevesmith49 well played Smudge! #brilliant #Captains100
I bet your horse won as well!

— Dean Jones (@ProfDeano) November 25, 2017
Well played @stevesmith49 probably the best hundred I've witnessed ??from you. Absolutely superb. #21

— David Warner (@davidwarner31) November 25, 2017
11. Hafeez worried
Sad to know whats going on in over Pakistan between Govt & religious scholars strike starting from #Faizabadinterchange Islamabad , Ya Allah madad , peaceful Dialogue is the only solution , plz do consider Dialogues option ???

— Mohammad Hafeez (@MHafeez22) November 25, 2017
12. Sthalekar amazed
Anyone like @dizzy259 new hair-do? @OptusSport #Ashes pic.twitter.com/cGjlivgJ0o

— Lisa Sthalekar (@sthalekar93) November 25, 2017
13. Sidebottom supporting England Rugby side
Physical n Fast first half @England_RL Tough game . Time for a Quadruple Shot of Latte ? #Staystrong ?

— Ryan Sidebottom (@RyanSidebottom) November 25, 2017
14. Hoggard loving the food
Match made in heaven @farm_march @alfresco_chef @TraegerGrills pic.twitter.com/wPn0bRWn9k

— Matthew hoggard (@Hoggy602) November 25, 2017
15. Afridi's noble cause

Heartwarming scenes of what happens when we all pull together. Today, a team of doctors visited the children of our SAF school & their siblings, in Malikpur, for a medical checkup. Holistically, working on the welfare of our children #HopeNotOut #SAFSchools #AllForOne pic.twitter.com/OOemVIoL2O

— Shahid Afridi (@SAfridiOfficial) November 25, 2017
Follow us on Google News