Ireland coach John Bracewell unhappy with his team's approach
Updated - Jun 19, 2016 8:10 am
32 Views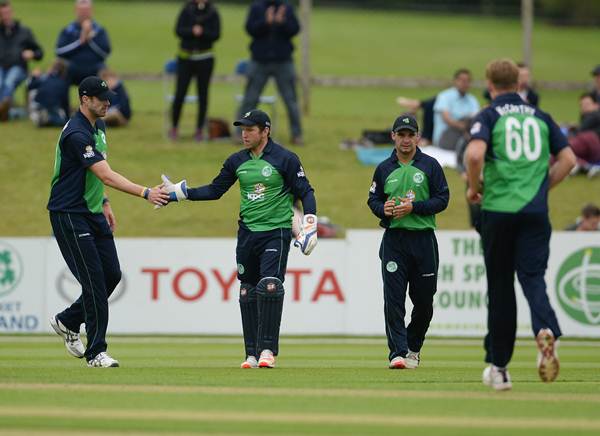 Follow us on Google News
Ireland coach John Bracewell has expressed his disappointment over his team's toothless bowling display against Sri Lanka in the 2nd ODI on Saturday (June 18). Ireland suffered a huge 137 run loss at the hands of the Asian giants. He now hopes his side can bounce back quickly and react better when put under pressure in the future.
"The lesson is we need to react immediately," Bracewell said. "Perhaps we are playing in a more traditional style, as in we'll see how things go and then we'll react to the scouting notes if put under pressure or things don't go well."
The coach was particularly not pleased with his bowlers failing to make use of the adequate information provided on Seekuge Prasanna's strengths. Prasanna scored a 46-ball 95 and put on 161 for the second wicket with Kusal Perera who struck his 3rd ODI century and the first after coming back from his comeback to help Sri Lanka post 377 in their 50 overs. In reply, Ireland tried to put up a fight but could manage only 241 with Suranga Lakmal picking up four wickets.
"They played smarter than us and we need to smarten up," he said. "To go and explore a guy (Prasanna) when we've got the notes is, in my opinion, a little bit unforgivable. We had good notes on him, and our notes showed that he could hit exactly where he did, and we were slow to react. And by the time we did react, seven overs were gone and 100 runs were added – and that cost us any chance of winning the match.
Also, read – Bangladesh cricketer Suhrawadi Shuvo hospitalised with head injury
"We had to drag him away from his arc: he likes the ball in close and he hits through it. Our notes said slower balls and yorkers wide – as it turned out he dragged on a wide yorker. It took us a while to make that adjustment. You have to then assess whether that's arrogance, or ignorance or stubbornness."
Some of the Irish players arrived late for the series due to their county commitments but Bracewell didn't want to use that as an excuse. He also was unhappy about the lack of lack of homework, claiming none of the players approached the analysts present in the coaching staff to get information about the opposition. He now hopes that it won't be repeated for his side's next assignment against Afghanistan.
"You've got to do your homework." he said. "When you get that information you've got to start doing your own research, you've got to watch what's going on in the modern game, rather than just living in your own little world and thinking you can rock up. That is something we've got to learn. Guys have got to do their own preparation. We've got stats guys – they know their email address. They could have asked 'Can you send me some stuff on Mathews?' How many of them did? None of them. It's something they need to wake up to. It'll disappoint me if they haven't done it for Afghanistan and they've had that shot across their belt.
Follow us on Telegram