Kings XI Punjab issue official statement on alleged Sehwag-Preity feud
Preity Zinta was reportedly seen having an altercation with Virender Sehwag.
Updated - May 12, 2018 12:05 pm
1K Views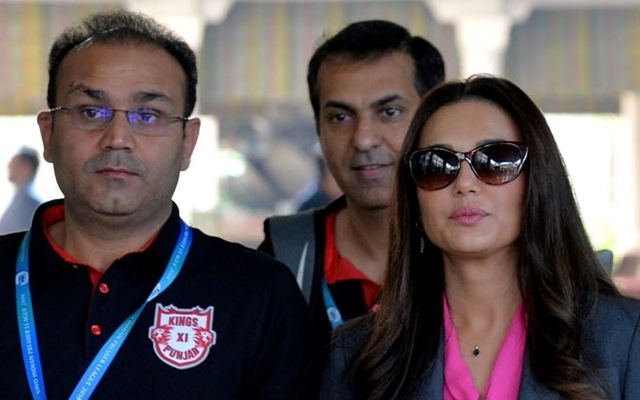 The Kings XI Punjab are on a merry roll in the ongoing edition of the Indian Premier League. While the on field action is fetching them a lot of praises, the off field work is getting them infamy of sorts. Recently, reports surfaced the media that the team co-owner, Preity Zinta, and the team Director of Cricket Operations, Virender Sehwag, had an alleged altercation.
The reports suggested that the two big names of the Kings XI Punjab camp were involved in a heated exchange after Sehwag promoted R Ashwin to bat at number three against the Rajasthan Royals. The Kings had eventually lost the game. And apparently, Preity Zinta believed that the primary cause for the defeat was the ill decision making.
Furthermore, some reports suggested that Virender Sehwag was unhappy with Preity's remarks and hence, could part ways with the franchise. Now, the Kings XI Punjab have released an official statement on the entire episode. They remarked that their culture at the Kings camp is very cordial and transparent.
"The culture in Kings XI is one that is open and non-hierarchical, and is one which encourages open and frank debate by one and all across all levels with the common goal of continuous improvement," the Kings XI Punjab said in their statement.
Denying all allegations
In the statement, they also denied all such allegations and the alleged reports of the spat between Sehwag and Preity. They clarified that they have come up with the press statement following the circulation of several reports on the issue. Hence, as a franchise, it is their responsibility to keep their fans and the well-wishers in the loop of things that go around.
"This (statement) is in response to media reports that have been published in the last couple of days on the supposed disagreement which was reported after Kings XI's last game. The stories have led to a lot of speculation and we at Kings XI Punjab would like to clearly state that as part of our management process, (as well as other franchisees) we review our performance on and off the field after each game through both, formal and informal discussions," the statement added.
"This is part of our standard operations review process which helps us to analyse our results and allow us to focus on the improvement required after each game, both on and off the field so that we can continue to improve in all aspects," conceded the media release.
For the latest cricket news, follow CricTracker.