MS Dhoni says India will stay aggressive and doesn't fear green pitches
Updated - Dec 16, 2014 12:35 pm
17 Views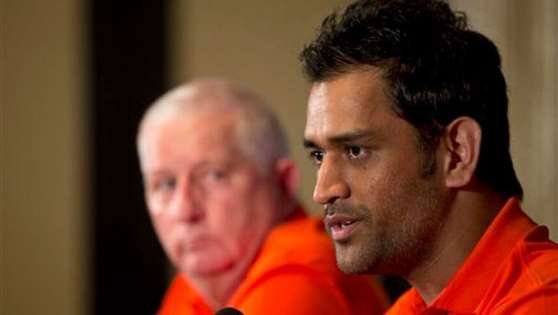 Follow us on Google News
MS Dhoni says India will stay aggressive and doesn't fear green pitches: Over the past week the Indian cricket team saw emergence of a new skipper the all aggressive Virat Kohli. Which gave India a sight of fresh strategy and approach in the longer format as cricket pundits for long had been shouting for a change from the defensive and let down captaincy of regular skipper MS Dhoni, under whom India have had more series losses than test matches won overseas.
Though the two players still have no sort of rivalry between them, Dhoni was asked about how he saw the way Virat led India into the first test. Dhoni said, "He did a fantastic job captaining India in the first test, It was the right approach, we went for the target which was important."
Dhoni ahead of the second test which is to be played at the greenery the Gabba curators have made said has no fears for the side even if they have a lively pitch ahead and that the Indian team will continue to stay and play aggressive cricket during the series.
The skipper himself has never played at Brisbane when asked about the unfamiliarity said, "The last couple of tours we haven't played here, but we have won test matches at some of the fastest test wickets like Johannesburg, Perth and Durban. Yes, there will be something extra for the bowlers especially the fast bowlers."
The skipper showing the right attitude in his intent suggested that the liveliness of the pitch also gives their bowlers a chance to do well he said, "More often than not I prefer wickets that are slightly on the greener side, the reason being our bowlers become that much more effective on these wickets and the batsmen will have to formulate a way to get runs on that kind of wicket."
"More often that we have done well on wickets that have helped the fast bowlers because it makes our job slightly easier to get the opposition batsmen out," Dhoni said.
As he always does gave away no hints as to the XI that India is likely to field. The straight change that looks certain is W Saha making way for the skipper and either of Mohd Shami or Varun Aaron sitting out to accommodate Umesh Yadav. Dhoni on the spin option said, "Ashwin is definitely someone who can bat lower down the order," which makes the selection of the off spinner quite likely.
Follow us on Telegram