Ranji Trophy 2018-19, Round 9, Day 3 – Round Up
Wasim Jaffer yet again was the star with the bat, but Vidarbha find themselves in a precarious situation against Saurashtra.
Updated - Jan 9, 2019 6:22 pm
322 Views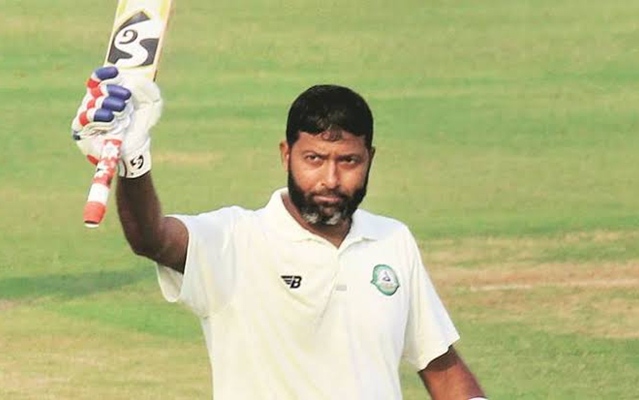 Follow us on Google News
With the Ranji Trophy reaching its final group round for this season, all teams have gone on attack mode and a total of 10 games out 17 games ended in results inside three days. Wasim Jaffer once again was at the crux of things for Vidarbha whilst Mumbai romped through Chhattisgarh in grand-stand fashion.
After bowling out Chhattisgarh for just 149 runs on the third day, it was a matter of time before Mumbai had flushed this game off. Jay Gokul Bista and Vilas Auti tried their best to savour a bonus point, which wasn't to be the case as the latter was dismissed towards the end of the innings. Mumbai chased the 92-run target by 9 wickets.
Despite some heroic batting from Wasim Jaffer, who fell two runs short of a hundred, Vidarbha find themselves in a precarious position in their final group game as they might surrender a first-inning lead to Saurashtra. They still trail by 76 runs in the first innings and have lost 9 wickets with 280 runs on board.
Andhra crush Madhya Pradesh ruthlessly
Rishi Dhawan chipped in with a fantastic 96-ball 85 against Kerala as Himachal Pradesh ended day 3 with a 296-run second innings lead. Sijomon Joseph picked up four wickets for Kerala, who earlier had surrendered a slender 9-run first innings lead.
After both the sides were bowled out for low scores in their first innings, Andhra piled up a huge score of 301 runs in their second innings with Karan Shinde getting a hundred. Chasing down a 343-run total, Madhya Pradesh were bowled out for a paltry 35 runs and the south-Indian side won by a handsome 307-run margin.
Here are the scores from the other games happening in the country.
Brief Scores
Elite Group A
Baroda vs Karnataka
Karnataka first innings: 112 all out in 31.2 overs (Bhargav Bhatt 3/27, L Meriwala 3/22)
Baroda first innings: 223 all out in 51 overs (Vishnu Solanki 69; Shreyas Gopal 4/47)
Karnataka second innings: 220 all out in 63.4 overs (Krishnamurthy Siddarth 64; Deepak Hooda 5/31, Bhargav Bhatt 5/116)
Baroda second innings: 110/8 in 28.1 overs (Yusuf Pathan 41)
Baroda won by 2 wickets
Mumbai vs Chhattisgarh
Chhattisgarh first innings: 129 all out in 42.1 overs (Amandeep Khare 48; Tushar Deshpande 5/46)
Mumbai first innings: 188 all out in 62 overs (Suryakumar Yadav 43; Pankaj Rao 3/53)
Chhattisgarh second innings: 149 all out in 32.5 overs (Vishal Singh 47; Shardul Thakur 4/47)
Mumbai second innings: 92/1 in 24.2 overs (Jay Gokul Bista 49*)
Mumbai won by 9 wickets
Railways vs Maharashtra
Maharashtra first innings: 70 all out in 23.2 overs (Avinash Yadav 4/38)
Railways first innings: 259 all out in 77.4 overs (Mahesh Rawat 89; Satyajeet Bachhav 8/108)
Maharashtra second innings: 131 all out in 39.1 overs (Avinash Yadav 5/71, Harsh Tyagi 4/29)
Railways won by an innings an 58 runs
Saurashtra vs Vidarbha
Saurashtra first innings: 356 all out in 136.4 overs (Sheldon Jackson 65, Dharmendrasinh Jadeja 72; Yash Thakur 4/92)
Vidarbha first innings: 280/9 in 118 overs (Wasim Jaffer 98, Mohit Kale 66; Jaydev Unadkat 6/56)
Vidarbha trail by 76 runs
Elite Group B
Himachal Pradesh vs Kerala
Himachal Pradesh first innings: 297 all out in 96.1 overs (Ankit Kalsi 101, Rishi Dhawan 58; MD Nidheesh 6/88)
Kerala first innings: 286 all out in 87 overs (Ponnam Rahul 103; Arpit Guleria 5/47)
Himachal Pradesh second innings: 285/8 in 52.1 overs (Rishi Dhawan 85; Sijomon Joseph 4/51)
Himachal Pradesh lead by 296 runs
Andhra vs Madhya Pradesh
Andhra first innings: 132 all out in 54.3 overs (Ishwar Pandey 4/43, Kumar Kartikeya 3/23)
MP first innings: 91 all out in 35.5 overs (Girinath Reddy 6/29)
Andhra second innings: 301 all out in 101.1 overs (Karan Shinde 103, Prasanth Kumar 44; Ishwar Pandey 3/55)
MP second innings: 35 all out in 16.5 overs (KV Sasikanth 6/18)
Andhra won by 307 runs
Bengal vs Punjab
Bengal first innings: 187 all out in 69.1 overs (Shrivats Goswami 57; Vinay Choudhary 6/62)
Punjab first innings: 447 all out in 131.3 overs (Anmolpreet Singh 126, Shubman Gill 91; Mukesh Kumar 5/114)
Bengal second innings: 218/2 in 58 overs (Abhimanyu Easwaran 100*, Manoj Tiwary 90*)
Bengal trail by 42 runs
Tamil Nadu vs Delhi
Tamil Nadu first innings: 432 all out in 164.4 overs (Abhinav Mukund 134, Baba Indrajith 86, Pradosh Ranjan Pau 78; Vikas Mishra 4/142)
Delhi first innings: 268/6 in 103 overs (Jonty Sandhu 104, Lalit Yadav 65*)
Delhi trail by 164 runs
Elite Group C
Haryana vs Services
Services first innings: 170 all out in 59.3 overs (Vikas Hathwala 54; Tinu Kundu 6/60, Amit Rana 4/55)
Haryana first innings: 149 all out in 57.5 overs (Shubham Rohilla 64; Arun Bamal 7/42)
Services second innings: 79 all out in 29.3 overs (Tinu Kundu 5/35)
Haryana second innings: 104/4 in 24 overs (Ankit Kumar 72*; Navneet Singh 3/22)
Haryana won by 6 wickets
Jammu & Kashmir vs Jharkhand
JK first innings: 151 all out in 45.4 overs (Owais Amin Shah 76; Ajay Yadav 5/16)
Jharkhand first innings: 319/9 in 91 overs declared (Saurabh Tiwary 134; Parvez Rasool 4/98)
JK second innings: 24/0 in 8 overs
JK trail by 144 runs
Uttar Pradesh vs Assam
Assam first innings: 175 all out in 53.4 overs (Pallavkumar Das 75; Yash Dayal 3/15)
Uttar Pradesh first innings: 619 all out in 177.4 overs (Rinku Sinh 148, Upendra Yadav 138; Ranjit Mali 4/127)
Assam second innings: 102/0 in 28 overs (Rahul Hazarika 56*)
Assam trail by 342 runs
Odisha vs Goa
Odisha first innings: 352 all out in 111.5 overs (Sandeep Pattnaik 100;  AS Desai 3/77)
Goa first innings: 116 all out in 39 overs (SK Kamat 43; Suryakant Pradhan 5/48)
Odisha second innings: 151 all out in 43.4 overs (Sujit Lenka 39; Lakshay Garg 5/75)
Goa second innings: 111 all out in 29.5 overs (Rajesh Mohanty 5/49)
Odisha won by 276 runs
Tripura vs Rajasthan
Tripura first innings: 35 all out in 18.5 overs (Aniket Choudhary 5/11)
Rajasthan first innings: 218 all out in 51.3 overs (M Murasingh 4/75)
Tripura second innings: 106 all out in 25.3 overs (Deepak Chahar 5/17)
Rajasthan won by an innings and 77 runs
Plate
Uttarakhand first innings: 377 all out in 83.5 overs (Saurabh Rawat 102, Rajat Bhatia 84; Akhil Rajput 2/21)
Mizoram first innings: 198 all out in 75.2 overs (Taruwar Kohli 96*; Dhanraj Sharma 3/49)
Mizoram second innings (F/O): 123 all out in 59 overs (Taruwar Kohli 68*; Rajat Bhatia 4/17)
Uttarakhand won by an innings and 56 runs
Puducherry vs Nagaland
Nagaland first innings: 467 all out in 106.3 overs (Hokaito Zhimomi 177, Jonathan R 123, Nitesh Lohchab 100; Raiphi Gomez 3/59)
Puducherry first innings: 286 all out in 98.2 overs (Paras Dogra 144, Sai Karthik 81; Abrar Kazi 4/62)
Nagaland second innings: 185/5 in 55 overs (H Zhimomi 49*; Pankaj Singh 3/47)
Nagaland lead by 366 runs
Arunachal Pradesh vs Sikkim
Arunchal Pradesh first innings: 169 all out in 49.1 overs (Kshitiz Sharma 59; Milind Kumar 5/42)
Sikkim first innings: 262 all out in 95.3 overs (Lee Yong Lepcha 58, Milind Kumar 51; Deendyal 3/96)
Arunachal Pradesh second innings: 109 all out in 45.3 overs (Ishwar Chaudhary 7/51)
Sikkim second innings: 19/0 in 1.3 overs
Arunachal Pradesh won by 10 wickets
Bihar vs Manipur
Manipur first innings: 156 all out in 32 overs (Mayank Raghav 79; Samar Quadri 5/49)
Bihar first innings: 257 all out in 63.1 overs (Vivek Kumar 40; Priyojit Singh 5/74, Bishworjit Konthoujam 5/74)
Manipur second innings: 238 all out in 70.4 overs (Yashpal Singh 105, Priyojit Singh 64; Ashutosh Aman 7/71)
Bihar second innings: 140/7 in 25.1 overs (Mangal Mehrur 53; Bishworjit Konthoujam 3/33)
Bihar won by 3 wickets
Follow us on Telegram