Top Stories: Things that made news in the cricket world today
Updated - Jun 10, 2016 3:11 pm
27 Views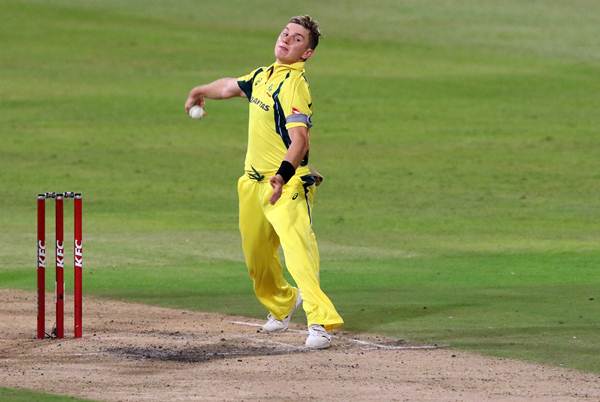 Follow us on Google News
Adam Zampa counts on Caribbean experience for improvement
Adam Zampa  may be only an infant in terms of his career at the moment. However, his performances in the past few months have seen him become an important member of the Australian unit. The 23-year old leggie also impressed one and all with some impressive bowling in the recently concluded IPL including figures of 6/19 in a losing cause.
In spite of all this, the 23-year old has been unable to crack into the side that will be touring Sri Lanka shortly after the conclusion of the Tri-Series. However, Adam Zampa has stated that he was indeed keen on improving. "In terms of making it to the next level in that format, I want to keep improving my bowling," Zampa told cricket.com.au on Friday (June 10). "I think if I look at myself 12 months ago, 18 months ago, or 24 months ago, I think I'm ten times a better bowler than I was then.
Indian-born Jeet Raval picked in New Zealand Test squad for Africa tour
Indian-born New Zealand batsman Jeet Raval has been picked in the New Zealand squad for the upcoming tours of South Africa and Zimbabwe. Ish Sodhi, the leg-spinner who had been dropped after the Pakistan series in Sharjah in 2014 has been recalled to the squad. While this is good news for most people, the axing of all-rounder Corey Anderson comes as a blow to the latter.
Raval has been in splendid form in the domestic circuit having notched up 780 runs at an average of 55.71. Bharat Popli, another consistent first-class cricketer in New Zealand also notched up 1,149 runs at an impressive average of 65.78 in the previous season, was also considered for selection, but couldn't find a place in the squad.
Steve Smith backs out of form Glenn Maxwell
In spite of their rather mixed start in the ongoing Tri-Series, Steve Smith has stated that the mood in the Australian camp was upbeat. Smith also went on to back the out-of-form Glenn Maxwell to come good in the future matches as the Tri-Series now moves to Basseterre, St. Kitts.
"I know Glenn Maxwell's form has been spoken about because he's been a bit short of runs in one-day cricket, but he was unlucky against the Proteas," Smith wrote in his column for cricket.com.au on Friday (June 10). "I used up our referral when I and Finchy (Aaron Finch) thought it might have hit me outside the line or was missing the stumps, but unfortunately, I was out and we lost the review."
Kumar Sangakkara lashes out at the DRS system
Sri Lankan legend Kumar Sangakkara was left irked at the end day one of the third Test at Lord's after a narrow Decision Review System result went against the visiting team.
The issue arose in the 62nd over of the match when Eranga struck the well-set Bairstow on the back pad. The decision looked plumb and the Lankans made a strong appeal. However, the umpire thought differently and turned down the appeal forcing the visitors to opt for DRS.
Ashes 2017-18 to have two day-night fixtures
It seems that day-night cricket is steadily spreading its presence in the cricketing calendar after Cricket Australia announced that the 2017-18 Ashes series in Australia could feature two day-night Tests. The development has occurred despite Alastair Cook and Steven Smith calling for all Ashes games to be played with the conventional red ball during the day.
Cook and Smith, the Test captains of England and Australia respectively, believe there is no need for Ashes to go day-night as the viewership was good already. However, James Sutherland, the Cricket Australia chief executive, said it would be a "natural progression" for Ashes to join the pink-ball revolution as it could attract even bigger audiences.
West Indies cricketer Kavon Fubler banned for seven years for abusing umpire
Bermuda all-rounder Kavon Fubler has been banned from cricket for seven years for smashing the stumps and abusing an umpire after being given out leg before wicket (lbw) during a Premier Division game. He was heard saying that he was going to smash his stumps if given out, immediately before doing so.
Fubler appeared in front of Bermuda Cricket Board (BCB) at a disciplinary meeting on Tuesday and was charged with a number of Level 4 offences relating to his behaviour for his club side Willow Cuts in the game against Bailey's Bay at Sea Breeze Oval, reports CMC.
20-year-old Hampshire cricketer Hamza Ali dies
20-year old Hampshire cricket Hamza Ali passed away as per an announcement made by the Hampshire cricket club and the MCC. The statement reported that Hamza fell into the River Avon on Wednesday afternoon.
The head of player development at Hampshire, Charlie Freeston said, "He was an incredibly committed and enthusiastic cricketer who always gave 100% for the team that he was playing for. His impressive performances on the field quickly proved he could be part of Hampshire's future. On behalf of myself, his coaches and all that played with Hamza, we would like to send our deepest condolences to his incredibly supportive family and friends at this difficult time."
VB Chandrasekhar hopes to use CSK experience in TNPL
VB Chandrasekhar swashbuckling approach would have perfectly suited today's most famous for of cricket – T20. The dashing former India on many occasions gave sparkling starts to India in the ODIs.
And his love for the limited overs cricket was evident when he bought the Tiruvallur franchise for the Tamil Nadu Premier League, which will be played in August-September.
"T20 is the future of cricket, it's the No.1 choice for a fan now," VB, who bought the franchise representing VB Cricket Academy for 3.48 crore, told TOI.
Rehabilitation further delays Mustafizur Rahman's Sussex stint
Wily Bangladesh seamer Mustafizur Rahman will undergo a couple of weeks of rehabilitation before travelling to England for his stint with Sussex.
Speaking at a press conference later, the national team physio Bayezidul Islam said two things needed to be worked on.
"We are now working on the hamstring and the ankle injuries. The shoulder and side strain injuries have recovered," he said.
Follow us on Telegram