Top Stories: Things that made news in the cricket world today
Updated - Dec 8, 2016 6:25 pm
43 Views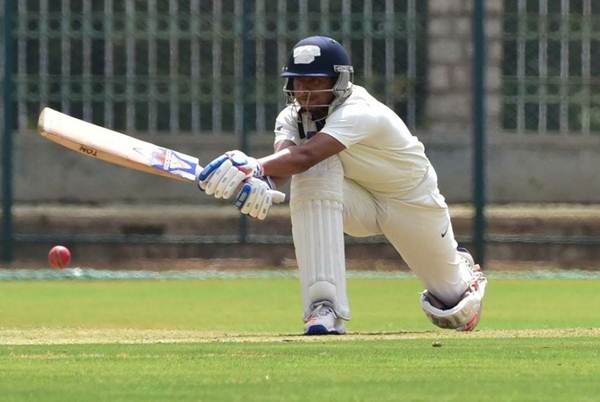 Brendon McCullum wants Brisbane Heat to play attractive cricket
Former New Zealand captain Brendon McCullum known for his attacking gameplay has been roped in by the Big Bash League franchise Brisbane Heat.
"I want to grab hold of fans with the attractive and entertaining brand of cricket we are going to play this season," McCullum told The Courier-Mail from New Zealand. "If anyone is in any doubt, I want people to know what they are going to get from the Heat.
Ranji Trophy 2016-17: Round 9, Day 2 Review
Ranji Trophy 2016-17 is moving towards the business end, with the quarter-finals round the corner, all teams are keen on beefing up their strengths. Yet another round of Ranji Trophy began yesterday.
It was a close game between ball and bat on the day 2. Despite the close contest between ball and the bat, the scores at the end of day 2 suggest the dominance of batters with many centurions on the day.
Sreesanth planning a return to active cricket
Tainted fast bowler S. Sreesanth is set to return to active cricket after he revealed having obtained permission to play in the Scotland League which will commence from April next year. He revealed the news during a live interaction on Facebook from the set of his upcoming Malayalam movie Team 5.
Australia name unchanged squad for the first Test against Pakistan
Cricket Australia today announced the Australian Test squad for the first Test of the series against Pakistan. The opening game will be a day-night Test and the second pink ball match for both the teams.  Australia would want to change their fortunes here after being handed over a series defeat by South Africa at home.
Maharashtra don't allow Karnataka a replacement for Manish Pandey
A sudden national call for Karnataka middle-order batsman Manish Pandey while they were playing a Ranji Trophy match against Maharashtra left the team one man short and the only option they had at hand was to request the opposition to allow them to get in a replacement.
Skipper Vinay Kumar placed a request to be allowed to bring in a replacement but if a report in The Hindu is to be believed Maharashtra captain Swapnil Gugale didn't allow them that and thus Karnataka will be playing the remainder of the game with only 10 players.
Virat Kohli plays every game to win: Ian Botham
Ahead of the 4th Test of the India-England Test series at the Wankhede Stadium, Botham said that the Indian Test skipper goes out on the field each time with a win as his only target and he wouldn't let the guard down.
"From what I've seen of him, Virat Kohli plays every single game to win. He has no thought pattern regarding draws, he's thinking win 3-0, then 4-0. India have got a 2-0 start and Kohli is not going to take his foot off the accelerator," Botham was quoted by India Today.
Saeed Anwar had a narrow escape from the Chitral plane crash
Former Pakistan cricketer Saeed Anwar had a narrow escape with fate recently. The former cricketer was expected to board the unfortunate flight that crashed. According to reports, Anwar was expected to board the PIA flight but decided to stay back at Chitral instead.
He thereby missed the flight which eventually ended up crashing. The sad accident saw no passenger surviving the misfortune. Saeed Anwar is yet to give a statement on the crash.
The Editor of a renowned Pakistan website disclosed the news on Twitter. He wrote, "A family member of Saeed Anwar has confirmed Saeed was due to return on the PIA flight that crashed but instead he stayed back in Chitral."
Ray Jennings could not watch his son's maiden ton due to power cut
Former cricketer and coach Ray Jennings is a proud father at the moment. His son, Keaton Jennings, scored a magnificent ton on his Test debut against India today. While it was a dream debut for Keaton Jennings, his father could not watch his son's glory. Ray Jennings is with his wife at a resort in Mauritius. When Keaton was batting on 96, there was a power failure at the resort. The power supply came back only after an hour.
His parents anxiously waited to know whether their son reached the three-figure mark. When the light came back on, Keaton was batting on 111. "It came back on when he was on 111 and then he scored one more run and he was out," quoted Ray Jennings.
Sachin Tendulkar becomes co-owner of Bengaluru Blasters in PBL
 One of the greatest batsmen in cricketing history Sachin Tendulkar progressed into the world of badminton as he now co-owns Premier Badminton League (PBL) franchise "Bengaluru Blasters" alongside Tollywood actors like Chiranjeevi, Akkineni Nagarjuna and Allu Arvind.
"Sachin, Chiranjeevi, Akkineni Nagarjuna and Allu Aravind, besides myself – we all of us have formed a consortium and invested in Bengaluru Blasters," team co-owner and businessman Nimmagadda Prasad told reporters. Prasad denied sharing the details of the stakes picked up by the consortium members but said he would disclose it at an appropriate time.
Mohammed Shami's absence was keenly felt: Sunil Gavaskar
Former India captain Sunil Gavaskar stated that Team India missed the services of fast bowler Mohammed Shami on Day 1 of the 4th Test at the Wankhede Stadium in Mumbai. Speaking to NDTV, the legendary cricketer termed Shami as an impact bowler and added that his absence was keenly felt in the Indian dressing room.
"Shami's injury has affected India, He has troubled Alastair Cook in the series. But today, Cook looked comfortable. Shami has the ability to extract some extra bounce off the surface. Shami is an impact bowler and his absence is keenly felt," Gavaskar said. Shami was ruled out of the Mumbai Test due to a sore knee.
Seniors encourage me to play my natural aggressive game: Rishabh Pant
Rishabh Pant's destructive batting has grabbed the headlines in newspapers. Such has been his impact on the current domestic season that even before earning an India cap,
Rishabh Pant is being spoken of as another 'Adam Gilchrist' in the making. Speaking at a recent interview, Pant revealed that he wasn't affected by the decision and only wants to focus on his potential rather than distractions.
Debutant centurion Keaton Jennings praises Virat Kohli's astute captaincy
Keaton Jennings who scored a terrific debut century against the mighty Indians at Mumbai stated that he couldn't have been happier and prouder with his effort at the end of the opening day's play at the Wankhede Stadium on Thursday. Though he felt the pitch offered assistance to the spinners after tea, he said that the real difference was made by Kohli's astute captaincy.
"After lunch, we felt like it started to turn. Also, Virat Kohli's captaincy was superb. Those little things he did, bowlers taking wickets. Just when we thought, we were on top, they fought back really well," he said.
India has always held a special place in my heart: Haseeb Hameed
When Haseeb Hameed was named in the England squad for the tour of India, the 19-year-old was certainly thrilled having received his maiden national call for the tour of the nation he originates from.
 In an interview with DNA, Hameed talked about the experience of playing his maiden series in India and the attention he has been getting since then. "Yeah, the love I have got from the fans and the appreciation have been amazing for me. Something I am very grateful for."
Lucknow likely to be introduced as a new venue for IPL 10
The Ekana International Cricket Stadium or the Lucknow International Cricket Stadium in Lucknow the capital of Uttar Pradesh is being developed to meet the state of the art standards which will allow it to obtain the international status as well. Talking about it IPL chairman Rajeev Shkula said, "More stadiums means more cricket and that is going to be good for the game.
"We can't confirm if IPL will be held in Lucknow next year. But if the arrangements are made according to international standards, matches can be held. The board is going to inspect the facilities before taking a decision," Shukla said.
Pakistan names 17-year-old spinner Mohammad Asghar as replacement for Yasir Shah
Pakistan selectors have called up 17-year-old Mohammad Asghar as a backup spinner for injured Yasir Shah ahead of the three-Test match series against Australia commencing from December 15, 2016, in Brisbane.
The decision was taken on the suggestion of the team management. The national selection committee has concurred with this request and Chairman PCB has approved the name of Mohammad Asghar. He will join the team as 17th member of the squad which will tour Australia later this month.
Jayant Yadav is a complete package: Virat Kohli
Skipper Virat Kohli feels the 26-year-old bowling all-rounder Jayant Yadav is a complete package for Team India and a risk-taking bowler who like to play aggressively with the opposition.
"I have been very impressed who, as you said, is only two games old.You can call him an all-rounder now. I haven't had to tell him anything. He sets his own field, he knows exactly where he wants to bowl.Sometimes I ask mid-on to be back, he urges me to keep it up. He wants the batsmen to go after him," said Kohli.
BCCI reject CEO Rahul Johri's request for new Italian style suits for Indian team
The Board of Control for Cricket in India (BCCI) Chief Executive Officer (CEO), Rahul Johri requested the board to obtain Italian-tailored suits for the Indian cricket team and the BCCI top brass which would cost them INR 2.5 lakh each. BCCI is in a fix at the moment with the Lodha panel and the Supreme Court of India allotting it funds for all the expenses. It is also believed that the board considered it an extravagant expense something they can do without at the moment.