Top Stories: Things that made news in the Cricket World Today
Updated - Aug 25, 2015 1:28 pm
23 Views
Top Stories: Things that made news in the Cricket World Today: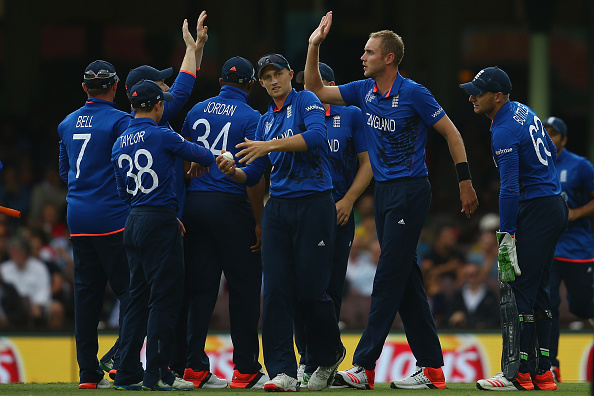 Follow us on Google News
Steve Smith edges ahead as the number 1 Test batsman:
Steven Smith has reclaimed the top spot in the latest ICC Player Rankings for Test Batsmen which were released following the conclusion of The Oval and P.Sara Oval Tests.
The incoming Australia captain started the Ashes series at the top of the rankings on 913 points, but had lost his place to England's Joe Root after the Trent Bridge Test. However, after scoring 143 in his side's an innings and 46 runs victory at the The Oval, the 26-year-old has overtaken second-placed AB de Villiers, as well as Root, who has dropped to third following scores of six and 11. (Read more about the story here)
Michael Clarke considering the IPL option after retirement:
"That's (IPL) probably one of the things I've got to think about over the next week or so. What I'm going to do there, am I going to look at that as an option? I'll spend the next few days trying to sum that up. See where my mind is at, see where my body is at and have a good think about it. Kyly (wife) and I are going to go away for a week or so before I fly back home. And that's just going to give me some time to have a think about what I'm going to do when I get home," Clarke was quoted as saying by cricket.com.au.(Read more about the story here)
PCB to raise issue of India's disagreement on bilateral series with ICC:
Zaheer Abbas made it clear on Tuesday that the two countries, Pakistan and India cannot be forced to play against each other, after Pakistan Cricket Board indicated that it may raise the issue of India's disagreement on playing a bilateral series in UAE against Pakistan with the International Cricket Council (ICC).
The President of the cricket world's body, Zaheer Abbas told the media in Lahore, "Since the matter is a bilateral one between two boards the ICC can only talk to them but not compel them to play against each other bilaterally."(Read more about the story here)
Ishant Sharma leading the pack really well: Chetan Sharma:
"Ishant is bowling well. I was in Sri Lanka and I spoke to him for half-an-hour. He sounded a very mature fast bowler.
There used to be shy bowlers who used to sneak past their seniors in order to avoid a talk with them, but not Ishant, who comes and speaks to you. And that tells you about his confidence," Chetan told PTI in an interview.
Qatar may host Pakistan T20 league:
Football World Cup 2022 host Qatar is set to move into the stupendous international Twenty20 cricket market as the venue for the inaugural Pakistan Super League, officials said on Tuesday.
Virat Kohli will help India better overseas record: Adam Gilchrist:
"I think his (Kohli) natural attacking style will help the team take on new frontiers (winning overseas and conquering final frontiers). He looks like the sort of guy who is prepared to take risks, certainly in his individual play," Gilchrist told PTI during an interaction.
England to host Sri Lanka and Pakistan in 2016:
England are to play three home Tests against Sri Lanka next year and four against Pakistan.
"Pakistan and Sri Lanka will attract strong support from their own communities in this country," England and Wales Cricket Board (ECB) chief executive officer Tom Harrison said in a statement on Tuesday.
Joe Root's batting reminds me of Ricky Ponting: Jason Gillespie:
"Joe Root epitomises this positive approach and is one of the reasons why I believe the future looks bright. "Ricky Ponting was a player who did this. He would still make a pronounced movement when not offering a shot, meaning the ball went past on his terms. Leave with your feet stuck in cement and it betrays indecision, which the bowler will pick up on," he added.
"Joe is cut from the same cloth as Ponting in that he makes good decisions and movements at the crease."
Ashwin has been a champion bowler for us: Virat Kohli:
"He's been a champion bowler for us. He's been taking wickets for us everywhere. Even in the tour of Australia, he was more aggressive with the ball. He wants to improve on his cricket and he has certainly done that," said Kohli at a post-match press conference on Monday.
Root rested, Moeen Ali returns as England announce limited over squads:
England T20 squad: Eoin Morgan (c), Moeen Ali, Sam Billings, Jos Buttler(wk), Steven Finn, Alex Hales, Adil Rashid, Jason Roy, Ben Stokes, Reece Topley, James Vince, David Willey, Chris Woakes
ODI squad: Eoin Morgan (c), Moeen Ali, Sam Billings, Jos Buttler(wk), Steven Finn, Alex Hales, Liam Plunkett, Adil Rashid, Jason Roy, Ben Stokes, James Taylor, David Willey, Chris Woakes, Mark Wood (Read more about the story here)
Kumar Sangakkara's Retirement Will Hit Sri Lanka Hard, Says Sunil Gavaskar:
"Sri Lanka will suffer with their batting after Sangakkara's retirement. It will be very difficult for them to win the next Test without him around," the former India captain told NDTV in an exclusive chat from Colombo.
Follow us on Telegram