Top Stories: Things that made news in the cricket world today
Here are the top cricket headlines of the day.
Updated - Jun 14, 2017 1:06 am
10.5K Views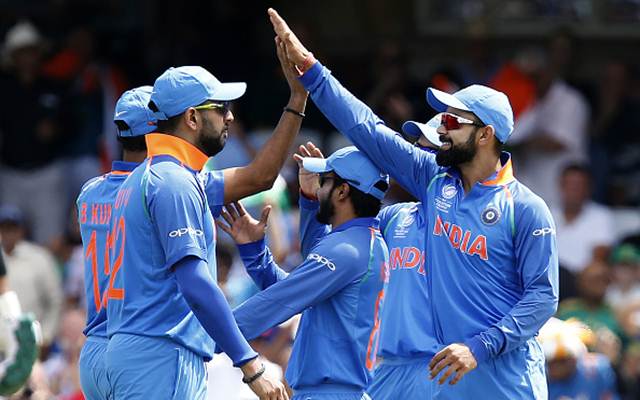 ICC reveals latest ODI team, Batsmen and Bowlers' Rankings
India captain Virat Kohli has reclaimed the top batting spot, while Australia's pace ace Josh Hazlewood has achieved the number-one position in the bowlers' rankings for the first time in his career in the latest ICC ODI Player Rankings, which were released on Tuesday morning following the conclusion of the last round of league matches in the ICC Champions Trophy 2017.
Ben Stokes has rocketed nine places to a career-high 20th place B
Yuvraj Singh is India's weakest link, concludes Bangladeshi team
While we debate over the knockouts, Virat Kohli wants Champions Trophy winners' jackets to fit better
I wanted to finish with a boundary, and I did it, says Bangladesh's Mosaddek Hossain
Cricket Australia release the Team of the league matches of Champions Trophy 2017
Strict orders given to senior players of Pakistan, not to give inputs to captain
Virat Kohli's painting worth 2.9 million pounds bought by a British Indian
Pakistan quick Wahab Riaz on sale on eBay
Russel Domingo says that India are not the favourites to win the Champions Trophy
 CAB website, a victim of cyber attack
Virat Kohli renews deal with MRF worth more than Rs. 100 crores
Sunil Narine joins BPL franchise Dhaka Dynamites
Shahid Afridi dissapointed with the efforts of Mohammad Hafeez and Shoaib Malik
Faf du Plessis predicts his finalists for the Champions Trophy
Faf, who has scored over 4000 ODI runs, said that the roster of the all-important final match will be a repetition of ICC Champions Trophy 2013's final. India will take on hosts England. As of the winner, he was not ready to wear the predictor's hat after carrying all the guilt. He, however, handed a slight edge to India. "That will be my final. England are the form team but India know how to win big games," said the batsman as reported by bdcrictime.com.
Mustafizur Rahman hoping his off-cutters come good in the semi-finals
Mustafizur is hoping to brush off the woeful period that he had during the 2-month stint with both the Bangladesh team and the Sunrisers Hyderabad. The left-armer's off-cutter has been rather very ineffective in England during the Champions Trophy 2017. He is hoping for them to work when the Tigers' take on the defending champions in the second semi-final.
MS Dhoni looking to make amends in batting technique
The former skipper is making a conscious effort to alter his technique. During the recently concluded IPL, Dhoni analysed footage of his batting with performance analyst Prasanna Agoram. He then marched out to the middle of the MCA Stadium in Pune as Prasanna followed with camera and tripod in hand.
For the first half hour of Dhoni's nets session, the camera was placed right behind the stump at the bowler's end. Prasanna then shifted the apparatus behind the net, while the camera recorded MSD's movements with the bat.
National coaches can't have IPL stints anymore: CoA
In a bid to end the conflict of interest issue raised by historian and ex-member of the CoA Ramachandra Guha, the Supreme Court-appointed Committee of Administrators (CoA) decided that all National Coaches will have two years contract in which they can't associate themselves with an IPL side.
The meeting was held in New Delhi and was also joined by acting Secretary Amitabh Choudhary and CEO Rahul Johri via video conference from London. Earlier, national coaches used to be given a 2-month window to participate in the IPL in the capacity of a mentor or a coach. Now, this practice has been stopped by the CoA.
Match officials for the Champions Trophy 2017 semi-finals announced
14 June – England v Pakistan (10h30), Cardiff Wales Stadium – Marais Erasmus and Rod Tucker (on-field), Chris Gaffaney (third umpire), Bruce Oxenford (fourth umpire), Andy Pycroft (match referee)
15 June – India v Bangladesh (10h30), Edgbaston – Richard Kettleborough and Kumar Dharmasena (on-field), Nigel Llong (third umpire), Richard Illingworth (fourth umpire), Chris Broad (match referee).
AB de Villiers to lead the T20 side in 3-match series against England
After a humiliating exit from the ICC Champions Trophy and recent ODI series loss against England, South Africa are all set to take on the English side in a three-match T20I series in England. AB de Villiers is set to lead the side in place of Faf Du Plessis who would remain unavailable for the birth of his child.
People might get to see an India-England final, says Virat Kohli
"It would not have mattered who we were playing in the semis. The league phase is the toughest. We have an opportunity to win one game and enter the finals. Everyone wants to see an India-England final. If both teams play well, people might get what they want to see," said the 28-year old cricketer at an event at the Lord's Cricket Ground last evening.
Virat also came to the conclusion that no place in the world is as good a cricketing venue as England, provided the day is sunny.
Strip Lalit Modi of his post and the ban will be lifted says BCCI
BCCI is standing firm and will not lift the ban until a certain Lalit Modi does not step down from his post. They are extremely critical of it and state that Modi should not hold any of the positions in the house and the moment that happens RCA will be back in the BCCI's plans.
"Our notice, which we had sent to RCA in 2013 was clear that Modi can't hold any position anywhere in the association or any of its districts. He (Modi) is still president of Nagaur until he is removed from Nagaur district, BCCI will not lift the ban from RCA," one of the officials told the Indian Express.
Win against New Zealand, best in ODIs by Bangladesh, says Harsha Bhogle
One of the most renowned cricket commentator and analyst, Harsha Bhogle, rates the win against Bangladesh as one of the best ever in the history of Bangladesh, overhauling their wins against the world-beating Australian team and England in 2015. Bhogle also believes that BCB should take care of Mahmudullah and utilise him to his potential.
"I know people will say the Adelaide match is Bangladesh's best ever. And also we know Bangladesh beat Australia in Cardiff back in 2005. Mohammad Ashraful got runs that day, and it was also quite a memorable one. But still, I believe this victory over New Zealand will also go down as one of the greatest ever," said Harsha Bhogle according to bdcrictime.