Rickshaw comes in the ground to deliver drinks in a club game
It was the Bharat Army vs Barmy Army game in Birmingham.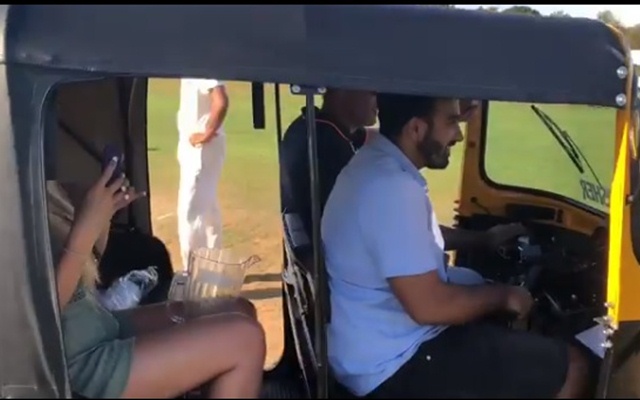 India and England may be fighting an exciting battle on the field. However, the cricketing action doesn't restrict itself to the national teams. The Bharat Army, a famous Indian cricket fan club came face to face with England's Barmy Army. While the latter won the series 3-2, and there was an interesting incident that took place on the field.
During the drinks break, there was a rickshaw that drove in at the Richmond Cricket Club to deliver drinks. Usually, the extra players or members of the supporting staff walking in to help the players with drinks or it is carried in the vehicle in case there is a sponsor. Hence, it was hilarious to watch a rickshaw delivering the same. An interesting spectacle to watch on a cricket ground, the Bharat Army shared the video on their Instagram page with the following caption:
"#ENGvIND Are you taking notes @indiancricketteam ? A new way of delivering 'drinks' for the players… #BharatArmyRickshaw #BharatArmy #Rickshaw #Cricket #IndianCricket #TeamIndia #LoveCricket #ViratKohli #COTI ????????."
The Indian cricket team is scheduled to play the next Test in London from the 9th of August. India have fond memories of the Lord's as they won the match here on their previous tour in 2014. India had registered a spectacular victory here to take a 1-0 lead in the series. Ishant Sharma had taken a seven wicket haul while Ajinkya Rahane registered a fantastic century. Both the players will be looking to redeem themselves at the historic ground once again.
On the other hand, England would be wary of their poor record at the venue. They were defeated by Pakistan at the same ground earlier in June. Also with Virat Kohli in phenomenal form, the hosts' biggest challenge will be to get him as early as possible. Otherwise, the Indian skipper has it in him to singlehandedly guide his team to victory. The Englishmen witnessed his capability in the Edgbaston Test and are aware of the threat.