10 Interesting facts about Nikin Jose – The 15-year old wonder boy
Updated - Sep 17, 2015 6:19 pm
360 Views
10 Interesting facts about Nikin Jose – The 15-year old wonder boy: Nikin Jose, the 15-year-old caught everyone's eye when he sparkled in the last league match of KPL 2015 for Mysuru Warriors against Rockstars where he came up with a Man of the match performance.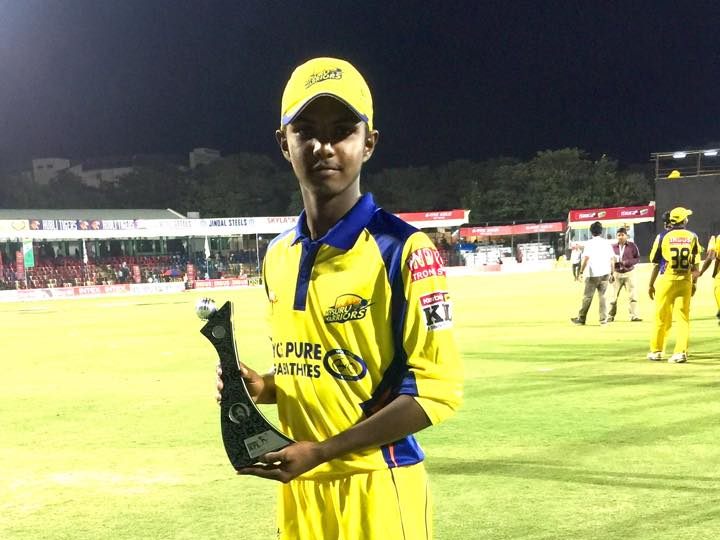 Here we look at 10 Interesting facts about Nikin Jose – The 15-year old wonder boy:
1. Birth:
Nikin Jose born on 21st August, 2000 in Mysuru.
2. Cricket debut:
Nikin made his cricket debut as opening batsman in Mysuru Zone Under-14 side in 2013.
3. State U19 team debut:
It didn't take much time for Nikin Jose to blast into his Karnataka state's U16 and U19 teams as he made his U19 debut for state side for 2014-15 season.
4. Captaincy:
His performances got him to lead Karnataka state's U14 and U16 teams during 2013-14 season.
5. KSCA U19 Inter Zonal tournament:
Nikin Jose scored 341 runs in the 9 innings that he batted in at an average of 42.63. He smashed 2 consecutive centuries in the tournament while playing for Mysuru Zone.
6. Double century in limited overs match:
Nikin Jose smashed a double century in U16 category of "Save the Tiger" Cup. Nikin led his side, JoJo CC in the tournament and smashed an unbeaten 200 in just 85 balls with help of 27 fours and 7 sixes against Karavali Cricketers. His performance helped his side to put on a score of 323 without the loss of a wicket in 28 overs.
7. "Save the Tiger" Tournament:
With scores of 30*, 121, 200* and 89* in finals of "Save the Tiger" tournament, JoJo CC captain Nikin Jose led his side to title and won "best batsman" and "player of the tournament" awards by scoring 440 runs in 4 games.
8. Awards:
Best Under-14 player and Best batsman awards in Annual KSCA awards 2013-14 held at Bangalore.
Best player award in U-16 section at KSCA Mysuru Zone Annual awards-2015 held in Mysuru.
9. Karnataka Premier League debut:
Nikin Jose, at an age of 15 years and 25 days, became the youngest player to feature in the Karnataka Premier League. He played for Mysuru Warriors on 17th September, 2015 against Rockstars.
10. KPL record:
With bowling figures of 3.2-0-11-6 against Rockstars, Nikin Jose became the first player in history of KPL to pick up a 6-wicket haul. Only 2 players before Nikin managed to pick 5-wickets in an innings in KPL. He now holds the record for the best bowling figures in KPL.