12 Facts about Ramesh Powar: The off-spinner with the classic loop
Updated - May 20, 2016 10:29 am
256 Views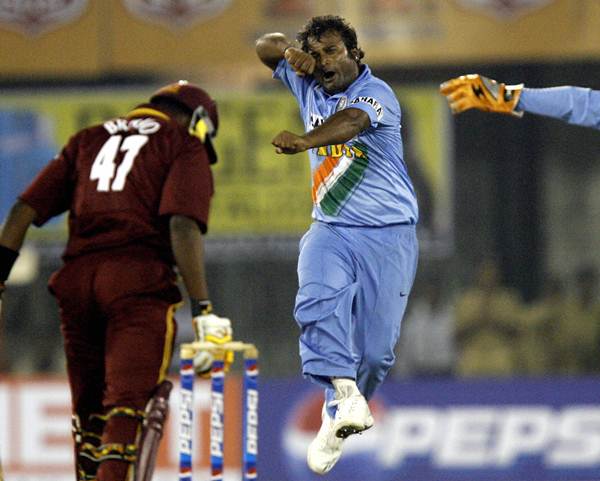 According to the Physics books – the shorter the spinner, more the flight he imparts on the ball. Ramesh Powar, standing no more than 5 feet five inches tall, was a perfect example of it. Powar belongs to the classical mould of off-spinners who preferred giving the loop to the ball and lure the batsman to take risks. Wearing the wacky red sunglasses, the off-spinner ran not more than four to five paces before he delivered the ball with his smooth action. The 'fat but fit' cricketer enjoyed a great career and was India's first-choice finger spinner for a brief period of time. The presence of established tweakers Anil Kumble and Harbhajan Singh meant that he could never find a regular place in the team but the offie gained a good reputation in whatever opportunities that came his way.
1.Born on:
Ramesh Rajaram Powar was born on May 20, 1978, in Mumbai.
2. Alumnus:
He is an alumnus of Ruparel College of Science, Commerce and Arts in Matunga, Mumbai. His brother Kiran Powar also played cricket and is current under-19s coach of Vidarbha cricket team
3. Part of the inaugural NCA batch:
Powar was selected in 2000 for the first intake of the National Cricket Academy in Bangalore.
4. Domestic exploits:
Ramesh Powar showcased his class immediately after making his debut for Mumbai. He performed consistently and was crucial to Mumbai's Ranji Trophy success in the 2002/03 season.
5. Claim to fame:
In September 2003, playing for Mumbai in the Irani Trophy match against the strong Rest of India, Powar grabbed the limelight by dismissing some of the stalwarts of the Indian cricket, finishing with bowling figure of 4/61. His scalps included established names like Rahul Dravid, Yuvraj Singh and Sourav Ganguly.
6. India debut:
Following his exploits in the domestic scene, Powar was selected in the Indian squad for their historic tour of Pakistan in 2004.
7. Unsatisfactory debut:
He debuted for India at Rawalpindi. His debut, however, wasn't great as he returned wicketless in the match, conceding 35 runs in his six-over spell.
8. Dropped from the side later on:
Powar could play only in one ODI after his debut and was dropped from the side later on. He did not return to the ODI side again until early 2006.
9. International recall:
Powar continued to be an integral part of Mumbai's Ranji plans and kept performing brilliantly. So he earned his recall on the back of 63 domestic wickets in the 2005-06 domestic season. It was the second season in a row that he had taken over 50 wickets.
10. Enters India Premier League:
Ramesh Powar was picked by Kings XI Punjab to play for them in the inaugural edition. He had a memorable debut for his franchise side, picking up a wicket in the very first over he bowled. He continued to play for Kings XI Punjab in the first three seasons of the IPL. He then moved to the now-defunct Kochi Tuskers Kerala franchise for the 2011 season before moving to his Kings XI Punjab in 2012.
11. Switches his domestic side:
In 2013, after representing Mumbai cricket team for 14 first-class seasons Powar shifted to Rajasthan cricket team where he had a poor season took 10 wickets at 62.20 from six matches. But in 2014, Power became the first player of Rajasthan cricket team to move out as Rajasthan Cricket Association was suspended by BCCI. He joined Gujarat cricket team for next season.
12. Retirement:
In November 2015, Powar announced that he would retire from all forms of cricket following the conclusion of the 2015–16 Ranji Trophy.