14 Facts about Harsha Bhogle: The Voice of Indian Cricket
Updated - Jul 19, 2016 10:57 am
561 Views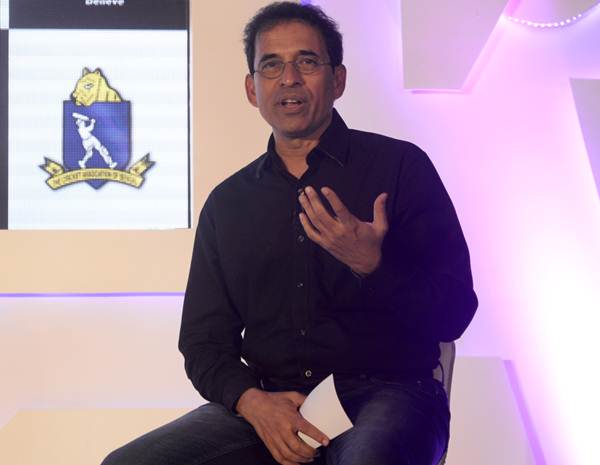 Follow us on Telegram
Speaking in sporting terms, Harsha Bhogle is a legend of the sports broadcasting world. The commentator and journalist is regarded as one of the best voices of the game. His keen eye for details and precise analytical skills combined with a dash of humour and wits make him a very admirable commentator. The well-respected media personality has covered over 100 Test matches and 400 ODIs. He makes television commentary look very mainstream and brings inspiration to many aspiring sports journalists in India and around the world.
1. Early Life:
Harsha Bhogle was born on 19th July 1961 in Hyderabad. Bhogle belongs to a Marathi speaking family. His father A. D. Bhogle was a professor of French, and mother Shalini Bhogle was a professor of psychology.
2. A cricketer at the university level:
Bhogle played cricket for the APCA and has played for the Osmania University alongside future India captain Mohammad Azharuddin, off-spinner Arshad Ayub, and other state level cricketers.
3. Education:
He attended Hyderabad Public School and subsequently finished Chemical Engineering at Osmania University in Hyderabad.
4. Career in media:
He describes advertising as his second love. After completing a post-graduate program at Indian Institute of Management Ahmedabad, he joined an advertising agency and worked there for two years. The two-year stint at the agency was followed by another two-year stint at a sports management company.
5. Starts commentating at the age of 19:
Bhogle started at the age of 19 with All India Radio while living in Hyderabad.
6. First Indian commentator overseas:
In 1991–92, he became the first Indian commentator to be invited by the Australian Broadcasting Corporation during India's cricket series before the 1992 Cricket World Cup.
7. A great media personality:
Voted by Gentleman Magazine as one of "50 men you want to know better" and by Outlook as one of eight people who have changed the way their profession is perceived. Ranked at no. 35 on power list of sports illustrated in 2010 and among top 35 Social media influencer on Pinstorm.
8. The greatest icon:
In 2010, The Hindustan Times called him "the greatest icon of cricket commentary" and in a reader poll he was voted the most popular commentator.
9. Other Television shows:
He has hosted television programs such as Harsha Online, Harsha Unplugged and School Quiz Olympiad for ESPN and Star Sports. Bhogle has presented the program 'Travel with Harsha Bhogle' on the Discovery channel and TLC.
10. The sexiest voice:
In 1992, he was rated as the possessor of the "sexiest voice on radio" and in 1999 when a poll on an independent website rated him the number one commentator for the season.
11. The best of all:
He was voted as the best commentator across radio and television in an internet poll in Australia in 2003-04. Not surprisingly in a global poll, readers of Cricinfo voted him as their "most favourite commentator" and he was the only one to feature among the top three in each of the categories – "favourite commentator", "most unbiased", "most insightful" and "most entertaining". The Hindustan Times while ranking him no. 1 called him "the average Joe who has become the icon of cricket commentary".
12. Harsha ki Khoj:
Harsha had a Television programme named after him, "Harsha ki khoj"/"Hunt of Harsha", that strived to find broadcasting talent in India.
13. Author-biographer:
Bhogle has published and authored a number of books, including a biography of Mohammad Azharuddin. He and his wife Anita Bhogle have written a book titled 'The Winning Way' based on business knowledge drawn from the sporting world.
14. Family:
Harsha is married to Anita, his classmate in IIM-A and the couple live in Mumbai with their sons Chinmay and Satchit. Harsha, along with his wife, Anita, runs a sport-based communication consultancy called Prosearch.
Follow us on Google News