15 Interesting facts about Pallavi Sharda
Updated - Apr 19, 2016 9:51 am
261 Views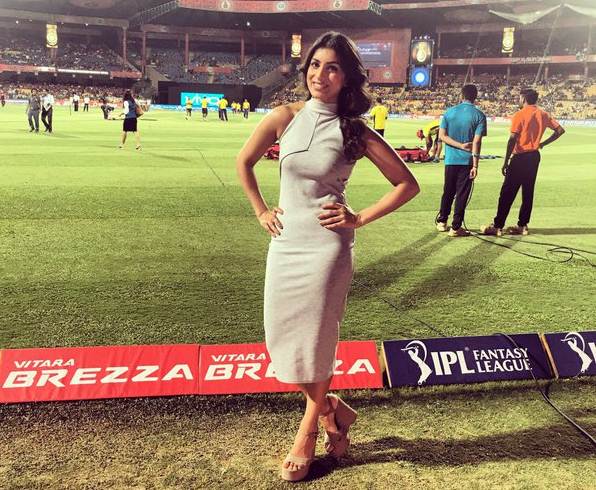 The talks about the glamorous female anchors on the IPL field are not new in town. While Rochelle Rao has garnered all the attention to her side after a successful stint at the reality show Bigg Boss, the other female anchor this year remains to be a mystery to many. 'Who is she' is something that many exclaimed after the beautiful Pallavi Sharda took the field on the first day at 'Extraaa Innings T20'. Wish to know her more? Read on to find out some interesting facts about Pallavi Sharda.
1. Born on:
Pallavi Sharda was born on 5 March 1988 in Perth, South Australia. She is an Australian-Indian actress and dancer.
2. Highly educated background:
She hails from a highly educated background. Her mother Dr. Hema Sharda is the Director of South Asian Relations at the University of Western Australia and her father Dr. Nalin Kant Sharda is a Professor of Computer Science at Victoria University. Both her parents are IIT alumni and PhD holders in science and engineering.
3. Migration to Australia:
Her parents migrated to Australia in the early 1980s, even before she was born. Her parents settled in Melbourne when she was a toddler and she spent her childhood in the outer north-western suburbs.
4. Education in Australia:
Pallavi attended her basic schooling at Lowther Hall Anglican Grammar School in Essendon and then finished her LLB and BA in Media and Communications and Diploma in Modern Languages (French) from the University of Melbourne. She graduated with honors at the age of 16. Needless to say, she is highly educated!
5. A trained dancer:
She is a trained Bharatnatyam dancer. Her dancing talent gave her role in theatrical musical 'Taj Express' in 2011.
6. Miss India Australia:
In the year 2010, Pallavi participated in the Miss India Australia beauty pageant. The pageant was held in Sydney and she was crowned as the winner.
7. Shifting base:
In order to pursue a career in modeling and anchoring, Pallavi decided to shift her base from Melbourne to Mumbai in 2010.
8. Cameo in My name is Khan:
In the very same year in 2010, she bagged a role in the Karan Johar directed movie, My name is Khan. The movie had the star power of Shah Rukh Khan and Kajol.
9. Bollywood career:
After playing a cameo in My name is Khan, Pallavi next bagged a role of a village dance teacher in the comedy flick DusTola in 2010. She acted alongside Manoj Bajpai. The movie did not do well at the box office but Pallavi's performance was highly appreciated. She then featured in 'Heroine' and 'Love Breakups Zindagi'.
10. Maiden Indo-American release:
Pallavi did not confine herself to Bollywood and was seen in the Indo-American movie 'Walkaway' that was released across the United States in 2010.
11. Theatrical performance:
In the years 2011 and 2012, Pallavi Sharda played the lead actress of the theatrical musical, Taj Express. The play was directed by Shruti Merchant and choreographed by famous Bollywood choreographer, Vaibhavi Merchant.
12. Australian movie debut:
Pallavi featured in her first Australian movie in 2013. The movie was titled 'Save Your Legs' and was released on 28 February 2013.
13. The big movies:
Sharda's claim to fame came when she bagged a role in Bollywood movie 'Besharam' opposite Ranbir Kapoor. The movie wasn't successful at the Boxoffice but it was her first major movie. She later played the female lead in 'Hawaizaada' opposite Ayushmann Khurrana in 2015.
14. IPL 2016:
With both Shibani Dandekar and Archana Vijaya pulling out of Extraaa Innings T20 for IPL 2016, Pallavi Sharda was shortlisted for the anchoring role in IPL 2016. She confessed that she was highly nervous about her anchoring role but is confident of doing a good job.
15. Her website:
Pallavi Sharda has her official website www.pallavisharda.com