21 Interesting Lance Klusener facts that you need to know
Updated - Sep 4, 2016 11:45 am
192 Views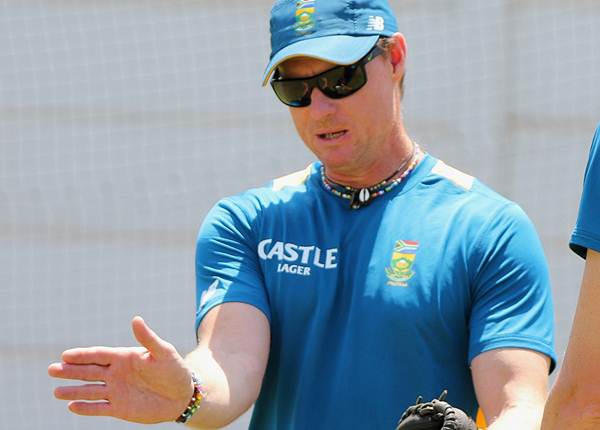 Lance Klusener, is not a name which needs an introduction. The South African all-rounder amazed the world with his pyrotechnics with the bat and aggressive medium fast bowling. It would be grossly unfair if we remember Klusener just for that semi-final match of the 1999 World Cup where he failed to take South Africa home despite playing a fabulous knock. Klusener had this unique quality of scoring big runs under pressure at a tremendous rate. He was equally potent as a bowler and was referred to as someone who had a golden arm and picked crucial wickets when his team needed it.
On his 44th birthday we list 21 Interesting Lance Klusener facts that you need to know:
1. A dream debut: 
A fiery pace bowler, Klusener was the ideal foil to the deadly duo of Donald and Pollock. His bowling skills were showcased in his debut Test at Kolkata where he dazzled the Indians with terrific figures of 8/64, the best figures on debut for a South Africa.
2. What a comeback: 
Many do not remember that in the first innings of the same match Klusener was smashed for 75 runs in just 14 overs with Mohammad Azharuddin clobbering him for 5 consecutive boundaries. In the second innings, he stunned Eden Gardens with a probing and destructive spell of 8 for 64.
3. The Arrival: 
Only a few days after his debut, he showed the world what he could do by blazing his way to 102 off just 100 balls against India at Cape Town in a Test match. It was the fastest century by a South African at that time.
4. Truly deserving: 
His ability to take his side home even in the most hopeless of causes was the stuff of folklore. His best moment was obviously the 1999 WC where his super-hero acts nearly took South Africa to their first ever finals. For his fantastic all round show Klusener won the Man of the Tournament award.
5. A fantastic World Cup: 
Klusener could not put a foot wrong in the 1999 World Cup. He topped the batting averages with a whopping 140.50 and 281 runs in eight innings to his name, including six not outs.
6. The last ball six: 
His six off the last ball off the bowling of Dion Nash in Napier in 1999 to seal the match for South Africa provided a testament to the destructive batsman that he was.
7. Not only an ODI specialist:
 Klusener had a better ODI average than in Tests but if you ever got the impression, especially after his 1999 World Cup heroics, that he was a one-day specialist and did not have the temperament to play Test cricket, his 174 against England at Port Elizabeth in 1999 put all such doubts to rest.
8. Regarded by Wisden:
Klusener was named as the Wisden Cricketer of the year in 2000.
9. The Variations: 
Injury forced Klusener to cut down on his pace and he developed several other skills to bamboozle the batsmen. The off-cutter was one such weapon used to unsettle the batsmen.
10. The dip in-form: 
Klusener's form began to fade on the tours to West Indies (2000-01) and Australia (2001-02). His prolonged poor form cost him his place in the side for some time but managed to get back into the reckoning for the 2003 WC. A poor WC resulted in his omission from the touring squad to England subsequently.
11. An all-rounder?: 
Amazingly, batting wasn't even considered Klusener's primary asset when he was picked in the South African team for the first time in the winter of 1996-97 in India. He had made his First Class debut batting at No 11.
12. A unique action:
 He had a unique side-on action wherein his stride began with a hop, while his bowling arm came in front of his eyes, as if he was taking aim at the spot where he wanted to pitch the ball. It was one of the most noticeable actions in the game.
13. The military connection: 
Klusener had worked in the military for 3 years. It was here that he was noticed by Dennis Carlstein, the manager of Natal, who saw potential in his bowling, and recommended him to attend a nets session at the province.
14. The elevation: 
At the Natal province, Klusener was observed by the great Malcolm Marshall, who used to play as their overseas cricketer. Marshall guided Klusener on how to go about his bowling and batting, and in 1993-94, he was drafted into the first eleven.
15. Nickname:
Klusener is popularly called Zulu due to the fact that he spoke the language fluently after interacting with an African native nanny and other children in Zululand as a child.
16. The rift with Smith: 
Even after being dropped from the Test squad Klusener continued to be part of the ODI set up but reports started cropping up that he and skipper Graeme Smith were not exactly friends. Klusener, 31 at that time was labelled by Smith as a disruptive force and a bad influence in the youngsters in the team.
17. The legal battle: 
After Klusener was dropped from the squad, he took legal action against the United Cricket Board of South Africa for loss of earnings; claiming that he turned down offers to play with English counties after being assured of a place in the Test squad. However, both parties settled their differences soon.
18. The last international appearances: 
Klusener played his last Test at Galle and final ODI against the West Indies at The Oval in the 2004 Champions Trophy.
19. Bangladesh Coach? Not to be: 
Klusener completed a Level-three coaching course provided by Cricket South Africa (CSA) in 2010. He even held negotiations with the Bangladesh Cricket Board (BCB) about becoming a bowling coach for their national team but eventually turned down the offer.
20. The ICL stint: 
Klusener was one of the high-profile signings in the Indian Cricket League (ICL) for the 2007 season and enjoyed reasonable success. He quit the ICL in 2009 to embark on a coaching career.
21. Career in numbers: 
Klusener scored 3,576 runs in 171 ODIs for South Africa at an average of 41.10 and strike rate of 89.91. In the 49 Tests that he played, he scored 1,906 runs at 32.86. On the bowling side, he took 192 wickets in ODIs with a best of 6 for 49. His 8 for 64 on Test debut remains his best bowling analysis in the longer format, where he took 80 wickets.