Stats: Occasions when MS Dhoni finished off Indian innings with a six
He first did it on July 31, 2005, when India faced West Indies in an ODI at Dambulla.
Updated - Dec 20, 2017 11:44 pm
1.5K Views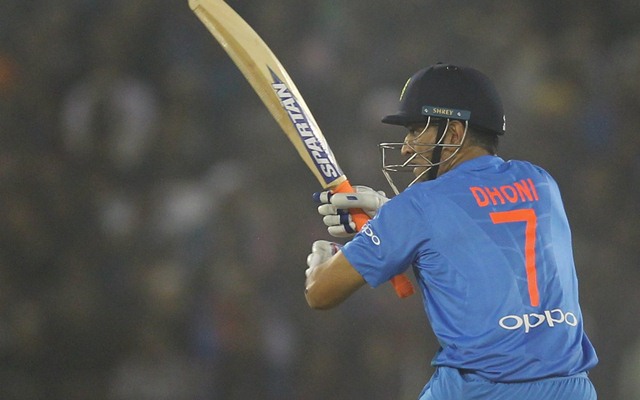 People have been stressing on the need for MS Dhoni to bat higher up the order, specifically at No. 4, for the longest time. There were questions about Dhoni's future in T20Is, but his knock today, should silence the naysayers. At least, for a while. In his 22-ball, 39 he looked to be in his zone as he combined with Manish Pandey who also brought up 32 off 18 balls. Together, they stitched a 68-run 4th wicket partnership in a matter of 34 balls, as India set a target of 181.
What made it even more special was Dhoni did what he does best- finished off the innings with a six. Thisara Perera went for the yorker and ended up dishing out a low full toss, Dhoni got low and swiped it over mid-wicket. For a moment, it looked like he didn't get it off the middle. That's the power of Dhoni. The way the ball went into the stands, it looked like the man in the deep was a spectator too. How often have we seen this?
24 times in total. 13 times in ODI cricket, 9 times that have come during a chase. 8 times in T20I cricket, 3 times while chasing. And, 3 times in Test cricket, once while chasing. In the 24 times, he has done this, India have won 22 games.
He first did it on July 31, 2005, when India faced West Indies in an ODI at Dambulla. It was Jermaine Lawson bowling the last ball. He did it four more times after that, all in the ODI format. Dhoni replicated it in the Test format against Bangladesh on May 26, 2007, when Mohammad Sharif was bowling. The first time he was able to hit a six on the last ball was in Mumbai T20I against Brett Lee on October 20, 2007. Following that, he did the same against Salman Butt and Younis Khan in the next two instances when he did that.
And the most memorable moment etched in every Indian fan's mind was the one that came four years after that, at Wankhede. It was April 2, 2011. Team India was on its way to win the World Cup for the first time since 1983 and it was that man there who ensured that with a World Cup winning six against Nuwan Kulasekara, making it one of the best moments in cricket history.
His last ball six today, on December 20, 2017, in Cuttack, against Thisara Perera is the 24th and the latest in the list.
Occasions when MS Dhoni hit a six to conclude an Indian innings: