3 Instagram reels featuring Kuldeep Yadav that will leave you in splits
Kuldeep Yadav has been spot on with his hilarious reels on Instagram in recent times.
Updated - Aug 6, 2022 5:41 pm
1.8K Views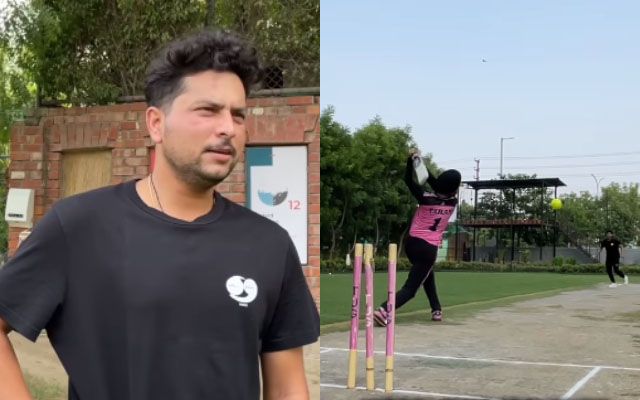 One of India's special talents, Kuldeep Yadav has bowled some memorable deliveries in his international career and has proved to be a match winner for India. He has won a lot of hearts from the fans because of his simplicity and the humbleness. Despite being one of the gentle characters, Kuldeep has never been short of entertainment.
Kuldeep played an immense part in India's successful ODI period from the 2017 Champions Trophy to the 2019 World Cup. His bowling partnership alongside Yuzvendra Chahal brought a lot of wickets in the middle overs, but the left-arm wrist spinner started to fade off for a while post the big tournament. Nevertheless, he has come back stronger in the last few months since his IPL 2022 stint with the Delhi Capitals.
Meanwhile, Instagram reels have been used by a lot of popular cricketers including the likes of David Warner from Australia and it has been the trend around the world. Kuldeep who has been active in the social media arena has come up with a lot of interesting posts and here are three of his Instagram reels which will leave you in splits.
1. Kuldeep Yadav's reel for Yuzvendra Chahal
Yuzvendra Chahal's bowling partnership with Kuldeep reaped a lot of benefits for India and the duo fed off each other by bagging up a lot of wickets. However, in the last few years, it has been either Kuldeep or Chahal in the playing XI, and there hasn't been room for both the spinners in the line-up.
Coming to the spinner's antics, while remembering Chahal, Kuldeep came up with an Instagram reel with Rj Taran helping him out for a support act to show the bond between the two spinners. The reel could be divided into three sections, in which the first section was about Kuldeep remembering Chahal while watching a pair of 'kulcha'.
For the unversed, fans use this term to celebrate Kuldeep and Chahal's partnership.  The second section was about doing reels which reminded Kuldeep of Chahal and the final one was related to chess as the leg spinner was a master of the game in his childhood. "Yuzi and Kuldeep is the best duo ever. Change my mind. (Kulcha) @kuldeep_18 @yuzi_chahal23 Song – No Love @shubhworldwide ," Taran captioned in the Reel.
View this post on Instagram