5 Reasons why the Cuttack crowd disrupted the match
Updated - Oct 9, 2015 7:47 am
46 Views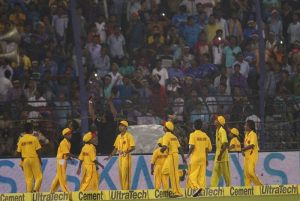 5 Reasons why the Cuttack crowd disrupted the match: The disgust is not unjustified. Throwing bottles at players and expressing your anger over their performance is never a good sight and should never be encouraged. The incident at Cuttack during the 2nd T20I between India and South Africa though has opened up many questions about the expectations of fans from the players.
For once putting our criticism aside lets analyse the incident from a fan's point of view. 5 Reasons why the Cuttack crowd disrupted the match:
1. It is my hard earned money:
I spend my money to watch a cricket match knowing very well that victory and defeat are part and parcel of the game however cannot expect and accept meek surrender and disinterested performances. The much hyped Indian batting line up has time and again disappointed me in matches where they ought to show me some gumption and steel.
2. I hardly get to watch live matches at a stadium:
With the number of venues increasing every year and preferences usually given to traditionally bigger centres watching a cricket match at a stadium is getting extremely difficult. Add to this the demands of VIP's, etc, a common man like me despite of spending hours in the queue is not guaranteed a ticket. So when I do get an opportunity to watch a match at the stadium, overcoming all the hurdles, you guys (players) better make sure that you put in a real show and not a pathetic one!
3. You guys represent a billion of us:
The India jersey is something most cricketers dream of, however only a few achieve. Learn to play with pride at all times and understand that when u play well I rejoice and when you do not I feel devastated. I understand you guys may not always win however the least you could do is try wholeheartedly. A one sided loss against Australia in the most important match of the World Cup followed by a series loss in Bangladesh and now a series loss against South Africa in just 2 matches indicates sub-standard performances to say the least.
4. A timely reminder that please take the game seriously:
You guys are very well paid, get the best of training facilities are worshipped like demi-gods yet keep producing ordinary, lethargic and at times lousy performances. Cricket is like a religion in our country and you sure know how seriously we take a religion! So please understand our worship and treat the game with more intent.
5. A victory makes my day and a defeat ruins it:
Sport is a form of escapism. It gives the kind of high which is unparallel. It is something that liberates an individual and brings real emotions with it. A victory is a huge celebration and a defeat a demoralizing nightmare. So when it impacts me so much I may react like a fanatic once in a while, please pardon me!
Well we can only hope that such incidents do not happen again however the players also need to understand that with the kind of emotions a sport involves, it is possible for the fans to sometimes react in an aggressive manner. Fans see the talent yet repeated ordinary effort turns them off. Though violent disruption can never be and shouldn't be justified.