A disabled cricket fan's heartfelt appeal to make stadiums accessible
"This dream of mine is out of the resulting hunger to make a change for everyone who is differently-abled," the passionate cricket fan said.
Updated - Oct 22, 2018 8:23 pm
182 Views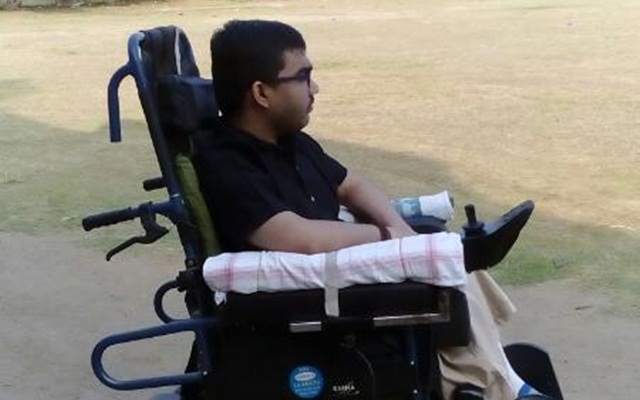 India is synonymous with cricket, although it was the English who invented the sport and spread it around the globe as their merchants sailed from continent to continent. Today, cricket is nothing short of a religion – it has the power to bring the entire nation together, who, all of a sudden, begin to bleed blue. When a figure like Virat Kohli deposits the ball into the stands, there's dancing in the aisles.
But during these festivities, there are some people who find watching a game of cricket a rather unpleasant experience, one which deters them from visiting a cricket stadium a second time. One such annoyed and saddened individual has spoken up and is now calling for visible change.
Kausthub Swaminathan was born with Duchenne Muscular Dystrophy. He essentially began to lose his muscles in the early years and has been confined to a wheelchair for over ten years now. But his disability hasn't been able to eat into his love for cricket. The 20-year old doesn't miss out on a single game broadcast on television. However, it was this very sport that afflicted him with a rather traumatic experience.
The first and only experience
8 years back, Kausthub decided to watch an IPL match live from the stands at the MA Chidambaram stadium. But there was trouble early on in this endeavour, as the stadium did not have any facilities whatsoever for wheelchair users. He, therefore, had to be carried in his father's arms from the parking lot to the seat, an exhausting experience in itself.
During the game, every time there was a boundary – which is likely to be a common affair in T20 cricket – everyone around stood up, entirely blocking Kausthub's view. He was forced to watch almost the whole match through bits and pieces of replay on the big screen. The teenager came back home mentally dejected, bodily hurting and was convinced that he wouldn't put his body through that pain again.
Kausthub has now decided to speak up and demands accessibility in stadiums. "Cricket is my passion, and so I'm focusing on bringing change here first. I also feel since the sport has such a huge following, this will generate traction and create awareness," he said while speaking to CricTracker.
#AccessibleCricketGroundsForAll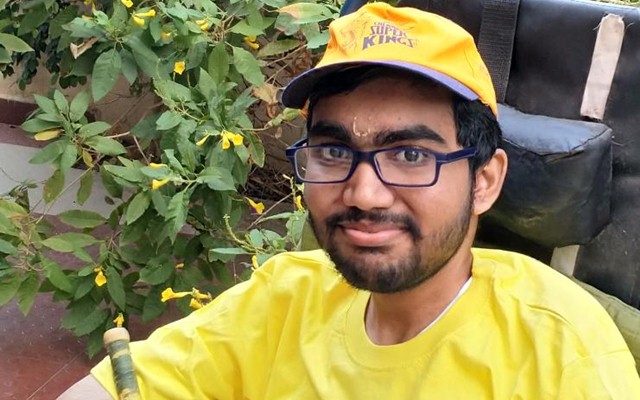 The youngster from Chennai has proposed assigning a section of the stands with wheelchair accessibility, which could also have an additional seat for the person accompanying the disabled individual. He also touched upon the importance of having smooth ramps with the right inclination so that mobility is not hindered.
"You see, attendances have been dwindling in Test cricket. So if accessibility is increased, there'll be a lot more spectators, I assure you. We like to watch the classical form of the game, and we'll surely be there," a hopeful Kausthub said.
His voice has been heard by the likes of Aakash Chopra and Harsha Bhogle, who've retweeted him and extended their support towards his cause. But Kausthub realizes that it will indeed be several years before he can attend a game of cricket on his own, without having to ponder over how safely to get to his seat.
"You have to make sure that these facilities don't become an inconvenience to the majority of people coming to the stadium. But this is something that's definitely needed, and we need it right now," he said.
A designated area for wheelchair users is not where it all ends. Kausthub also pointed out that toilets will need to be made accessible as well. He mentioned that railings would have to be put in place and he'd also be pleased to see little benches available for changing.
However, as he looks back at that day at Chepauk, Kausthub considers his visit to the stadium a victory in itself. The experience, although painful and discouraging, made him forget the struggles he endures on a daily basis. Once the crowd got into its mojo, he was oblivious of his wheelchair and soaked in the atmosphere. "That experience is what I want for every differently-abled cricket enthusiast," he concluded.
Kausthub has a simple request, which he's worded with utmost honesty and determination:
"This dream of mine is out of the resulting hunger to make a change for everyone who is differently-abled. Please do not see this article as a rant, see the genuine cause in it. I would also request every reader to share this with the hashtag #AccessibleCricketGroundsForAll and share this with everyone known to them. Let's go make a change!"