A tribute to the Nawab of Najafgarh Virender Sehwag
Updated - Oct 20, 2014 11:52 am
74 Views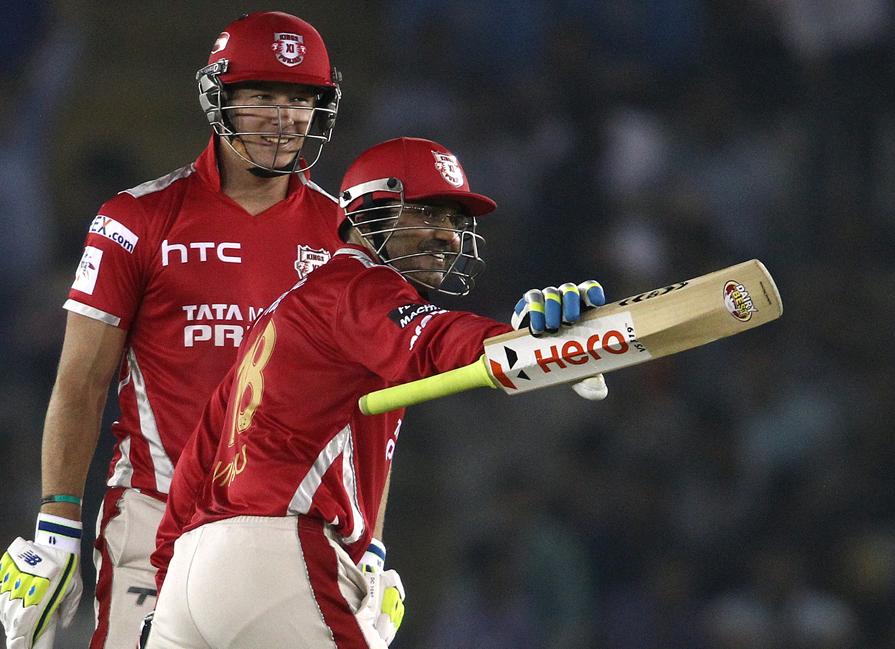 Follow us on Telegram
Virender Sehwag born to be the cricketing Nawab of Najafgarh by his virtues also earned himself the title of Nawab of Multan (a city in Pakistan). Today as Sehwag turns 36 we hit the rewind button and take you along his journey in international cricket.
Coming from a humble back ground (his family owned and run floor mill) Sehwag joined the family business on the cricketing field. Crushing balls and churning them into boundaries. A boundary manufacturer in true sense, when most batsmen would look at the conditions, bowler, pitch; get their eye in before striking. Sehwag would walk in like he didn't care what the conditions were like; who the bowler was and what did the pitch look like.
There was no element of over confidence in it, sheer confidence and self belief. One of those openers with little technical backing Sehwag came as a revolution to opening batting. His short coming with footwork and sound technique were fulfilled by a more than superlative hand eye co-ordination. Those hands moved quicker and harder than most had seen in pre Sehwag era.
Once the ball left his bat, it would not stop before crashing into the advertisement hoardings. Be it those off side slashes, back foot punches, over the infield shots or the elegant leg glance Sehwag found million opportunities and ways to hit them through. Lofted sixes against the slower bowlers and the Upper Cut on the rising ball of a pacer he would fondly and effortlessly land the ball into the stands.
Sehwag got to debut as a replacement for injured Sachin Tendulkar, who also happened to be his idol like most aspiring batsmen in last three decade. He soon made identity for himself. Who can forget the tour to New Zealand when the entire team struggled in seamer friendly conditions Sehwag emerged as a savior. He gave the kiwi bowlers a real treatment and by the time the 2002-03 tour of New Zealand ended Sehwag had 2 more ODI hundreds to his name.
His reputation as an opener went on growing so did the threat bowlers had with him on strike. One of the high's not only in Sehwag's career but Indian test batting has to be the Multan test where Virendra Sehwag, the not so text-book class batsman became the 1st ever Indian to score a triple hundred in test cricket. You would blankly agree that Sehwag was a fearless batsman if I told you he launched a six on 299 to get to his 300.
This was not all, when South Africa toured India in 2008, the home team had a chance of beating the Proteas could get them to the pinnacle of the ICC test ranking. In the Chennai test match of the same tour Sehwag played a massive innings, his second triple century. Bettering his own national record of the highest individual test score of 309 vs. Pakistan to 319 against the South African's. Though SA drew that particular test match but India went on to win the series and the crown as well and Sehwag played a significant role in it. He fell 7 runs short of what could have been a world record 3rd triple century against Sri Lanka at the Wankhade stadium when Muralitharan had the better of him.
Sehwag did not stop there actually he never stopped being himself.  He also holds the record for most number of Double centuries by an Indian batsman in test cricket with 6 of them. From Sachin Tendulkar to Gautam Gambhir his opening partners changed but his striking and style never did. Initial career part could see his companion dominate the partnership but once in the opening slot, his partners only had the option of playing a second fiddle.
Though he is one of those batsmen who has a better test record than ODI as he averages almost 50 in tests with 8586 runs in 104 test matches in comparison to 8273 runs in 251 ODI's averaging 35. Sehwag is just second person behind the Indian Superman Sachin Tendulkar to hit an ODI double hundred. He went ahead of the Master and recorded the highest individual ODI score record with the 319 runs innings against West Indies in Indore.
The ease, effortlessness, carelessness, clamor, composure, instinct, effect with which Virendra Sehwag bats is second to none in international cricket. He should be credited for being the man who changed test cricket to a much more attractive form displaying fireworks right at the top to an important weapon in MS Dhoni's arsenal which conquered the World Cup.
He is now at the twilight of his career, trying his best to ensure himself a chance to rule the hearts of his fans and fear slots in bowler's mind, as he still has the hunger in him to play cricket. Like the dream of walking in with the Indian Jersey, with an inflated chest, Sehwag will also earn himself this opportunity to walk off the cricketing field with head held high in pride for one last time before he bids Indian cricket adieu.
Follow us on Google News