Aakash Chopra advises fans to stop seeing Rishabh Pant from MS Dhoni's glasses
Pant was below par with his wicketkeeping skills in Mohali.
Updated - Mar 11, 2019 3:03 pm
1.5K Views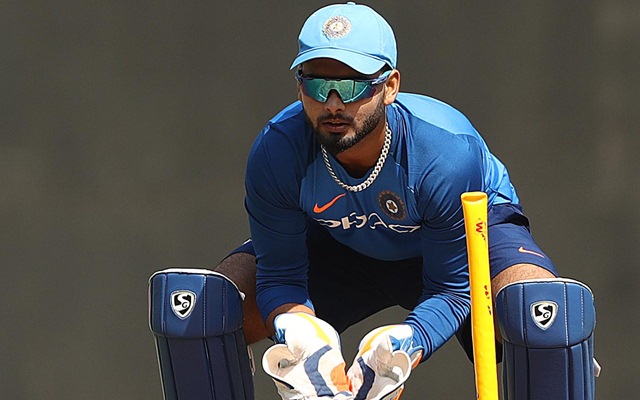 One just can't embody the great wicketkeeper that MS Dhoni is, the standards are unmatchable. But it was evident how high the fans have set their standards when the crowd started to chant 'Dhoni Dhoni', making things worse for Rishabh Pant who wasn't having a great day in Mohali. Former Indian cricketer Aakash Chopra took to Twitter to express his disapproval of the chants and their timing.
Everyone felt Dhoni's absence behind the stumps in the 4th ODI, but many have criticized the crowd's behaviour since it was harsh on Pant. During the match in Mohali, India wicket-keeper batsman Rishabh Pant was seen almost struggling behind the wickets. Pant, who was brought in as the replacement to Dhoni, who has been rested for the fourth and fifth ODIs, struggled with keeping on several occasions during the game and had to face severe criticism for the same.
Most of it majorly happened during the second half of the Australian innings as the tourists were chasing a target of 359. In the penultimate delivery of the 39th over, Australia middle-order batsman Peter Handscomb had stepped out to a delivery from chinaman bowler Kuldeep Yadav. Handscomb was clearly ambushed as Yadav delivered a short one and the ball got deflected after hitting Handscomb's pads.
Dhoni would've taken microseconds to discern the change of line but the 21-year old Pant failed to do the same with such a tricky chance. To cite another major fault, the 20-year-old Pant missed one stumping down the leg side in the 44th over on a clearly wide delivery. Ashton Turner of the BBL fame was way outside the crease but Pant was unable to grab the ball in time.
Aakash Chopra's opinion
It was at that very moment when the crowd at Mohali had started to chant 'Dhoni Dhoni' all over. As much as it expressed how much the fans missed the veteran keeper, it was surely humiliating for a young soul like Rishabh Pant. Overall it was a tough day for Rishabh Pant as well as the Indian National Cricket Team at Mohali. Not just Pant even the other Indian fielders dropped several chances- the likes of Shikhar Dhawan and Kedar Jadhav.
However, the former cricketer Aakash Chopra felt that the fans were too harsh on Pant. He believes that the fans should not see MS Dhoni-The Keeper in Rishabh Pant, and appreciate for what the youngster brings to the table. Chopra is also hopeful of investing in Rishabh Pant for the future. He took to Twitter and wrote: Stop searching Dhoni-the keeper in Rishabh Pant. He's work in progress. The question should be—Is he worth investing in? My answer—YES. #IndvAus
Here is Chopra's tweet
Stop searching Dhoni-the keeper in Rishabh Pant. He's work in progress. The question should be—Is he worth investing in?
My answer—YES. #IndvAus

— Aakash Chopra (@cricketaakash) March 10, 2019