Aakash Chopra and Mitchell Johnson argue over the 'Perth' pitch
The Perth pitch got an average rating from the match referee.
Updated - Dec 21, 2018 9:30 pm
1.1K Views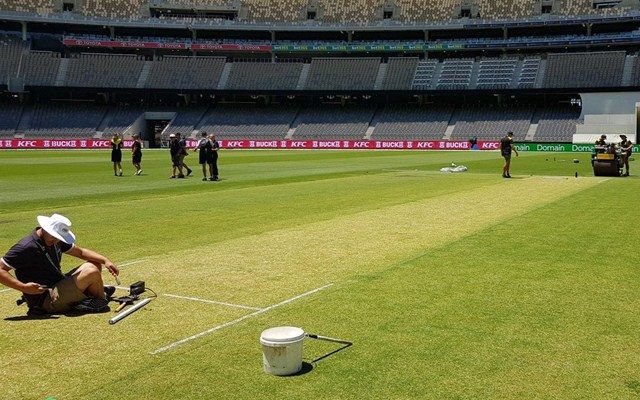 Former Indian opener Aakash Chopra and Australian seamer Mitchell Johnson were involved in a verbal battle on Friday. The exchange was based on the pitch at the Perth Stadium that hosted the second Test of the 4-match series between India and Australia.
As per the new ICC disciplinary system, match referees rate the pitches and outfields after the completion of each match. Ranjan Madugalle, the match referee of the recently concluded Test at Perth, gave an 'average' rating to the pitch, which is just one short of the lowest rating 'poor'. This has instigated reactions from fans and experts and the latest to have joined the party are Aakash and Johnson.
The war of words
The former Australian speedster was not impressed with the rating given by Madugalle. He took to Twitter and stated that the wicket at Perth enabled an equal contest between bat and ball, unlike flat tracks which predominantly assist the batsmen. He further added that inconsistent bounce shouldn't be something to be concerned about as it usually occurs when the pitch wears down.
Aakash, the cricketer-turned-commentator, didn't seem to be in agreement with what Johnson said as he replied to the latter's tweet saying that the inconsistency in bounce was evident as early as on Day 1 when part-time spinner Hanuma Vihari bowled a good length delivery that took off abruptly to become a chest-high bouncer.
The arguments heated up
Johnson didn't back away from his claims and hit back at Aakash by tweeting that the latter shouldn't really be complaining about an odd bouncer bowled by a spinner as he rather enjoyed a string of fiery bouncers from the Indian pace bowling trio in the second innings.
He kept emphasizing the fact that the rating given by Madugalle is slightly harsh as he believed that the wicket was good and is no way dangerous when compared to many other pitches across the world.
Aakash retaliated that he was in complete agreement with the 'average' rating and felt that the decision of the match referee in this regard was fair and neutral. He also took a jibe at the left-arm pacer saying that some of the pitches the latter played on didn't deserve 'good' rating at all. Finally, both gentlemen acknowledged the disagreement with each other's opinion and the argument came to a closure.
Here is their Twitter battle:
Nothing wrong with it. It was exciting to watch a contest between bat and ball for a change and not these dull flat tracks being served up constantly. I'd actually be interested in knowing what a good pitch is? Hope for another exciting test at the MCG 🏏 https://t.co/Q1vOYm6AaB

— Mitchell Johnson (@MitchJohnson398) December 21, 2018
I wouldn't give it a low mark but we saw inconsistent bounce from the first session which isn't ideal, it's ok to see later on IMO. Sideways movement and pace has been good to see. Add true bounce and we'll see optimum contests. Good signs for Perth.

— jump time (@time_taken_up) December 21, 2018
Vihari bowled a bouncer on the 'first day' to dismiss a well set Harris. I rest my case 🙌🙏 https://t.co/gELNtmLUuI

— Aakash Chopra (@cricketaakash) December 21, 2018
Pretty shitty case if that what your coming with Aakash. You're saying it was a dangerous delivery from a spinner? Did you pipe up when the Indian 4 man attack bowled plenty of short balls, which I enjoyed as a fan & was awesome to watch? What is a good wicket is to you?

— Mitchell Johnson (@MitchJohnson398) December 21, 2018
You spoke of natural deterioration that leads to variable bounce. That ball was a reflection of variable bounce on the first day. Not dangerous then. But yes…that Shami spell on day four was close to dangerous….felt that player safety was in question. Therefore the rating. https://t.co/AlE4Me9Iko

— Aakash Chopra (@cricketaakash) December 21, 2018
I disagree, I've seen far worse & played on pitches similar to it. Do you want to see boring flat belters? I don't. I want to see pitches that produce an exciting contest between bat and ball. Anything else you want to get off your chest?

— Mitchell Johnson (@MitchJohnson398) December 21, 2018
I never said that I want to see cricket on feather beds..ICC rated the pitch 'Average'-I agree with their neutral observation based on the feedback of match officials. You don't. We r entitled to have our own opinions. FOE. Too bad if the pitches you played on got a 'good' rating

— Aakash Chopra (@cricketaakash) December 21, 2018
Plenty of pitches much worse that never had this rating. I know what you saying & no issues with you disagreeing & having your opinion, that's all good. But I still disagree & have no idea why you would comment directly to me?

— Mitchell Johnson (@MitchJohnson398) December 21, 2018
Too late in Melbourne..just landed…body clock still set on Perth timings. Chanced upon your observation somehow…enough reasons for commenting to you directly? ☺️😉✌️Merry Christmas in advance…see you on the Boxing Day. Hopefully MCG wont be a road like last year… 🤞

— Aakash Chopra (@cricketaakash) December 21, 2018