Aaron Phangiso aiming for longer run with Proteas
Updated - May 26, 2016 6:00 am
40 Views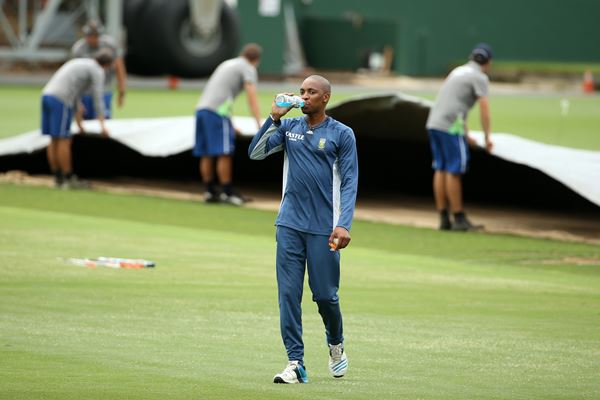 Follow us on Google News
Aaron Phnagiso has had somewhat of a turbulent time since his induction to international cricket. Ranging from 'snorting acts' to illegal bowling actions, Phangiso has seen it all. However, this time, around, the 30-year old spinner wants to make the most of the opportunities he has missed. After missing the World T20 in India, Phangiso has been picked as one of three spinners for the upcoming tour of the Caribbean.
"The wickets are not quick, they don't offer much lateral movement and the spinners, particularly in Guyana, play a big role. We want to have a look at Shamsi. This is an opportunity to play him, particularly with Imran getting to the twilight stages of his career, it will be good to have another wrist-spinner," said Domingo on the inclusion of the left-arm chinaman bowler. Shamsi's career has been on the rise ever since he plied his wares in the Caribbean Premier League. He was subsequently roped in for a stint in the IPL as well with Royal Challengers Bangalore. While this remains his first call-up to the national team, Shamsi's abilities have pitch-forked him higher in the pecking order. To counter the challenge and enhance his position, Phangiso himself is planning a change of approach.
"The fact that Russell [Domingo] and the selectors chose to go with three spinners means there's a chance of two spinners always playing. Hopefully, if conditions allow in West Indies, I can maybe get a bit of a run," said Phangiso. And he feels he can add more value particularly after the spin camp that he attended recently in India.
"What I got out of it (the spin camp) was to shift my mentality from defensive to more attacking. I've been a defensive spinner all my career. I've always kept it tight, tight, tight – and then get the wickets with pressure. But now maybe I'll look to attack a bit, put fielders in attacking positions," he said.
With his future plans already set along with realistic goals, Phangiso is aiming to tie down a spot with the South African team.
"For me to get a chance on other tours was hard because Imran performed very well. We almost went with the mentality of one spinner and backing the seamers. But this tour will maybe be different. I'm hoping to put in some good performances and to get some consistency," said the left-arm spinner.
"It was a bit tough. It was four months of newspapers – Phangi this, Phangi that – but I've got a strong family, very Christian people. That helped a lot.
"There's a lot of lessons you learn from those type of things, and a lot of the time the public get a story that's not 100% accurate. But the fact that the story is out there and people think some other stuff about you, obviously you are going to learn something," said Phangiso.
Follow us on Telegram