AB De Villiers – The Perfectionist
Updated - May 5, 2014 12:34 pm
104 Views
There was a live blistering at the M. Chinaswamy stadium of Bangalore on Sunday 4th March. The bombings and the devastation produced was equivalent to the effect of a live wire being kept decoded. No, there were no terrorist bomb blasts or any other calamity but a Human bomb known as "AB de Villiers" was in his full hail and sensational form. Yes, it was Royal Challengers Bangalore vs The Sunrisers Hyderabad on Sunday. No words are enough to describe the batting excellence of AB de Villiers. He was a one man army fighting alone for his team to protect his and his team's integrity and to redeem the same. Royal Challenger's Bangalore are considered to have one of the best batting line up in the Indian Premier League. Many speculations were put on the lost form of AB de Villiers. Clearing all the allegations, AB showed the world the kind of player he is, by fighting a lot battle and coming out victorious. CricTracker brings to you the energetic form of AB de Villiers which was witnessed on Sunday night where he scored 89 runs from 41 deliveries with 6 fours and 8 sixes.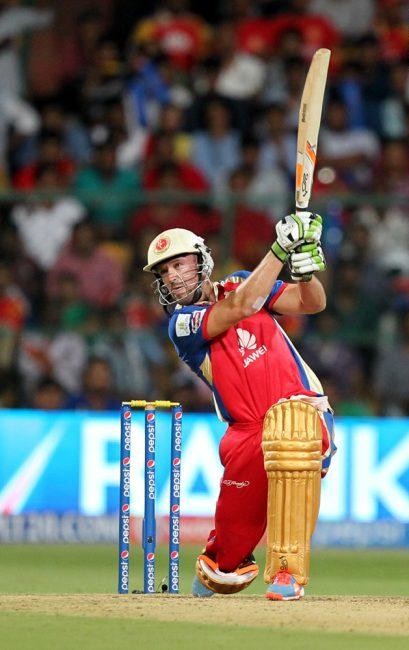 The Sunrisers Hyderabad got to a sensational start and put forward a good target against the Royal Challengers Bangalore who looked in great form. But who knows when the cards get misplaced. David Warner scored a remarkable 61 off 49 deliveries helping SRH to put a target of 155. The RCB openers failed to give a subtle start. Chris Gayle scored just 27 and Parthiv Patel scored 3 runs before they could depart. Virat Kohli also failed to impress and fell for a duck. Rilee Rossouw failed to give a clear mark in his IPL debut scoring just 14 off 23 balls.
Then came the Star of the Match AB de Villiers. He was determined to play a match winning innings for his team. He started off playing well by hitting a six on the 5th ball of his innings. With him was Yuvraj Singh. De Villiers with his typical style launched down on one knee and played all the shots perfectly. In Ishant Sharma's one over, he even hit a straight six which aimed and was displaced straight to the SRH's dustbin.
His iconic style and intelligent batting was bringing RCB nearer to the required rate. He sensed all balls he played so beautifully that one can be astounded at that site. His agonizing stamina and fast metabolism did compel him to convert filthy 1's into compatible 2's. RCB was coming nearer to the target. Yuvraj Singh then departed on 14 facing 16 balls.
When Yuvraj Singh departed, De Villiers was on 33 off 19 balls and had already hit 3 sixes. De Villiers hit two more sixes and a four from the Dareen Sammy's over and a streak of light did it emerge out for RCB. ABD was their only saving hope. The 17th and 18th over bowled by Dale Steyn and Bhuvaneshwar Kumar respectively gave only 12 runs.
Then came the big over, which was yet to come in the entire De Villiers innings. Dale Steyn, one of the best bowlers of the world was bowling to the best batsmen ABD in the 19th over. De Villiers hit Steyn for 23 runs in the over. There was nothing Steyn could do to stop Villiers. He made Steyn feel like a South African uncapped bowler. The last delivery played by Villiers was just majestic. He moved across the off stump and hit Steyn's straighter one beyond the fine leg boundary. Steyn applauded it.
In the last over, things were sealable as RCB needed only 6 runs of the last over. De Villiers hit the winning run off the second last ball, thus spreading happiness to the RCB dugout as well as their home stadium.
Virat Kohli in the post match ceremony said "Today was one of the days we needed someone to win the game from that tough situation. (De Villiers' was) One of the best innings in T20 I have seen, the way he was striking the ball under pressure."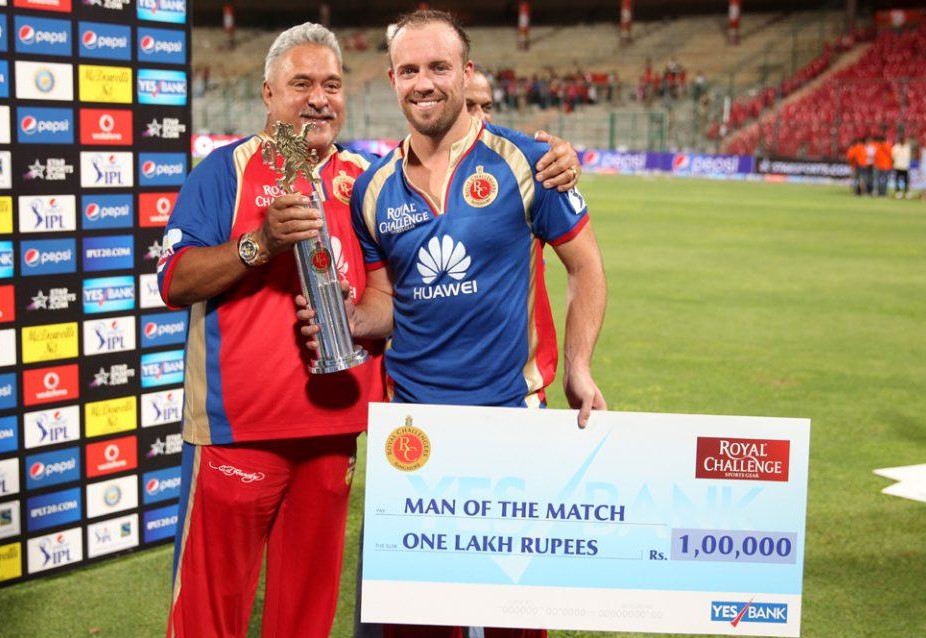 De Villiers was awarded the "Man off the Match". His exempts valor and exceptional innings did prove him to be "The Best of All". As there is a tough fight for claiming the best position between ABD and Virat Kohli, ABD with his perseverance definitely claimed the No 1 position in the hearts of million people. " Mr 360 did surely show his compatibility and ability to bring out the best in him every time" !
What we witnessed on Sunday night, we can never forget it of AB de Villiers. A true entertainer and a Batting maestro, we hope he entertains us in the same way forever and ever.
Follow us on Google News