'Ab humko chahiye full ijjat' – Twitter reacts to Rishabh Pant's appointment as Delhi Capitals captain for IPL 2021
In absence of injured Shreyas Iyer, Rishabh Pant has been appointed the Delhi Capitals captain for IPL 2021.
Updated - Mar 31, 2021 10:56 am
12.7K Views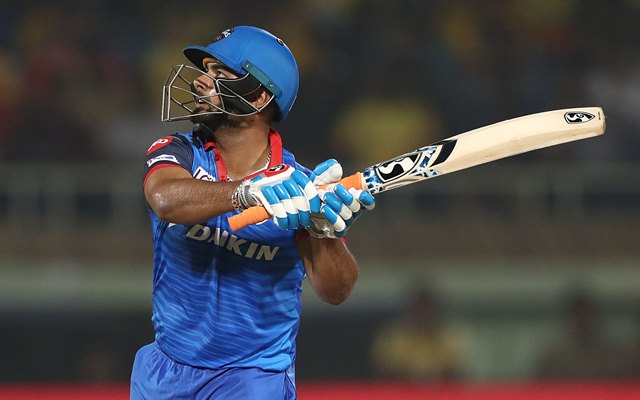 Follow us on Google News
All eyes will be on Rishabh Pant in the upcoming season of the Indian Premier League (IPL) as he gears up to lead Delhi Capitals for the first time in his career. Pant, who led Delhi's state team in the past, will be leading an IPL team for the first time in his career. The wicketkeeper-batsman will be the youngest captain in IPL 2021.
Delhi Capitals have appointed Pant as their captain in the absence of their regular skipper Shreyas Iyer. The right-handed batsman is currently sidelined with the shoulder injury he sustained during the ODI series against England. Iyer is set for a lengthy spell on the sidelines and will miss the entire season of the IPL 2021.
Pant has expressed his delight over the appointment as he said he always dreamt of leading the Delhi-based franchise in the IPL. The highly-rated star thanked his team owners for handing him the responsibility and stated that he cannot wait for the new season to begin. IPL 2021 is scheduled to start on April 9 while Delhi will begin their campaign on April 10 against Chennai Super Kings.
"Delhi is where I grew up, and where my IPL journey began six years ago. To lead this team one day is a dream I've always harboured. And today, as that dream comes true, I feel humbled. I am truly grateful, especially to our team owners, who considered me capable enough for this role. With an amazing coaching staff, and a plethora of accomplished seniors around me, I can't wait to give my absolute best for Delhi Capitals," said Pant.
Twitter reacts to Rishabh Pant's appointment as captain
Rishabh Pant has been in stunning form with the bat this year. He starred in the Test series against Australia and England and recently impressed in the limited-overs series against the latter too. Pant would be hoping that his red-hot form with the bat continues as he looks to guide Delhi to their first-ever title.
Delhi Capitals made it to IPL final for the first time in their history last year and would be looking to build on that success. And while only time will tell how Pant performs as captain, his appointment has set the internet abuzz.
Here are some of the reactions:
Ek toss toh jeetne dega? pic.twitter.com/EQmrTRcuLE

— absy (@absycric) March 30, 2021
Have You Heard The Word Temporary Captain ever ?🤣 @RishabhPant17 @DelhiCapitals https://t.co/MPyESFsZGN

— Saugat (@Saugat92287257) March 31, 2021
#IPL2021
Rishabh Pant to lead Delhi Capitals in IPL 2021 in Shreyas Iyer's absence pic.twitter.com/9vqoUGeSFD

— Sudhanshu Ranjan Singh (@memegineers_) March 30, 2021
#RishabhPant to lead Delhi Capitals in #IPL2021; Shreyas Iyer ruled out of season 14

*Literally No one *

Rishabh pant right now : pic.twitter.com/TpuiysI3V6

— Tushar (@TusharLohar92) March 30, 2021
Rishabh Pant is new captain of Delhi Capital in absence of Iyer

Meanwhile Smith, Rahane, Ashwin & Dhawan: pic.twitter.com/pEAJBAIWAx

— Aman Kumar (@ve_no_mo_us17) March 30, 2021
Delhi Capitals appoint Rishabh Pant as captain for IPL 2021
Rishabh Pant to Shreyas iyer: pic.twitter.com/a3Sda1eBWU

— Prasad Remje (@munna_30_) March 30, 2021
Rishabh Pant leading DC : pic.twitter.com/TB5bXFIfD2

— Savage (@CutestFunniest) March 30, 2021
From Australia to IPL captaincy, been a decent 2021 for Rishabh Pant, hasn't it? 👌🏾https://t.co/abqDuEoxws pic.twitter.com/6Y2Q7flYk1

— Vinayakk (@vinayakkm) March 30, 2021
How it started How it's going pic.twitter.com/bskx1l9Ure

— Myra (@the_indianstuff) March 30, 2021
"Rishabh Pant appointed as the captain of Delhi Capitals in IPL 2021"
Pant Right Now : pic.twitter.com/tvtjc2zOHw

— Sidhu (@Theflummoxguy) March 30, 2021
Becomes Youngest IPL Captain:-

•Virat Kohli – 22 Years & 187 Days.
•Steve Smith – 22 Years & 344 Days.
•Suresh Raina – 23 Years & 112 Days.
•Shreyas Iyer – 23 Years & 141 Days.
•Rishabh Pant – 23 Years & 144 Days. pic.twitter.com/VMwEjelLxQ

— Mridul Malaviya (@MridulMalaviya) March 30, 2021
Captain Rishabh Pant in 2027 World Cup final: 🔥🔥 pic.twitter.com/NoAr8dX8ZY

— Faad Dunga BC (@naalaYUCK) March 30, 2021
Ajinkya Rahane, Steve Smith and Ravichandran Ashwin after Delhi Capitals appointed Rishabh Pant as captain for IPL 2021 pic.twitter.com/gUIvzgiuXB

— Kuch bhi (@kuchbhiJ3) March 30, 2021
There is no greater takeaway from the last few months than an exceptionally special player finding his rightful place in every India side. Been saying it for ages, just back him, he's bound to come good, and he was so, so good. This has been the summer of Rishabh Pant. 👏👏👏 pic.twitter.com/frd4wgNMfY

— Raunak Kapoor (@RaunakRK) March 28, 2021
Rishabh Pant is to be the captain of Delhi Capitals. And I suppose Ashwin or Rahane will play the Lieutenant Governor.

— Ramesh Srivats (@rameshsrivats) March 30, 2021
Age of each IPL captain in 2021:

Rishabh Pant – 23.
Sanju Samson – 26.
KL Rahul – 28.
Virat Kohli – 32.
Rohit Sharma – 33.
David Warner – 34.
Eoin Morgan – 34.
MS Dhoni – 39.

– Pant is the youngest captain of 2021 season.

— Mufaddal Vohra (@mufaddal_vohra) March 30, 2021
Have You Heard The Word Temporary Captain ever ?🤣 @RishabhPant17 @DelhiCapitals https://t.co/MPyESFsZGN

— Saugat (@Saugat92287257) March 31, 2021
Follow us on Telegram