ACC Youth Asia Cup 2017, Final – Statistical Highlights
Here are all the stats and numbers from Afghanistan's historic victory.
Updated - Nov 19, 2017 4:03 pm
846 Views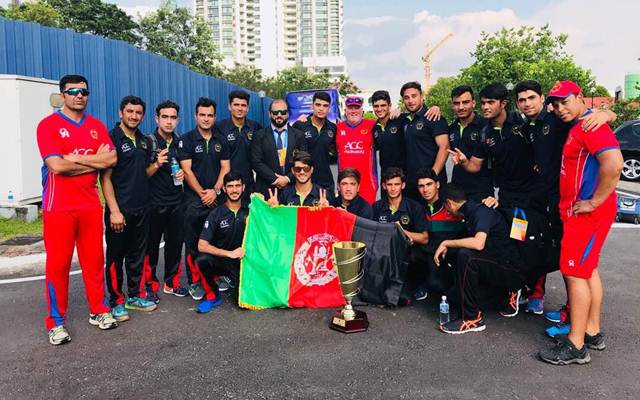 Follow us on Telegram
Afghanistan's grip and dominance in cricket is gradually picking up at both senior and junior levels as their Under-19 side has emerged as the champions of the Youth Asia Cup. The Afghan team won the title following a thumping win over Pakistan in the final by 185 runs. They completely ruled their neighbouring nation in the two clashes and restricted them to 57 in the league game and to 63 in the final. The defending champions of the tournament, India, were knocked out in the first round after losing to Nepal and Bangladesh.
Here are all the stats and numbers from Afghanistan's historic victory:
3 – Number of 5-wicket hauls for Mujeeb Zadran in the eight Youth ODI matches he has played. Pakistan's Riaz Afridi is the only other player to take three 5-fers in Youth ODI cricket. In these eight Youth ODIs, Mujeeb picked up 29 wickets and another 37 wickets in the 12 U19 One-Dayers which didn't have Youth ODI status.
---
5/13 – Mujeeb Zadran's bowling figures of 7.1-2-13-5 in the final are the 2nd best bowling figures for any player in a Youth ODI final. India's Abu Nechim had figures of 6/9 against Bangladesh in a tri-series final in 2007.
---
6/23 – Mujeeb's figures of 6/23 against Pakistan during the group stage game was his 2nd 6-wicket haul in Youth ODIs after his 7/19 earlier in Bangladesh. Thus, he became the first ever bowler to take more than one 6-fer in Youth ODIs.
---
63/10 – Pakistan's total of 63 is their 2nd lowest total in Youth ODI cricket. Their 57/10 during the group stage match against Afghans is their lowest total. Prior to this U19 Asia Cup, Pakistan were bowled out under 100 in Youth ODIs only once when West Indies restricted them to 70/10 way back in 1988. The 57 and 63 are also the lowest totals by any team against Afghanistan in this format.
---
63/10 – Pakistan's 63/10 is also the lowest total for any team in a Youth ODI final. The previous lowest was 66 by South Africa in 2013 against India in the final of a quadrangular series.
---
107* – Ikram Faizi became only the 4th Afghanistan player to score a hundred in Youth ODIs after Karim Janat (156), Javed Ahmadi (134) and Tariq Stanikzai (106*). Faizi is also the 6th player to score a hundred in the final of Youth Asia Cup and the first from Afghanistan.
---
185 – Pakistan's losing margin of 185 runs in the final is their biggest loss in terms of runs in Youth ODIs. Their defeat at the hands of Afghanistan in the group stage game with 245 balls is their biggest losing margin in terms of balls to spare. Both are the biggest victories respective for Afghanistan in Youth ODI cricket.
---
185 – The 185-run win for Afghanistan is the 3rd biggest for any team in the Youth ODI final match. India defeated South Africa by 201 runs in 2013 while Pakistan defeated England in a tri-series final in 2013 by 192 runs.
CT Video of the week
Virat Kohli will fall short of these 6 Sachin's records
Follow us on Google News