Afghanistan to play five-match T20I series against Ireland in August
Ireland and Afghanistan first played an international match in 2009, the sides have met 55 times in total across all formats.
Updated - Mar 23, 2022 8:23 pm
700 Views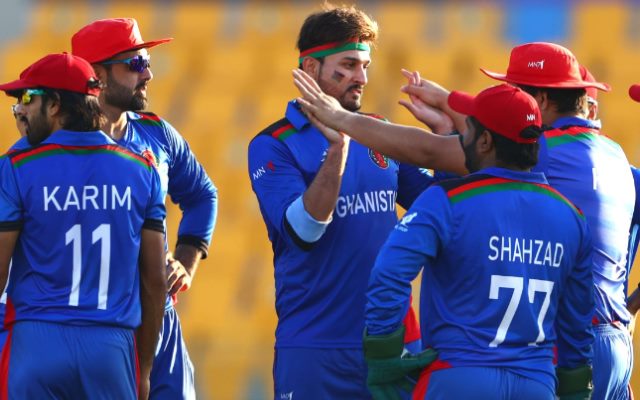 Follow us on Telegram
DUBLIN – The 'Season of Stars' continues to get bigger with the confirmation of the five-match men's T20 International series against Afghanistan for August.
Following the recent announcement regarding Ireland Men's home season, the senior side will now line up for a T20I series against long-term rivals Afghanistan, to be played at Stormont. The series is set to be a key part of Ireland Men's build-up to the ICC Men's T20 World Cup 2022 in October. This series also represents the first T20Is that Afghanistan have played in Belfast.
Richard Holdsworth, High-Performance Director for Cricket Ireland, said:
"It's a great rivalry that has developed over the years between Ireland and Afghanistan, and we warmly welcome the Afghan Men's team here once again. With the context of both sides looking to bolster their T20I exposure in the lead-up to the ICC Men's T20 World Cup in October, it was agreed by the Cricket Ireland Board that the previously scheduled Test match and ODI series would be rescheduled to a later date – with both sides looking to maximize our T20I cricket instead.
"Our thanks to the Afghanistan Cricket Board for their support in getting this series approved."
Ireland v Afghanistan men's T20I series
9 August: Ireland v Afghanistan, 1st T20I (Stormont)
11 August: Ireland v Afghanistan, 2nd T20I (Stormont)
12 August: Ireland v Afghanistan, 3rd T20I (Stormont)
15 August: Ireland v Afghanistan, 4th T20I (Stormont)
17 August: Ireland v Afghanistan, 5th T20I (Stormont)
Other fixtures in Ireland Men's international schedule this summer
Ireland Men v India Men T20I series
Sunday 26 June: Ireland v India, 1st T20I (Malahide) *
Tuesday 28 June: Ireland v India, 2nd T20I (Malahide) *
 Ireland Men v New Zealand Men series
Sunday 10 July: Ireland v New Zealand, 1st ODI (Malahide)
Tuesday 12 July: Ireland v New Zealand, 2nd ODI (Malahide)
Friday 15 July: Ireland v New Zealand, 3rd ODI (Malahide)
Monday 18 July: Ireland v New Zealand, 1st T20I (Stormont)
Wednesday 20 July: Ireland v New Zealand, 2nd T20I (Stormont)
Friday 22 July: Ireland v New Zealand, 3rd T20I (Stormont)
Ireland Men v South Africa Men T20I series
Wednesday 3 August: Ireland v South Africa, 1st T20I (Bristol)
Friday 5 August: Ireland v South Africa, 2nd T20I (Bristol)
Afghanistan Men's last visit to Ireland was May 2019, although the sides last played a T20I series in March 2020 (Afghanistan 2-1) in Greater Noida, India
Afghanistan Men are ranked eighth in the world in T20I cricket
Ireland and Afghanistan have met 19 times before in men's T20I cricket, with Afghanistan winning 14 of these matches (Ireland won 4, one no result)
Ireland and Afghanistan first played an international match in 2009, the sides have met 55 times in total across all formats
Follow us on Google News