After announcing his comeback, Sreesanth bowls an unplayable toe-crusher in nets
Sreesanth bowled the yorker with utmost precision.
Updated - Sep 15, 2020 10:14 am
24.9K Views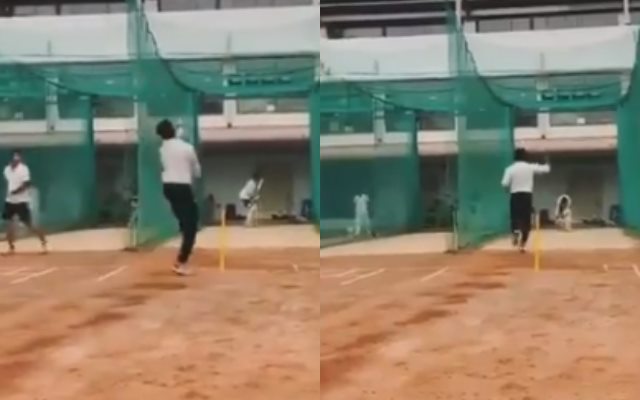 Indian fast bowler S Sreesanth's career went to the doldrums after he was found guilty in the 2013 Indian Premier League (IPL). Back then, he plied his trade for the Rajasthan Royals (RR) and he, along with Ajit Chandila and Ankit Chavan, was suspended for the alleged misdeeds. Ever since then, the now 37-year-old Sreesanth hasn't played any form of competitive cricket.
The Board of Control for Cricket in India (BCCI) also came down hard on the speedster for bringing shame to the game of cricket. However, after seven years of toiling, luck seemed to have smiled on the tainted Indian pacer. On Sunday, September 13, his suspension came to an end.
Sreesanth keen to make comeback
And he is raring to get back on to the field, much to his relief and joy. The veteran seamer dropped a series of tweets, sounding excited for his return. He also said that even into his late 30s, he has five to seven years of cricket left in him.
"I'm completely free of any charges nd anything nd now gonna represent the sport I love the most.will give my very best to every ball I ball even it's just practice.just have another 5 to 7 years max to give it all I've got nd I will give the very best to any team I play," one of his tweets read.
In the meantime, he has been running in full throttle, showing his class. A video of him is doing the rounds where he can be seen, bowling a vicious delivery to a batsman. Sreesanth used to bowl a number of yorkers and even after not playing for so long, he hasn't forgotten the art.
In the clip, he was seen bowling a lethal and unplayable toe-crusher to the batter, who had very little clue about the thunderbolt.
Here's the video: –
.@sreesanth36 on 🔥🔥

Credit: Sahil Raina/Instagram pic.twitter.com/7TbuhLwDbK

— Sai Kishore (@SaiKishore537) September 15, 2020
Reports of Sreesanth making his comeback for Kerala are also doing the rounds. However, Tinu Yohanan, their head coach, said that his comeback depends on his 'form and fitness'. Sreesanth last played a first-class match on February 2013, playing for Rest of India (ROI) against Mumbai at the iconic Wankhede Stadium.