'Ajinkya Rahane should be given more chances at No.4' says Harsha Bhogle
He further conveyed his views on Suresh Raina's return and his importance in the lower order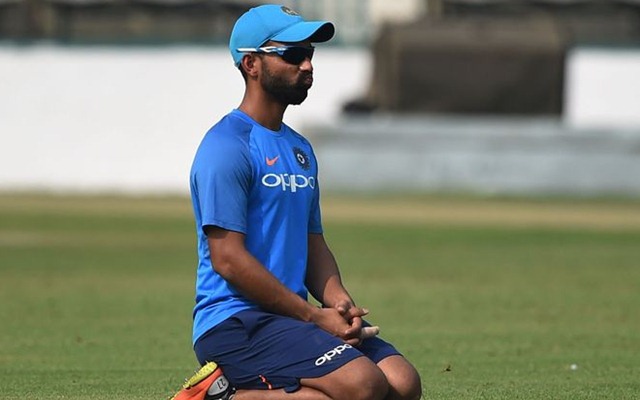 Follow us on Telegram
The Indian team may have had a spectacular season. However, one problem that has remained consistent throughout this period is their middle order struggled. The team management has just failed to get their combination right. Commentator Harsha Bhogle asserted that Ajinkya Rahane deserved a long run at the No.4 spot.
Ever since getting rid of Yuvraj Singh, India has tried as many as six batsmen batting at the position. While Ajinkya Rahane did exceedingly well in the first One Day International, he failed to replicate the same throughout the series. He further conveyed his views on Suresh Raina's return and his importance in the lower order.
Ajinkya Rahane needs time to structure his game at No.4
The middle order woes have often hurt India's prospects for a big total. With Rahane being the latest entrant in the competition for the No.4 spot, Bhogle felt that he should be given a long rope. He expected Rahane to be playing the Vijay Hazare Trophy and get used to the No.4 spot.
"I think we need to give Rahane some more time. He needs time to structure his game at number four. I would have sent Rahane off to India from South Africa straight to play the Vijay Hazare Trophy in order to get used to batting at number four. Even if he maintains a strike rate of 90 at number four he will be considered successful in the limited over format of the game," said Bhogle during the Q&A session.
Tough competition between Raina and Jadhav for the sixth spot
Suresh Raina made a spectacular comeback in the T20I side as he won the man of the match in the final game. Harsha Bhogle was impressed with Raina's fantastic form. While he admitted that Kedar Jadhav had done really well, Raina was more of a probable choice. He also stated that MS Dhoni should bat at No.5.
"I'm enthused by the form of Suresh Raina. Jadhav and Raina will provide added competition for the sixth spot. To be fair to Jadhav, he did everything that was asked of him but Raina is the complete package. I see Raina batting long-term for India if it all comes down to batting at number six. I feel MS Dhoni should still be the number five batsman despite Kepler Wessel's saying he's better off at number seven," he was quoted as saying by SportsCafe.
Follow us on Google News