Alex Hales indirectly trolls PCB by posting picture of poor quality food offered to him
Alex Hales, who was playing for Islamabad United in PSL 2021, took to Instagram to share the photo.
Get every cricket updates! Follow us on :
Pakistan Cricket Board (PCB), on Thursday, announced the postponement of the sixth edition of the Pakistan Super League (PSL) with immediate effect due to the outbreak of Covid-19 positive cases. The PCB took the decision after a meeting between the organizing committee and the team owners and management on Thursday.
The meeting was held just a day after three positive cases were reported, including Quetta Gladiators batsman Tom Baton and Karachi Kings fielding coach Kamran Khan. Before that, Islamabad United's Fawad Ahmed had tested positive. It had led to the postponement of the league fixture between Quetta Gladiators and Islamabad United by a day.
In their official statement, the PCB stated that they postponed PSL 2021 after seven positive cases. The tournament had started on February 20 and only 14 of the 34 scheduled games took place before the postponement.
"The decision was made after seven cases were reported in the competition, which had started on 20 February," an official release from the PCB stated. "The PCB, as an immediate step, will focus on the safe and secure passage of all participants, and arrange repeat PCR tests, vaccines and isolation facilities to the six participating sides."
Alex Hales takes shot at PCB
As if the postponement of PSL was not enough, Alex Hales piled more misery on the PCB by trolling them. The England opener was a part of the Islamabad United camp for PSL 2021. On Thursday, he took to Instagram to post a picture of the food offered to him and pointed out the hilarious gaffe. In the picture, two eggs could be seen with a toast and an unopened packet.
The problem with the food was that Hales was not expecting eggs. The quality of the eggs was not good either as Hales posted the following picture on his Instagram story: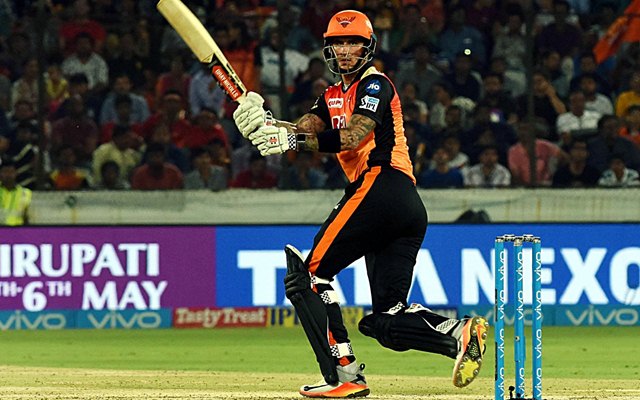 Meanwhile, the previous edition of the PSL had to endure a postponement too in the wake of the COVID-19 outbreak. The tournament was postponed right before the playoffs. Later in November, the PCB successfully rescheduled and hosted PSL 2020. The Pakistan board would be hoping for a similar fortune with PSL 2021.