All records shattered English County team all out for 3 runs
Updated - Apr 28, 2014 11:38 am
99 Views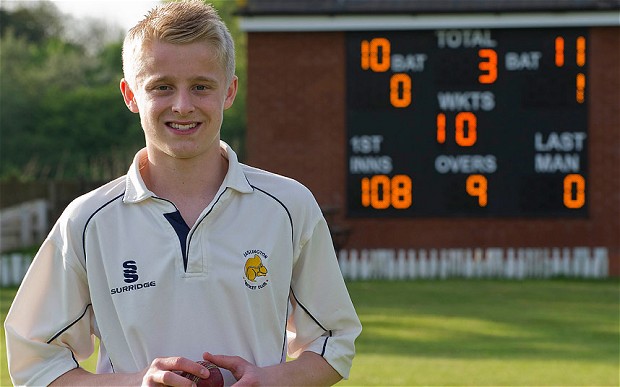 Cricketing records are set and re written every now and then unlike other sports where records stay on for years and sometimes decades too. But I don't think this is a usual thing that has happened this time. An English county cricket team Wirral, which comes from the north-west part of England, shattered all records to be all out for 3 runs against Haslington in a Cheshire League Third Division match.
England is the mother of cricket but has rarely been part of history in cricket be it winning the World Cup or another ICC event apart from the World T20 which they of course won once. English Cricket has seen lot of embarrassment in recent times first their 5-0 ashes defeat which brought in too much criticism resulting in a few sackings and retirements and was followed by their loss to Netherlands in the World T20 in Bangladesh.
But, there has been no event like this in cricket when an entire team is bowled out just for 3 runs and those 3 runs too are of extras, included two leg-byes. Which means only a single run scored by the bat that too was scored by the no. 11 who is supposed to be the last guy expected to do this, a real shocker this is for the entire cricketing universe. There was a series of 10 ducks by the Wirral batsmen which broke at the last.
This happened after they were cut down to 8 wickets for no run and the entire innings could not even continue for 10 overs. The opponents Haslington team won the match by 105 runs as they themselves had made only 108 runs in their innings and got the opponents done for merely 3 runs.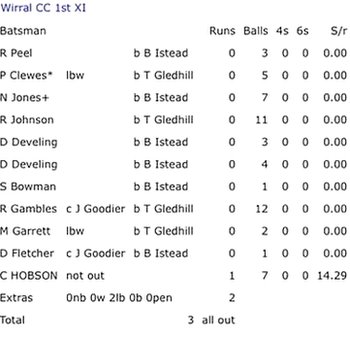 Follow us on Telegram
This was reported by the Stoke Sentinel newspaper as, "the real drama unfolded after the tea interval".
Wirral team's official Twitter account was used to pleas to several ex-England cricketers, including former captain Michael Vaughan and cricket expert David Lloyd for "a few hours coaching" with the hashtag of #weneedit.
One of the rarest incidents or rather matches that can happen in cricket ever. It is simply tough to even imagine an entire team wrapped up for 3 runs but this actually happened which proves the popular saying in cricket which terms it a game full of uncertainties.
Follow us on Google News