An old video of Pragyan Ojha uprooting stumps with a kick is going viral
Pragyan Ojha was seen venting his anger and smashing all three stumps at the non-striker's end with a kick.
Updated - Dec 26, 2017 7:06 pm
3.8K Views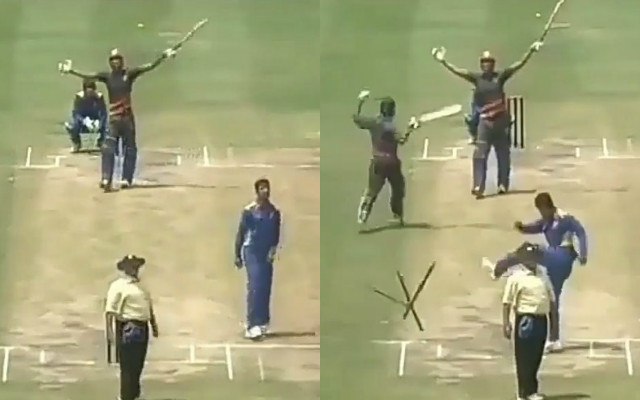 Cricket has been termed as a gentleman's sport and cricketers like Rahul Dravid, Jacques Kallis and Sachin Tendulkar have set the benchmark of the standards of behaviour, both on and off the field of play. However, there have been occasions when cricketers went overboard with their actions which haven't set the right precedent for the youngsters to follow.
Pragyan Ojha, the out-of-contention Indian bowler, was seen venting his anger and smashing all three stumps at the non-striker's end with a kick. A video of the same is going viral on the social media. The incident is presumed to have taken place in a limited-overs game in the Indian domestic cricket.
A struggle altogether for Ojha
Pragyan Ojha, during his playing days, emerged as one of India's prime weapon in the spin department. However, with the passage of time, he couldn't hold on to his form and subsequently, lost his place to the emerging youngsters like Ravichandran Ashwin and Ravindra Jadeja. The left-arm spinner last represented India in 2013 during Sachin Tendulkar's farewell Test series against the Windies.
He has also struggled to claim a permanent spot in the domestic cricket fraternity. He used to represent Hyderabad in domestic cricket, however, in 2015, he played for Bengal in the Ranji Trophy and other tournaments. Nevertheless, after a couple of seasons, he was released by the Bengal side on the eve of the 2017 Ranji Trophy.
Since then, he made a move back to Hyderabad team and is currently representing them in the ongoing Ranji Trophy. Pragyan Ojha has played 24 Tests for India where he has 113 wickets to his name with best bowling figures of 6/47 against the Windies at the Wankhede Stadium in Mumbai. He is a stalwart in the domestic circuit with 423 wickets in 107 first-class matches.
Here's the video: